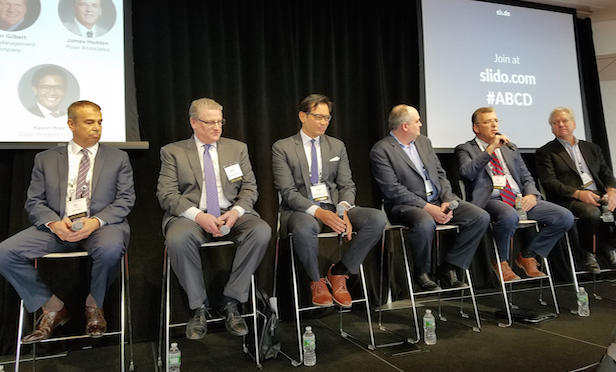 NEW YORK CITY—How do developers decide to buy and repurpose a building or demolish it and build from the ground up? Moderator Aaron Dussair, COO of Pembrooke & Ives, asked this question to speakers on the return on investment (ROI) redevelopment panel at Anchin's Construction and Development Forum, earlier this month.
Jack and Lewis Rudin did everything on instinct, said John Gilbert, EVP and COO of Rudin Management. "Jack Rudin used to say you have more nerve endings in your stomach than you do in your brain. So, if you feel good about a deal and it feels right from an instinctual standpoint, do the deal. If you don't, walk," said Gilbert.
"Everything is about cost and ROI. If you can make it work, keep it. If you can't, tear it down," said Jim Hedden, senior managing director, development, Rose Associates. His company analyzes buildings with consultants and construction companies using 3D modeling to understand what they have and can make work.
Rose Associates evaluated the 11-story office building at 210 Livingston St. across from Macy's in Brooklyn for at least a year, considering whether to build on top of it. Ultimately it was decided to tear down the former office that housed New York City's Human Resources Administration. Rose Associates and Benenson Capital Partners co-developed the new, 25-story, 368-unit apartment high-rise.
Cove Property purchased EmblemHealth's building at 441 Ninth Ave. between 34th and 35th streets. In deciding whether to tear down the 1962 building or add 17-stories, another 300,000 square feet on top of it, Kevin Hoo, managing partner at Cove, noted funding was considered. Construction crews reinforced 17 of the building's approximately 25 columns and built a new core, extruding it to the top of the structure.
By renovating instead of building ground-up, Cove saved 24 months in construction time. Thus, the office building, called Hudson Commons, will be ready to receive tenants within 16 months. Apollo Global Management, a private equity firm, funded the construction.
"If I'm in a family office with generational wealth, I can look at it from a different perspective," said Hoo. "But if we buy it with a capital partner who has a time limit as to how expensive their money is and when I have to get it out, then we have to minimize the amount of construction time and that plays into, 'Do we pull it down or do we keep it and build up?'"
Hoo emphasized that it is not just the cost, but the building must tell a story that makes sense to the investor. "You have to put on your leasing hat and understand what the layout of the floor plan looks like and whether the mechanicals currently sustain it to get the maximum rents you need to justify your buying it," said Hoo.
Kenneth Colao, president of CNY Group, said the building's core and façade are the two determining factors that, when unplanned for, tend to drive up costs and delay schedules. "When you know you are going to have to deal with the orientation of core and façade, planning needs to be invested upfront."
CNY did the construction for the Woolworth Building's conversion of its upper 30 floors into residences. Four elevators going to the top of the building needed to be truncated and reoriented and new stairwells were required. The layout of the F.W. Woolworth Company headquarters was not readily conducive to maximizing benefits for a residence.
The construction company conducted a 3D laser scan to understand the skeleton of the building and did a demolition to expose the center lines of the steel. Comparing the process to a surgery, Colao said only after pinpointing the building's existing conditions, did it make sense to begin construction.
To convert a building from commercial to residential, Steve Heiderstadt, president of BP Group, a leading HVAC corporation, said mechanical, electrical and plumbing (MEP) systems need to be scrapped and replaced from scratch. Plus, the heating and cooling of a building takes up a significant amount of space within the structure.
However, system replacements with technological upgrades can significantly improve a building's performance and value. Gilbert recalled in 2009, President Barack Obama offered a smart grid stimulus package. In response, ConEd gave property owners a 45-second warning before blackouts or brownouts. The Rudin Group programmed its elevators to use the early warnings to let passengers out at the nearest floors, preventing tenants from being trapped in elevators.
In addition, Rudin buildings use occupancy data to control fan speeds and temperature. Occupancy peaks in the morning when people arrive at work. But when tenants leave the building for lunch, occupancy sensors slow down the fans. When people return, the fans power up again.
"I'm saving 55 cents a foot across our 10 million square-foot portfolios, $5.5 million per year and ultimately delivering a better product to my customers because they're not complaining about being freezing when they come back from lunch because the fans have been blowing when no one is in the building," said Gilbert.
Although updating MEP and HVAC systems can be a costly challenge to replace, the process provides an opportunity to eliminate antiquated equipment and maximize profits into the future.