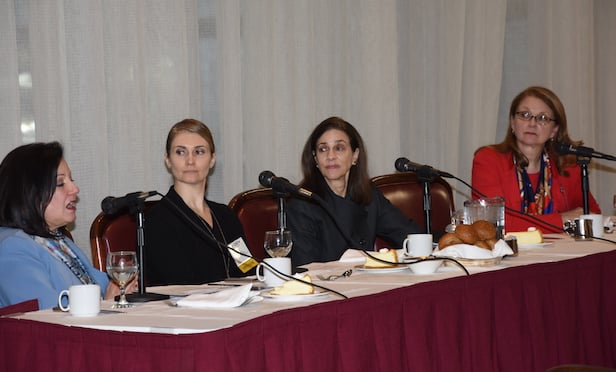 NEW YORK CITY—Real Estate Forum's July/August 2017 "Women of Influence" issue, pointed to some sobering statistics and referenced the CREW Network white paper on gender equity and inclusion in CRE. This report noted women represent 35% of the US CRE workforce.
But in 2015, women's annual median pay was $115,000 compared to $150,000 for men. There was also an aspiration gap with 28% of women aiming for the C-suite, compared to 40% of men. Women were also 54% less likely than men to have a mentor.
Last week, CREW (Commercial Real Estate Women) New York hosted a "Power Women in Real Estate" luncheon where CRE pros shared their pointers for success.
Follow Your Passion
The women panelists who achieved success in their fields all shared a genuine interest in what they do, which drove their career choices. Lisa Bevacqua, SVP of asset management at Silverstein Properties, was working as a consultant for Accenture in Boston. Observing a neighborhood's gentrification, its transformation into a "hot spot" where people wanted to go, she became fascinated by a neighborhood's revitalization. So, she spoke to a friend in CRE, and entered the field.
Daria Salusbury, the founder and CEO of Salusbury & Co., previously was an SVP at the Related Companies, where she worked for close to 25 years. "I've always had a passion for real estate. To talk about real estate puts a smile on my heart and soul," Salusbury said. "I could talk for eight hours about development and different projects."
Be Open to Serendipity But Make Your Own Luck
Frances Delgorio, the managing director at Jack Resnick & Sons, 39 years ago, worked at a law firm that was a subtenant for Siemans, in the GM Building. She used to have lunch with a man in the GM cafeteria whenever he came in town from Germany. He would be alone and would ask, "Can I join you?" They would eat together and chat.
It turned out, he was the president of a new division that Siemens was starting to invest in US real estate, oil, gas and mineral rights. She was working at a Boston law firm that was closing its New York office. He said, "I know you're a paralegal, and I need my own paralegal and we'll run this business together."
She joined Siemens and worked as a real estate portfolio manager for 12 years. She earned her master's degree in real estate investment and finance from NYU, and became the director of corporate real estate for Prudential Insurance for three years before moving on to real estate companies.
The panel moderator, Carol Patterson, a partner at Zetlin & De Chiara, graduated from the University of Chicago Law School and was working at a Wall Street law firm in commercial litigation. She was speaking with a colleague who worked at a construction law firm about one of his cases.
He asked if she would consider moving to his firm which was looking to hire. Patterson hadn't been thinking about changing jobs but thought there was no harm in going on the interview. She was intrigued by the work they did, and liked the people she met—so accepted a position. It opened the door to a 30-year practice. Three lawyers with whom she worked eventually became her current partners, as they formed their own firm.
Mentors Are Essential
Bevacqua noted two essential mentors at Silverstein. They don't have to be your same gender. Both were men. One was a coach, who took her along and taught her as they were working. After he moved on, she would continue to ask herself, "What would he do?" because he was such a strong, solid role model.