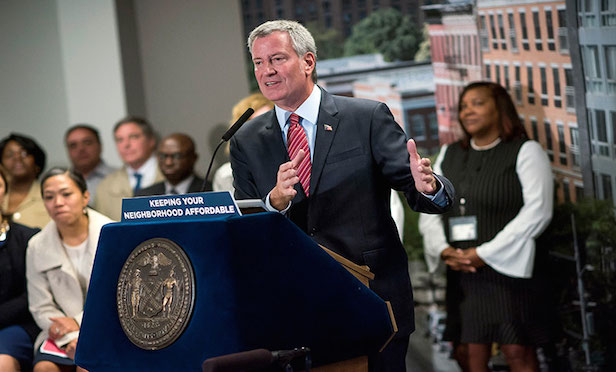 ALBANY—The same day state officials termed conditions at units at a New York City public housing project in the Bronx as disgusting, the state assembly passed legislation that could help expedite much needed repairs at New York City Housing Authority properties.
The assembly on Monday passed the bill sponsored by Assembly Speaker Carl Heastie that would allow the New York City Housing Authority to use the design-build process for repair projects. Design-build, which is used by some state agencies, such as the Department of Transportation, is a method of project delivery in which a single contract provides both design and construction services. The $3.9-billion Tappan Zee Bridge replacement project was built under a design-build process.
"Many NYCHA developments are aging and in need of maintenance and modernization," said Assembly Speaker Heastie of the Bronx. "This much needed legislation will allow NYCHA to speed up the procurement process, and in turn, make repairs more efficiently to ensure that the hundreds of thousands of New Yorkers that reside in NYCHA apartments are living in safe and healthy homes."
After a tour of the NYCHA-run Andrew Jackson Houses public housing complex in the Bronx yesterday, Gov. Andrew Cuomo said he was considering instituting a state of emergency to deal with the health and safety issues at NYCHA properties. One of the remedies the governor proposed was to allow NYCHA to institute design-build on emergency repairs and long-delayed capital projects.
The design-build method minimizes project risk for the owner, increases the accountability of contractors and accelerates the delivery schedule by eliminating one procurement cycle and compressing the design and construction procurements into one project labor agreement. By overlapping the design and construction phase, critical NYCHA projects can be delivered in a timelier manner, Speaker Heastie states. Contracts would be subject to applicable federal, state and local requirements for disadvantaged business enterprises and minority- and women-owned business enterprises, he adds.
The legislation, which is now before the State senate for approval, calls for greater transparency regarding efforts to reduce and prevent lead-based paint poisoning in children. Under the bill, the chair of NYCHA would be required to provide written reports on the implementation of laws concerning lead-based paint inspections and remediation that NYCHA must adhere to. The legislation will allow residents of NYCHA and various government agencies to gauge compliance.
"NYCHA's outdated boilers and heating systems have led to unacceptable heating disruptions during some of the coldest days of the year," said State Assemblyman Steven Cymbrowitz, chair of the housing committee. "Expediting the procurement process for NYCHA capital projects will help improve the quality of life for many thousands of families and individuals living in NYCHA apartments."
New York City Mayor Bill de Blasio released a statement in response to the assembly vote on the design-build bill, saying, "Speaker Heastie and the state assembly have the backs of NYCHA tenants. Today, they passed a bill giving NYCHA full design-build authority that will speed up critical repairs by more than a year. The rest of Albany needs to follow the assembly's lead: stop playing games and promoting gimmicks. Deliver the key investments and reforms NYCHA tenants are waiting for."