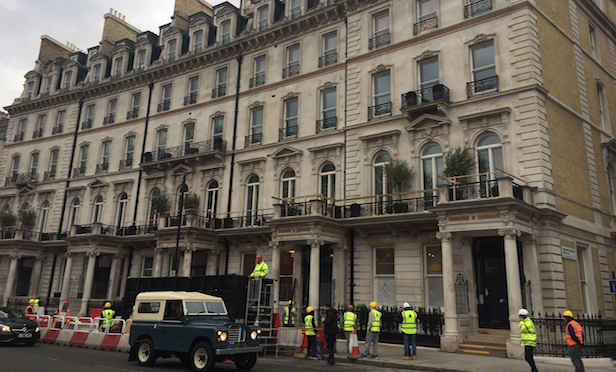 NEW YORK CITY—Having started only 15 months ago, Lotus Capital Partners closed a $237 million loan to Wainbridge for its Central London's Belgravia Gate. The townhouse, converted into 12 ultra luxury condominiums in the city's A-List Golden Postcode, is one of the most expensive condominium properties in the world when measured by average apartment unit value. The loan amounts to $27 million for each of the nine units that serve as the collateral. The financing will pay off the existing construction loan and cover carrying costs through the sale of the apartments.
In December 2013, Wainbridge purchased the structure originally built in 1867 from the Grosvenor Estate. The restoration preserves the white, Portland stone façade, suiting the neighborhood of Victorian architecture. The property touts contemporary living in an area rich in London's history. However, it faces some challenges.
Last September, The Financial Times noted government stamp duty changes shifted taxes to pricier homes and added a 3% surcharge on investment apartments-to-rent affecting high-end property investments. The paper stated that most who buy in Belgravia have plenty of other homes, meaning they will pay a higher stamp duty. Plus, Brexit generated economic jitters, with the election becoming a protest vote against wealthy foreign capital entering the UK.
Despite these uncertainties and no pre-sales for the asset when the financing was secured, Lotus points to its abilities in providing lending opportunities to global capital sources.
"The successful closing of this deal underscores our real estate financing expertise and market credibility among capital sources, both of which are required to arrange and execute on complex deals such as this," says Faisal Ashraf, Lotus' founder and chief executive.
In 2018, Lotus expects to close between $1.5 and $2.0 billion. The Belgravia Gate financing marks the New York-based boutique real estate investment banking firm's emergence on the global stage. Last year, it arranged a $400 million capital stack for Via Mizner, a two million square-foot, mixed-use project in Boca Raton, Florida. The deal represented Florida's largest debt financing in Florida in 2017.