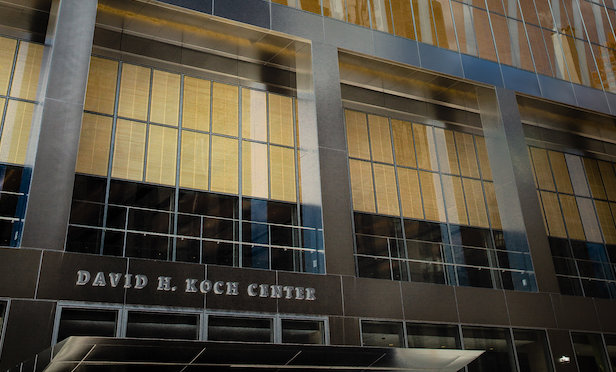 NEW YORK CITY—The NewYork-Presbyterian David H. Koch Center will open on April 30. The approximately 740,000 square-foot facility, located at the NewYork-Presbyterian/Weill Cornell Medical Center campus on 68th Street and York Avenue will house a wide range of ambulatory care services. This will include outpatient surgery, interventional radiology, diagnostic imaging infusion services, and a health and wellbeing program that will open in June. NewYork-Presbyterian trustee David H. Koch donated $100 million to create the center.
"Understanding the increasing shift from inpatient to outpatient care, the center was designed to deliver the most advanced clinical care to patients in a setting where both the patient and family will feel respected and supported with the utmost compassion," says Koch.
Dr. Steven J. Corwin, president and CEO of NewYork-Presbyterian, says the building's design and operation focus on the patient. This includes efficient, easy check-ins, light-filled treatment areas and real-time status updates. "This is truly an environment that was designed for healing, and we believe it represents the future of ambulatory care," says Corwin.
The center characterizes itself as a one-stop alternative for individualized, coordinated care from diagnosis through treatment. Multidisciplinary teams of physicians from Weill Cornell Medicine under one roof will be able to provide overall patient care. This could include, for example, treating digestive diseases, cancer or other conditions, outpatient surgery, interventional radiology or diagnostic imaging, according to the center.
The building incorporates smart technology and smart spaces. Patients can complete paperwork remotely and securely before their visits, using mobile phones or computers. Upon arrival, they will receive personalized "smartbands" that provide access to the building and information about their visits and directions to their rooms, using a NewYork-Presbyterian app. The app will also provide access to discharge instructions, test results and video follow-up appointments with physicians.
An angiography suite will combine key imaging technologies used for minimally invasive procedures, including MRI/PET, fluoroscopy, ultrasound, and rotational CT. This will enable clinicians to diagnose, plan, and precisely guide procedures and verify their completeness. The center will also have three linear accelerators, including an MRI-guided linear accelerator for precision radiation treatment of tumors.
The facility will offer 12 operating suites, six radiology procedure rooms, and 11 endoscopic procedure rooms, including an operating room dedicated to breast surgery with mammography and ultrasound equipment.
Decentralized clinical care with stations directly outside private patient rooms have been designed to provide patients easier access to their medical teams. Unlike many institutions, there are no basement treatment areas. The center will be part of the Weill Cornell Medicine's academic medical center. The intention is for patients to benefit from the school's biomedical research with treatments and therapies.
In 2020, the top five-and-a-half floors will house the NewYork-Presbyterian Alexandra Cohen Hospital for Women and Newborns. The 220,000 square-foot maternity hospital within the hospital will offer rooms for neonatal intensive care, labor and delivery, and cesarean sections. It will have operating suites, maternal assessment and treatment rooms, and ultrasound rooms. MRI capabilities and an operating room in its neonatal intensive care unit will also be in the facility.
The center has a green roof, and a blue roof that can detain up to six inches of storm water. It incorporates triple-panel insulated glazing with a slated wood screen. This reduces solar glare, building heat and the need for shades.
The structure was constructed for resiliency in extreme weather events or disruption to city power. Heating equipment, air handling units, emergency generators and other key operational equipment are located on higher floors above potential flood levels.
HOK, Ballinger, and Pei Cobb Freed & Partners, were the building architects. Peter J. Romano and Company is the project manager, and Turner Construction is the construction manager.