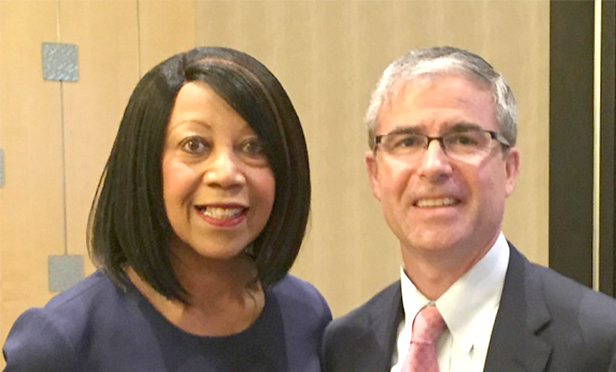 NEW BRUNSWICK, NJ—Economic development and a "stronger, fairer" economy are high on the agenda of New Jersey's new administration, according to Lt. Gov. Sheila Oliver, who made keynote remarks at NAIOP New Jersey's Public Policy Symposium at The Heldrich in New Brunswick.
Oliver, who also serves as commissioner of the department of community affairs, identified a number of the Murphy administration's top priorities and their potential impact on the commercial real estate industry.
"We are prioritizing economic development," Oliver says. "As the head of the DCA who ran for lieutenant governor with Governor Murphy, you know what our platform was: A stronger, fairer economy that works for all families."
In addition to identifying strategies to provide more permanent tax relief, Oliver said that the state continues to look at how it can assist communities in rebuilding downtowns. She suggested that streamlining the permitting process, tax credits and leveraging the newly created federal Opportunity Zones Program are among the strategies that can spur economic growth and attract capital investment in redeveloping low-income rural and urban communities.
As previously reported by GlobeSt.com, Gov. Murphy has moved aggressively to designate opportunity zones for the federal program, presenting tax-enhanced investment strategies for real estate investors, according to Frank Giantomasi and Sean Aylward of Chiesa Shaninian & Giantomasi, a West Orange law firm.
Oliver also emphasized the need for innovative thinking and more public/private partnerships. "We are a home rule state and that is holding us back as far as future economic development is concerned. We will not be able to be competitive in the region unless we alter our perception that every mayor or governing body needs to continue to conduct business as usual."
Dana Nalbantian, studio director and principal with the architecture firm Gensler, led a wide-ranging discussion around the issues New Jersey must resolve in order to evolve from a suburban market to the vital "growth ring" of the Northeast region. These include the talent migration, the evolution of co-working ecosystems, and the shift from commoditization to commercial product with a distinct identity.
"New Jersey is the next growth ring," says Nalbantian. "We need to leverage the bright spots in order to reclaim our suburban cities and rebrand our state."
"Suburbanization is having a resurgence, and the period of urban growth and suburban decline may have been a short-term blip," says Dr. James Hughes, professor and former dean of the Edward J. Bloustein School of Planning and Public Policy at Rutgers University. "Millennials who are entering their 30s and starting families are looking for walkable suburban environments, and if we can provide them we should be in good shape."
Mayors John Labrosse of Hackensack and Ron Francioli of Hanover Township each spoke about the challenges of transforming their vastly different communities to attract new businesses and a changing demographic. "Hackensack is a small urban city with a suburban feel," says Labrosse. "We are focused on attracting millennials and empty nesters who have been priced out of places like Jersey City and Edgewater. The bulk of the new apartment units, retail, restaurants, entertainment venues and pedestrian-friendly zones are aimed at providing them with what they want."
Labrosse noted that PILOTs (Payment In Lieu of Taxes), removing zoning restrictions and other incentives are essential to attracting developers. "We even changed State Street and Main Street from one-way to two-way streets," he says. "It was difficult and costly, but the city knew it was critical to the rehabilitation of our downtown."
The influx of new corporate tenants and their employees is driving Hanover Township's transition from a bedroom community to what Francioli called a "pharma community". "We need a product to sell to top quality corporations, and having the lowest taxes and highest benefits is an attractive amenity," he says. Hanover's leadership focuses on partnering with developers to deliver the advantages it has to offer businesses. "For example, Hanover doesn't have a town center so we developed a new zoning plan for Route 10 to make it more attractive to developers of business and multi-use projects."
Ross Chomik of Vision Real Estate Partners and Tom Walsh of Jones Lang LaSalle expressed confidence in the caliber of the state's talent pool, and Walsh stressed the importance of "leveraging our human capital, education and infrastructure to grow the market." They also agree that consolidating and reinventing obsolete corporate campuses is a viable strategy for attracting next-generation business owners and their employees.
"We are coming to the end of the current investment cycle that started during the recession," says Walsh, citing projects like the former Merck and Roche campuses. "Developers used to swing the hammer before they had tenants. Today they are not necessarily investing the capital upfront, but they need to give prospective tenants a way to envision what's possible in order for them to commit to these campuses."
Chomik emphasized the importance of providing companies and their employees with a complete lifestyle ecosystem rather than simply adding a cafeteria or gym.
"Today's blended commercial model is about creating a total experience by bringing together interior and exterior amenities, from walking trails and outdoor theaters to multi-media lobbies, full-service fitness centers and high-end dining facilities that accommodate digital devices," he says.
NAIOP NJ president Dave Gibbons of Elberon Development Group moderated a discussion focused on advancing public policies to attract and retain jobs and investments in New Jersey. Panelists addressed liquor license reform and the PILOT program as well as the high cost of living and doing business in the state.
Taxpayer dollars continue to exit the state as millennials who leave for college cannot afford to return and retirees and empty nesters look for less expensive places to live.
Senate Republican Leader Tom Kean emphasized the need for government to find ways to provide predictability for families who want to stay in the state.
"For example, when it comes to income tax New Jersey's hybrid form of government creates a lot of uncertainty," Kean says. "We have to have policies in Trenton that offer greater consistency."
NAIOP NJ's government affairs consultant, Anthony Pizzutillo of Pizzutillo Public Affairs, outlined legislation proposed by Assemblyman John Burzichelli that recommends issuing liquor permits to small restaurants that offer table service.
As previously reported by GlobeSt.com, supporters say the new law would not pose a threat to bars and taverns, and includes a compensation mechanism for those who can prove a qualified loss in revenue due to a competitive facility.
"I drove the legislation in support of brew pubs and we've seen the economic development that has resulted," says Senator Kean. "The current version of this bill is one that I would support."
Stephen Santola, executive vice president with Woodmont Properties, said that with Internet sales projected to grow 17 percent this year, developers need every advantage to attract shoppers to their Main Streets.
"We need restaurants and retailers that offer people viable places for social interaction," Santola says. "We're talking about updating a law that is 75 years old, and resisting change is like intentionally cutting our own throats."
"The plain facts of the economics are that more liquor licenses mean more successful restaurants that will draw more customers and spur more investment in retail and housing development," says Clark Machemer, senior vice president of Rockefeller Group's New Jersey and Pennsylvania region..
Santola and Machemer also say PILOTs encourage and channel investment in revitalizing areas in need of redevelopment.
"Redeveloped properties generate more tax income and provide housing and jobs," says Santola. "The education process around PILOTs over the years has helped people understand the benefits to their communities and municipal leaders appreciate the flexibility in terms of how they can allocate the funds."
"For companies looking to make a long-term commitment, PILOTs reassure them that our state is business friendly," says Machemer. "We need to shift perception and position New Jersey as an innovative place where things are moving in the right direction. This will generate excitement and investment."