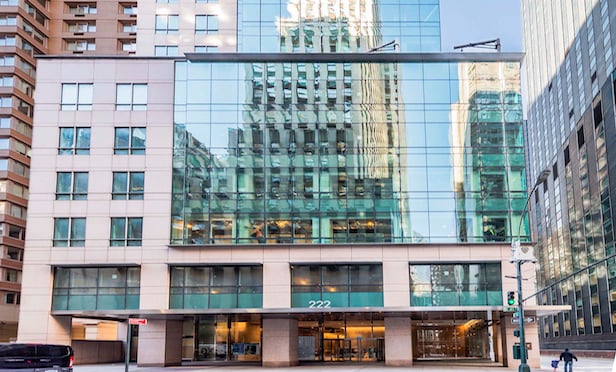 NEW YORK CITY—Columbia Property Trust, Inc. closed on the sale of its Midtown office tower at 222 E. 41st St. to Commerz Real, the real assets investment manager of German Commerzbank. The building sold for $332.5 million.
The 390,000 square-foot office property generally had been fully occupied by a sole tenant, the law firm Jones Day since 2007 when it sold for $319.8 million. Jones Day had previously remained as a tenant in the building for many years through several changes of its ownership, according to Real Capital Analytics. The law firm's last lease was scheduled to expire in 2016.
Upon learning that the tenant would be vacating, Columbia actively marketed the property, and in April 2016, NYU Langone Medical Center signed a 30-year, triple-net lease for the entire building, with almost no downtime in occupancy.
The building which stands on 41st Street between Second and Third avenues was originally constructed in 2001. Over the past two years, NYU Langone converted the 25-story office tower into a multi-specialty ambulatory care facility that began accepting patients last month.
"We were very pleased to secure an esteemed tenant on a long-term lease, which significantly increased the value of the property," said Nelson Mills, president and chief executive officer of Columbia. "Proceeds will further strengthen our balance sheet in the near term and will eventually be recycled into higher growth investment opportunities."
CBRE's capital markets team members Darcy Stacom and Bill Shanahan represented Columbia in marketing the building and in the leasing transaction.
Columbia now owns a total of seven New York City properties in its portfolio, making the news within the last year with its purchase of 149 Madison Ave. and leasing of space at 315 Park Ave. South to the Winklevoss twins' company, Gemini, and Morningstar's Pitchbook Data.
Property Magazine international recently reported that Commerz Real reorganized its board of managing directors, reducing its size. Roland Holschuh, board member and global real estate head, in June is leaving the fund manager as part of the reorganization.