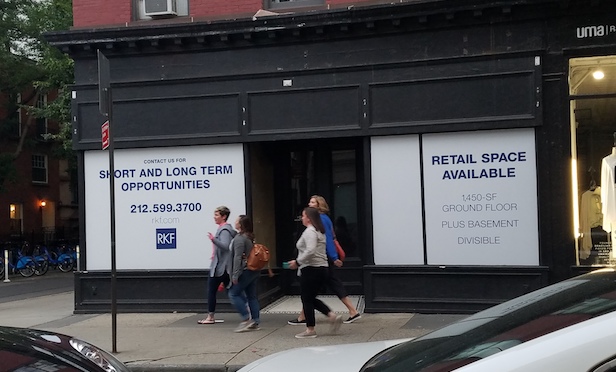 NEW YORK CITY—The glaring retail vacancies on Bleecker Street in one of Manhattan's most celebrated neighborhoods is a problem. In comparing Manhattan's Community Board 2 in the West Village to Community Board 4 in Hell's Kitchen, the Real Estate Board of New York says liquor license denials and landmarking are causing the West Village's empty storefronts. But not everyone agrees.
The report found West Village vacancies more than two times higher than those in Hell's Kitchen. It cited the vacancy rate at 11.3% in three major West Village retail corridors with 284 storefronts compared to a 5% vacancy rate of the Hell's Kitchen retail corridor on Ninth Ave. with 262 stores.
REBNY wrote that Community Board 2 denies 25.3% of West Village liquor licenses contrasted with only a 4% denial rate in Hell's Kitchen. The trade association also stated Community Board 2 is seeking a special permit for all restaurants, bars and clubs, which would add an additional seven to nine months of public review.
"The restaurant industry, by its very nature is immune to the forces of online shopping," says REBNY retail committee co-chair Steven Soutendijk, of Cushman & Wakefield. "At this time when the retail landscape is in a period of transition, we should be looking for ways to help, not hinder our restaurants and cafes. The regulatory requirements imposed at the community board level are stifling and burdensome on small businesses."
But some political and community leaders take issue with the report's accuracy and conclusions.
New York State Sen. Brad Hoylman, who represents both the West Village and Hell's Kitchen, tells GlobeSt.com that he appreciates REBNY's looking at the problem of the West Village retail vacancies. However, he says the additional review for liquor licenses is in the East Village with Community Board 3, not Community Board 2. In addition, according to his calculations the denial of liquor license applications in the West Village is less than 20% and that includes when an applicant does not show up for the review or withdraws an application.
Terri Cude, the chair of Community Board 2, says it is Community Board 3 which has requested restrictions of liquor licenses in oversaturated areas having many complaints about noise and congestion resulting from the licensed areas. Community Board 3 has listed specific areas, designating street addresses, applying a policy to not approve new licenses or expansions in these areas without showing a public benefit. This was not Community Board 2.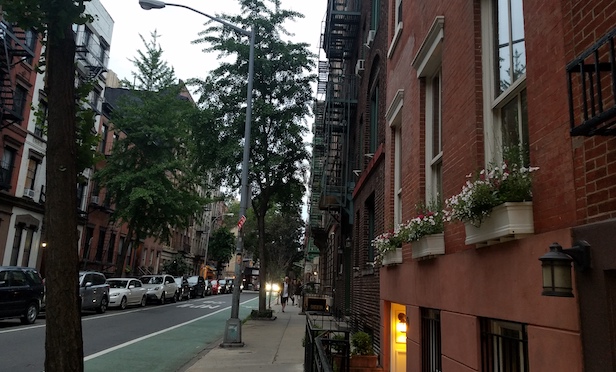 She adds, "Comparing the excellent work of Community Board 2 to the excellent work of Community Board 4 is not comparing apples to apples or martinis to martinis. They are very different situations with very different compositions." She tells GlobeSt.com that the West Village wants a vibrant neighborhood with a diversity of restaurants and places to drink. "But not every storefront needs to be a bar. We are seeking to balance the community so people can continue to enjoy this historic area."
REBNY cites a Community Board 2 Statement of District Needs FY19, which under a section for SLA (State Liquor Authority) licensing states "CB 2 has noted that there is quite a difference between retail daytime use and retail nighttime use, and has gone on record to call upon the City to amend Use Group 6 to require special permits for bars, restaurants and clubs."
REBNY's report stated that in the West Village 88.8% of the properties are landmarked compared to less than 1% in Hell's Kitchen. It indicated its research shows landmark districts create barriers to housing production. It noted from 2000 to 2016 the neighborhood population in Hell's Kitchen rose 9% compared to a 9.7% decrease in West Village households which the organization asserted negatively affects retail foot traffic.
"New York City's retail uses are going through a transition due to a variety of factors, including national and local forces like online shopping and increasingly unfriendly regulations," says John H. Banks, REBNY president.
However, the types of shops and storefronts in Hell's Kitchen vastly differ from the high-end international and national retail brands that set up shop on Bleecker Street only to leave after a few years.
Hoylman points out it's often easy to mistake cause and effect. "I would argue that neighborhoods that are landmarked create retail environments." He listed SoHo, Madison Avenue and some parts of Fifth Avenue as examples.
He further notes some of the fashion houses not only closed stores on Beecker Street but also internationally in places like London and Paris. "Community Boards really can't be held responsible for vacant storefronts," says Hoylman. "We've seen buildings being purchased by conglomerations, some of them not New York-city based."
Nonetheless, Hoylman says it's a positive starting point that REBNY is recognizing there is a problem. This can advance dialogue to create policies to address the situation.
Andrew Berman, executive director of the Greenwich Village Society for Historic Preservation, directly refutes the report saying, "This self-serving REBNY report is full of more holes than Swiss cheese, and is more about their anti-regulation agenda than any real analysis of the plight of small businesses, which they do not represent."
He further points to other causes of the retail vacancies outside of landmark buildings and liquor licenses. "The West Village's retail landscape has been devastated in recent years by, among other things, some landlords holding spaces vacant for astronomical rents, and a short-sighted dependency by some landlords upon luxury flagship stores that didn't serve a local population and pulled up stakes when greener pastures could be found elsewhere."