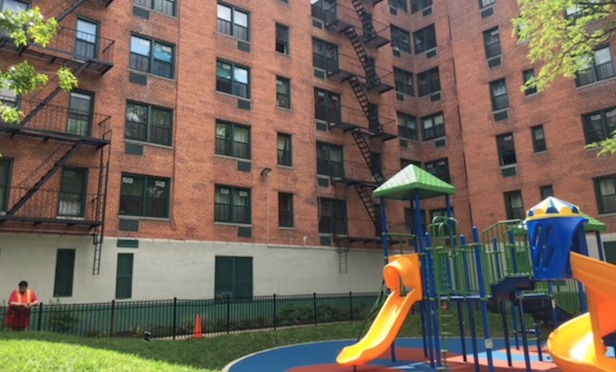 NEW YORK CITY—The entire Fox Hill affordable housing complex for low-income New Yorkers has been modernized and upgraded. Originally built in 1965 on Vanderbilt and Park Hill avenues, the development comprises three six-story elevator buildings with studio, one- and two-bedroom apartments.
The renovations totaled $92.7 million. They included upgrades to lobbies, hallways, kitchens, bathrooms, elevators and electric systems. New roofs, Energy Star appliances, flooring, boilers, and water heaters were added, and accessible ramps in the lobbies were installed.
New York State Homes and Community Renewal provided $48.5 million in financing through tax-exempt bonds and a subsidy loan through its Multi-Family Preservation Program. HCR's federal Low-Income Housing Tax Credit allocation will generate about $33.4 million in equity for the project.
Fox Hill Apartments is supported by the New York City Department of Housing Preservation and Development and the U.S. Housing and Urban Development Section 8 program. As a condition of receiving the public funding, the owners of the Fox Hill housing agreed to maintain tenant affordability for the next 40 years.
"As we work to expand affordable housing opportunities across the entire state, it is essential that we also continue to invest in the homes we already have," says Gov. Andrew Cuomo. "By investing in quality apartments and extending affordability for another four decades, New York is ensuring residents on Staten Island have access to safe, decent homes for years to come."
"The financial restructuring of Fox Hill Apartments is a true public-private partnership which preserves the affordability of 362 apartments for the next 40 years while enabling much needed renovations to be completed at the property," says Fox Hill Housing manager Joel Gluck. He additionally thanked HCR, HPD, HUD, Wells Fargo and elected officials.
Park Hill Management completed the project within 19 months without relocating the tenants. The developer provided an additional $1.2 million from outside the development budget to fund the work, according to Rockabill Consulting-Development president Niall Murray.
Governor Cuomo has emphasized affordable housing as a top concern for New York, including stepping into the complicated, widely-publicized NYCHA property maintenance and service disputes.
New York State has committed $20 billion in a five-year plan to create or preserve 100,000 affordable homes and 6,000 supportive services. The plan includes multifamily and single-family housing, community development, and rent stabilization.