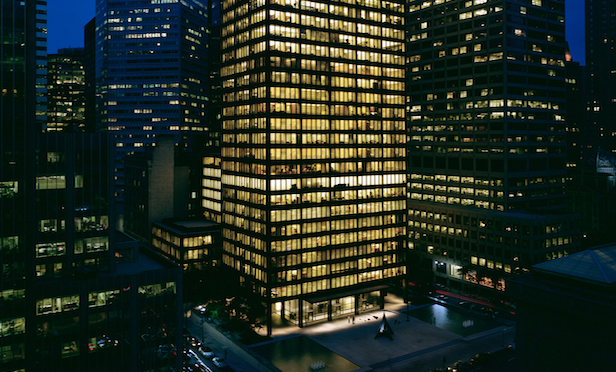 NEW YORK CITY—Temasek, a Singapore-based global sovereign wealth fund with a portfolio of approximately $197 billion, has expanded its lease by approximately 5,800 square feet to occupy 22,762 square feet at the Seagram Building, located at 375 Park Ave. Temasek had signed its initial lease with RFR Realty in 2013. The terms of the deal were not disclosed but an industry source tells GlobeSt.com that the asking rent in the building was $185 per square foot.
Temasek recently made headlines as Bloomberg reported last week that the fund with other investors agreed to purchase a $1.1 billion stake in Hainan Airlines. It was part of the restructuring of the Chinese conglomerate HNA Group.
Brian Goldman of Newmark Knight Frank represented Temasek in its expansion negotiations with RFR Realty.
RFR Realty also just added two new tenants to the landmark building.
The Brazilian-based law firm Demarest Advogados recently signed a 10-year lease for 2,387 rentable square feet in a prebuilt space in the tower. Founded in 1948, Demarest Advogados is firmly established and well known in Brazil and Latin America. Aron Schreier and David Mainthow of Cushman & Wakefield represented the tenant in the transaction.
Nearwater Capital has also leased 4,127 rentable square feet occupying part of one floor. The company works in specialty finance, focused on providing financing to sponsors for risk retention. Kip Orban of JLL represented Nearwater Capital in its lease.
In each of the transactions, RFR was represented in-house by AJ Camhi and Ryan Silverman, along with the JLL leasing team of Benjamin Bass, Diana Biasotti, Kristin Morgan and Kip Orban.
With these latest deals the building is now 98% leased, according to RFR.