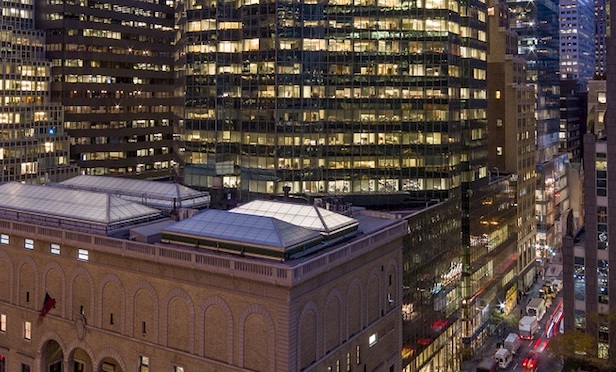 New York City—Evercore is leasing 350,000 square feet, more than doubling its current space at Park Avenue Plaza, located at 55 E. 52nd St. The international banking advisory firm has agreed with Fisher Brothers to keeps its global headquarters at the Midtown tower through 2034.
Evercore, which currently occupies 150,000 square feet, will expand and consolidate its New York operations in the building as floors become available through 2023. The parties involved with the transaction declined to comment or did not respond to GlobeSt.com regarding additional lease details by the filing of this article. However, industry sources indicate that the rent is in the low-$100s per square foot.
"Our business has grown substantially over the years and we continue to have strong momentum. We are pleased to partner with Fisher Brothers in developing and implementing a strategy that allows us to bring our team together at Park Avenue Plaza," says Evercore CEO Ralph Schlosstein.
"We are thrilled to extend our relationship with Evercore, which first came to Park Avenue Plaza in 2006," says Fisher Brothers partner Ken Fisher. "We believe this expansion is a reflection of the tower's premier location, large column-free floor plates and powerful views." He also notes the buildings services and amenities as favorable factors attracting tenants.
Other tenants in the building, which is now 100% leased, include General Atlantic, BlackRock, Morgan Stanley, Intercontinental Exchange and Duff & Phelps.
The developer completed a $40 million renovation of the property's 13,000 square-foot, public-access space in 2016 with architecture and interior design firm Janson Goldstein. The 45-story, 1.2 million square-foot office building was originally designed by Skidmore, Owings & Merrill and completed in 1981. In addition to its glass-walled atrium lobby with a waterfall and cafe, the property houses luxury retail arcades.
Fisher Brothers was represented in-house by Marc S. Packman and Charles P. Laginestra, as well as by Howard Fiddle, Peter Turchin, Christie Harle, Roger Griswold and Benjamin Joseph of CBRE. Russ Rabinovich and Maura Gallagher of Haynes and Boone, LLP provided landlord legal services.
Alan J. Desino of Colliers International brokered the deal for Evercore. Valerie Kelly and Jon Mechanic from Fried, Frank, Harris, Shriver and Jacobson LLP provided tenant legal representation.