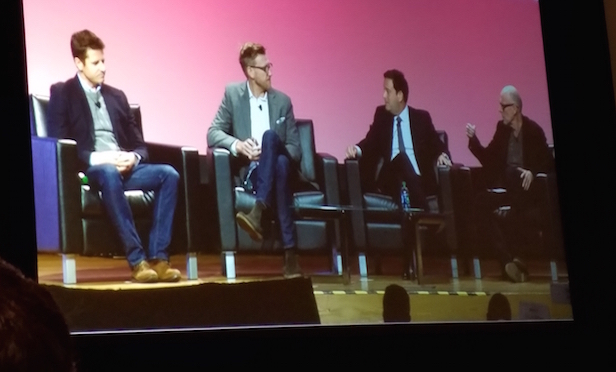 NEW YORK CITY—Despite industry talk of Amazon's devastating effects on retail, Bluemercury co-founder and COO, Barry Beck, emphasized that it's nearly impossible to fully actualize a brand without a brick-and-mortar, real world presence. He noted that's why Amazon and other e-commerce companies are opening physical stores.
"We're even more convenient than Amazon. We're beating them in their own game," said Beck. In Manhattan, 75% of Bluemercury customers live within a five block radius of one of the high-end cosmetic and spa locations. In the suburbs, their customers all drive within 15 minutes to shop at Bluemercury. Beck added that Amazon sells—but does not build brands.
Bluemercury embeds itself in the communities where customers live their lives, said Beck. The idea is that Bluemercury customers can pick up a lipstick on their way to getting a cup of coffee.
Acquired by Macy's two years ago, according to Macy's SEC Form 10-Q filed on Dec. 4, 2017, as of October 28, 2017, Macy's is operating 155 Bluemercury locations (135 freestanding and 20 inside Macy's stores).
Today, managing customer relationships utilizes more information technology. "We spend hours pouring over our customer data. We know who our clients are. We know what they are looking for," said Beck.
The data helps the company stay ahead of the next trend. For example, for years men have been buying luxury shaving cream and gels. But Beck said Bluemercury was the first company to realize the trend in men's makeup, with men now in the market for tinted moisturizer, eyebrow gel and bronzer.
At the International Council of Shopping Centers keynote presentation at the "New York Dealmaking" conference at the Javits Center, on Wednesday, Beck was on the panel. The other panelists were Kyle Ashley, Warby Parker's director of retail, and Chris Hull, chief merchandising officer of the American lifestyle brand store, Shinola.
Scott Galloway, a professor of marketing at NYU School of Business, and the founder of Red Envelope and Prophet Brand Strategy, served as the moderator.
Because Warby Parker started as an online store, the company already had vast amounts of e-commerce data. Plus, Ashley noted that with their initial strategy of managing the entire customer experience, they never relied on a third party to provide information about customer preferences.
Founded in 2010, Warby Parker three years later set up their first retail store in SoHo. Now, their website lists 63 physical locations in the US and two in Canada. The company had experienced a successful transition from its youthful, hip, strictly online store to multiple brick-and-mortar locations.
The customers interact with Warby Parker through a combination of on-line and in-store communications. The company strives to ensure that experiences are consistent across all touch points.
Hull emphasized even with wholesale and retail data about Shinola's products, there was no substitute for spending time in a neighborhood, talking to consumers. The watches, bicycles, leather and journals store learned about their customers through their on-site physical presence.
Even with the advances of information technology, there are some basic retail operations, that all companies need to remember to optimize customer experience. This includes hiring and retaining engaged and talented employees.
Bluemercury's HR strategy took cosmetics sales seriously, and encouraged full-time employees, looking for a professional career. "We really look for beauty junkies, people who are obsessed with beauty products, who love beauty products and can talk about them," said Beck.
The company likes to think of their employees as "human Googles for beauty products." Beck noted that 50% of the customers come to their stores with a beauty problem. Having employees with knowledge and expertise has sustained their competitive advantage in customer service.
As a stakeholder-driven business, Warby Parker cares about its employees and pays them well, said Ashley. Having a strong social mission, not only does the company want to change the way the industry sells glasses, but it wants to change the way for-profit businesses operate.
"You can do a lot of good in the world and make money at the same time," he said.
As it has from its start, Warby Parker still distributes one pair of eyeglasses to people in need for every pair of glasses sold. Ashley said the overall company mission helps attract and retain quality employees.
Shinola had its roots in creating watch manufacturing jobs in Detroit, after the auto industry suffered economic hardship. Hull said the company tries to hire internally and to create a path for people in the retail locations to work their way to the company's headquarters. "They know how to connect with consumers, and what is needed to drive a great experience" he said.