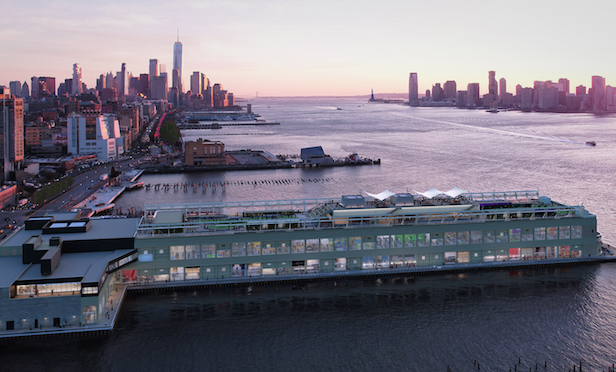 NEW YORK CITY—Google had previously arranged to lease 250,000 square feet at Pier 57 but has proposed adding 70,000 square feet for its offices, plus 50,000 square feet for public activities including cultural and educational programs, as reported in Crain's.
Pier 57 extends onto the Hudson River in Manhattan at the end of West 15th Street at 11th Avenue.
The Hudson River Park Trust, a partnership between New York State and City, is responsible for the four-mile Hudson River Park including Pier 57. The trust presented Google's proposal to Community Board 4 last Thursday night.
As reported in GlobeSt.com in 2014, RXR Realty and Youngwoo & Associates are developing Pier 57.
An HRPT spokesperson tells GlobeSt.com that as part of the pier's redevelopment, Google will lease additional office space, totaling 320,00 square feet, and will fund construction of the landing for water-borne public transportation, such as a water taxi or trans-Hudson service. Discussions for selecting a certified operator are underway.
In addition to the office space, Google will lease and provide 50,000 square feet of community space. This will include areas for HRPT tech education and environmental programs, studio rehearsal space for non-profit, local performing arts organizations, such as the Atlantic Theater Company, a public promenade and a 5,000 square-foot winter garden for visitors to sit and enjoy south-facing views.
Google's proposed agreement is for a 15-year lease.
Anthony Bourdain appears to no longer be opening shop at the pier, according to Curbed. However, the HRPT spokesperson emphasizes retail continues to be a key part of the development. There will be two restaurants, pop-up retail space and a 50,000 square-foot food hall located on the ground floor and mezzanine of the eastern end of the pier. RXR believes it will still be among the largest food halls in the city, and is in active discussions with over 20 operators.
Seth Pinsky, RXR Realty's EVP and investment manager of the metropolitan emerging market strategy, tells GlobeSt.com that the exterior, public open space which has always been part of the plan, remains preserved. The 3.1 acres include a rooftop park and an esplanade circling the pier's perimeter. He calls the proposal a "win-win for all parties."
"It creates a better and more truly public space within the pier," says Pinsky. "It will financially benefit HRPT. It will result in a right-sized food market and provides expansion of space for a company important to New York City's economy."
As part of the updated agreement, RXR will share a portion of Google's incremental rent with HRPT paying in addition the amounts owed under RXR and YoungWoo's 97-year lease with HRPT, nearly $20 million over 15 years to fund overall park maintenance and operations.
The updated plan is subject to a 60-day public comment period and a public hearing, after which it will be submitted to the trust's board for a vote. The 60-day period will begin once the ground lease is amended and posted online, according to the HRPT spokesperson.
Construction continues and the goal remains for the development's completion by the end of 2019, says Pinsky.