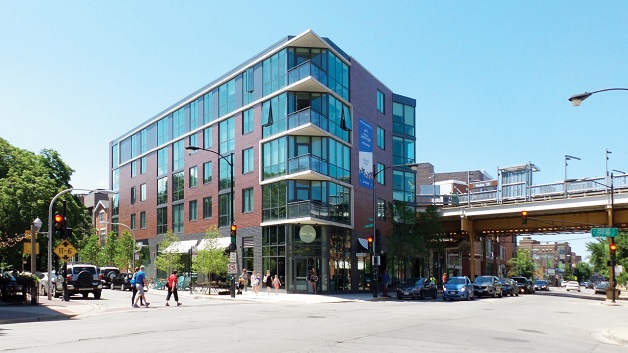 CHICAGO—The downtown apartment market attracts a lot of attention, and rightly so, but developments in outlying neighborhoods have also been quite successful. And Chicago-based Centrum Partners LLC has decided to test investors' appetite for such outlying product by placing its Centrum Lakeview Apartments on the market. Located next to the Paulina "L" Station in Chicago's Lakeview neighborhood, the 53-unit asset was one of the first approved projects under the City of Chicago's transit-oriented development ordinance. It opened last October and tenants moved quickly to occupy most of its units.
Chicago-based commercial real estate brokerage firm KIG CRE, which Centrum brought on to handle the sale, will soon start guided tours of the asset. KIG officials say it's not surprising that tenants snapped up this mix of studio, one-bedroom and two-bedroom units.
"There is not a lot of new product in any of these neighborhoods," Todd Stofflet, KIG's managing partner, tells GlobeSt.com. And developers have proven they can get more than $3 per square foot with few if any concessions. That shows "there is pent-up demand for new development."
KIG created a video highlighting Lakeview multifamily development spanning the last three years and projecting two years forward. The data show just 614 new units were delivered in Lakeview since 2014, compared to 2,574 in River North, 2,114 in the West Loop, 1,786 in the South Loop, and 1,580 in Streeterville. "While developments are set to increase over the next couple years, Lakeview is still on track to be only four to five percent of deliveries in 2018 – 2019," says KIG's Jacob Albers, associate – data analytics.
It seems unlikely that developers can ever fully satisfy the demand for new, luxury apartments in a dense, built-up neighborhood like Lakeview. Community residents and their alderman have been reluctant to approve giant apartment developments which would change the area's character, says Stofflet. "That will continue to feed rent growth in the neighborhood." But projects like Centrum Lakeview, with around 50 units and just a few stories tall, can gain approval.
"It's a truly class A asset," he adds. "It's one of the first in Lakeview to have these kinds of finishes." Centrum Lakeview's interiors include Snaidero designer Italian cabinetry, Balterio gray-tone plank flooring, Pearl quartz countertops, in-unit washers and dryers, Energy Star appliances, Kohler kitchen and bathroom fixtures and floor-to-ceiling windows.
The property also offers a long list of amenities typically found in class A assets downtown. Tenants have access to a terrace with lounge seating, BBQ grill, fire pit, and a café which includes a kitchenette. Ground-level tenants in the fully-leased 7,500 square foot retail portion include CrossTown Fitness, Brown Bag Seafood, a fast-casual seafood restaurant, and Impact Physical Therapy.