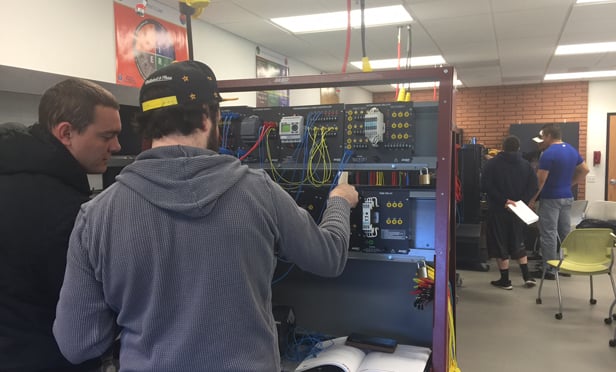 FONTANA, CA—During the recession, new hiring was minimal, but the workforce continued to get older as the industrial sector grew more dependent on technology, the Industrial Technical Learning Center's Ken Eaves tells GlobeSt.com. InTech Center, a 28,000-square-foot, regional, high-tech training center in San Bernardino County that opened this year on the campus of California Steel Industry here, is training more than 2,000 workers in advanced manufacturing, advanced transportation, logistics, energy and utilities as well as computer/ICT/digital media. The programs are conducted at no cost to employers and employees due to a $14.9-million grant awarded by the Department of Labor's Trade Adjustment Assistance Community CollegeandCareer Training program.
Eaves is TAACCCT industry liaison, sponsor representative—California Community College System, an accredited training sponsor for the National Center for Construction Education and Research at InTech Center. He works closely with industries in the Inland Empire and surrounding regions to determine their workforce-skills gaps and to develop training programs to fill those gaps. InTech Center is one of the few centers of its kind providing a valuable workforce population to manufacturers looking to expand into San Bernardino County.
We spoke exclusively with Eaves about some of the challenges manufacturers are facing today, as well why InTech is so important to the manufacturing industry.
GlobeSt.com: What are some of the greatest challenges for the manufacturing industry today?
Eaves: There is huge concern about the "greying" of the workforce. Most companies are projecting about 50% of their current workforce will be retiring within five to seven years. During the recession, new hiring was minimal, but the workforce continued to get older. Now there is a significant mid-level skills gap, so I work proactively with companies on their succession planning.
Technology is also changing the way industry operates. The jobs that went away during the recession are not coming back or have drastically changed. In many cases, the existing workforce is not prepared for new technology, so I work with the industry to close those gaps.
GlobeSt.com: What makes InTech Center so important to the manufacturing industry?
Eaves: We provide a highly skilled workforce that will drive further economic growth in the region. This is a game changer for San Bernardino County as we continue to grow our manufacturing base. A skilled workforce is a vital attraction and retention tool, along with the County's transportation network and the competitive cost of industrial real estate.
There are many industry-specific programs at InTech Center such as industrial electrical and mechanical to keep the technology running and robotics and program logic controls to keep distribution centers operating. We are also adding HVAC and building operation to keep buildings comfortable and energy-efficient. Other college partners are working on building skills in cybersecurity and quality assurance.
The InTech Center educational pathways provide NCCER industry-recognized certifications in more than 60 different crafts, along with EPA 608 and R-420 certificates.
GlobeSt.com: Can you cite examples of how nimble the InTech programs have been in supporting local industry and their workforce training needs?
Eaves: We can modify our training to meet the skills needs of the industry in a very short timeframe. For example, I recently spoke to an industry partner on a Friday about their workforce needs and had a 300-hour training proposal ready for their review on Monday. After making small modifications, we recruited and were training within 30 days. If an industry partner wants minor changes to an existing program, we can do that within days.
GlobeSt.com: How will developing the County of San Bernardino's own manufacturing labor force—through InTech—help the long-term growth of manufacturing here?
Eaves: Studies conducted by the Inland Empire Center of Excellence cited that over the span of an average work life (25 years), it is projected that prospective TAACCCT-trained employees stand to earn approximately $393,096 more than their generally skilled laborer counterparts. Over the four-year TAACCCT-grant funding project period, it is estimated that 2,589 workers and other adults will be served through InTech Center and related community-college courses. Applying conservative employment projections to this population, the long-term economic impact of the TAACCCT grant on the Inland Empire would minimally equate to approximately $168 million ($8.4 million annually).
GlobeSt.com: How successful has the InTech Center and its TAACCCT partners been to date?
Eaves: From March 2016 to July, 2016, funding from the TAACCCT grant has served more than 1,286 participants. During that time, the InTech Center specifically served 511 students. As of July 15, more than 1,300 NCCER nationally recognized industry certifications have been awarded for InTech Center training. The InTech Center provided more than 14,000 contact hours of nationally recognized industry-standardized instruction.