LOS ANGELES-Hong Kong remains the world's most expensive city for global retailers, outpacing places like New York, Paris and London, where prime rents also continue to reach record-breaking levels, according to new research from global property advisor CBRE Group, Inc.
CBRE's quarterly ranking of 97 prime retail locations/markets across the globe shows that competition in the world's leading cities is getting even stronger. This demand is being fueled by high-end retailers willing to pay record rents for the most coveted shops, while development levels are at historic lows resulting in a shortage of prime retail space.
Hong Kong (US $4,334 per sq. ft. per annum) is the world's most expensive location for prime retail rents by a substantial margin, followed by New York (US $3,300 per sq. ft. per annum), Paris (US $1,452 per sq. ft. per annum) and London (US $1,356 per sq. ft. per annum).
"There has been a lot of discussion about the strength of luxury retailers versus those that serve the mid-market," says Raymond Toto, global chair of of Research, CBRE. "CBRE's research provides further evidence that prime retail rents are strong in most markets and rose further in key global markets like New York, London and Tokyo.
"In many locations, prime retail rents have been buoyed by a shortage of available space in prime market areas and fervent demand from luxury brands. This lack of prime space has pushed some retailers toward secondary assets and markets. With construction levels at or near their troughs in many locations, this trend will likely continue in 2014."
Retailer demand in Hong Kong is focused on prime locations rather than secondary streets. The most sought-after prime streets are Russell Street inCauseway Bay, Canton Road in Tsim Sha Tsui, and Queen's Road Central in Central. These locations – which all recorded very tight vacancy – continue to attract both global and local retailers.
New York's Fifth Avenue continued its ascent into record territory during Q4 2013, with the luxury thoroughfare's average asking rent rising 4.8% quarter-over-quarter to an all-time high of US $3,300 per sq. ft. per annum. For a 5,000-sq.-ft. space, that would translate to US $16.5 million per year in rent. Other prime luxury streets in the northeast US also saw strong growth, including Newbury Street in Boston (up 6.7% quarter-over-quarter) and Walnut Street in Philadelphia (up 5.8% quarter-over-quarter) reporting the largest increases.
The retail market in France was characterized by heavy polarization, with substantial demand focused on prime space, especially in and around Paris. Significant interest from international retailers for the limited amount of available prime locations in Paris has resulted in steady rent growth over the past two years, with Paris' average prime asking rent up 80% since Q1 2012. Sustained demand from international retailers will continue to support high street rents in 2014.
Strong demand for prime retail locations in London has pushed rents to record levels. The luxury sector is a huge driver of exponential rental and key money growth. The limited availability of space compared to demand for prime streets has led to increased demand for space in secondary locations in central London. However, the U.K. market is heavily polarized with poorer secondary shopping centers and high streets suffering increasing levels of vacant space and falling rents.
Competition for high street retail space in Sydney remains strong due to healthy demand from international retailers and limited availability. The bulk of new supply pipeline is attached to the Barangaroo office development; however, the first phase will not be completed until 2015. Australia is the only country with two cities included in the top ten highest retail rents, with Melbourne ranked ninth. Melbourne became the hottest landing spot for fast retailers in 2013, including the first UNIQLO, H&M and Forever 21stores in Australia.
A recovery in the Japanese economy, a rebound in the stock market and anticipated growth in wages has translated into the highest consumer confidence since 2005. Big ticket items in department stores and luxury products both reported promising sales growth. Tokyo remains one of the key gateway cities for retailers that are new to the Asia Pacific region. With luxury brands seeking to expand and domestic retailers willing to try new locations, leasing activity has spread to peripheral areas such as the Jinnan area in Shibuya.
Rental growth in Moscow high streets remained stable throughout 2013. Demand for space remains steady, but the structure of the retail market is changing. The ratio of fashion retailers in high streets continues to decrease as the majority of Muscovites prefer purchasing clothes and footwear in shopping malls. Moscow is also set to see a significant number of new large scale shopping malls being delivered to the market.
Global retailers continue to seek prime retail space in Beijing, with designer brands 3.1 Phillip Lim and Cheap Monday opening their first standalone stores in China. Fast fashion brands are seeking opportunities in core submarkets, while food and beverage operators are increasingly popular with shopping mall landlords, especially those in secondary locations, due to their ability to attract foot traffic.
Prime Retail Rent Ranking, Ranking by US$ per Sq. Ft. per Annum Basis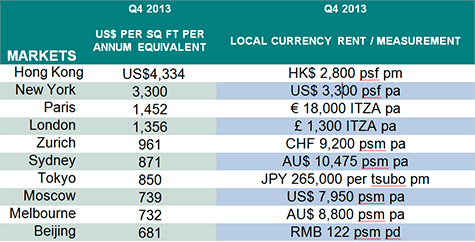 Source: CBRE Research, Q4 2013