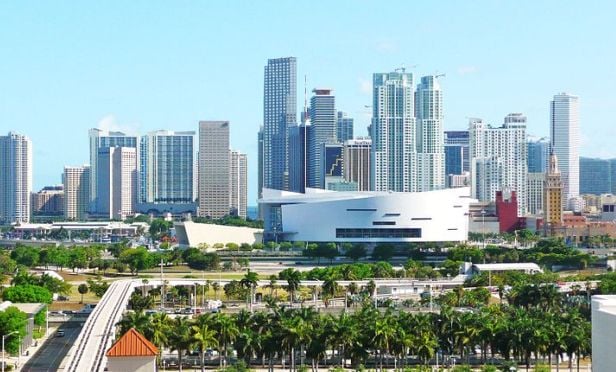 MIAMI—Real estate professionals were standing against the walls of the Four Seasons Hotel meeting room on Brickell Avenue for the University of Miami's fifth annual Real Estate Impact Conference.
About 600 gathered to network with national industry experts and glean perspectives on South Florida's commercial real estate market. This year's conference took a long-term and global view of factors impacting commercial real estate from Millennials to retail to smart cities and beyond.
"Our goal at the U is to be a world class research university for South Florida and the region. At the Business School, that means being the go-to for business talent and ideas for the Miami business community," said Eugene Anderson, Dean of UM's School of Business. "We want to contribute by attracting talent to South Florida and developing the talent that's already here… We also want to use the U's power to convene to build professional networks and intellectual capital in areas of vital importance to Miami's future."
During the "How Millennials are Driving the Transformation of the Real Estate Investment Market" panel Manny de Zarraga, executive managing director of HFF, moderated a discussion about the most important Millennial trends for investors and lenders.
"Retail is deeply in love with Millennials. The problem is it's unrequited love because they don't spend any money," said Garrick Brown, vice president of Retail Research of the Americas as Cushman & Wakefield. "Millennials are the biggest consumer block now 87 million everyone is chasing them. It's causing changes in the commercial real estate landscape."
Indeed, there is no lack of research on what Millennials want from living space, office space and more. Brown says some of that research may be accurate and some may not but of one thing he is sure: Today's preferences are not permanent. What Millennials want today will change in five or 10 years as they mature.
In the panel "A Fresh Look at Retail," Witkoff Group CEO Steve Witkoff interviewed Wood, president and CEO of Federal Realty Investment Trust. They discussed topics ranging from open air and closed mall development, targeting cities or suburbs and public versus private ownership.
Witkoff kicked off the interview with a broad brush of global realities: "We're seeing US GDP growth. The dollar is strong. Many economists talk about the US consumer as being the difference between 2% GDP growth and a possible recession. Some are saying the likelihood of a recession has risen to 30% in 2016."
Wood, whose firm has made big bets on CocoWalk and The Shops at Sunset Place in South Florida, isn't looking at 2016 as much as he's looking at 2023 and 2028. That's because the capital his firm deploys on any project or initiative isn't influenced as much by what is happening in the economy today as much as it is on cycles, location and product.
"What we are seeing suggests a continued migration to urban areas from suburban and more rural areas," Wood said. "Everybody has a different definition of urban. For some it means downtown—ground zero. For others it means Coconut Grove or South Miami. Consumers, from our view, are clearly coming in closer."
Technology discussed what happens when tech giants, innovative cities, and real estate entrepreneurs collide in the "Smart Cities: Technological Change in Real Estate" panel.
"We are trying to figure out who are the companies that five or 10 years out will define what cities look like," said Shaun Abrahamson, CEO and co-founder of venture fund Urban.Us Public Benefit Corporation. "We are tracking set of 400 company that are private, early stage and growing at a decent rate. What's the state of urban tech? A lot of people think about smart cities in terms of things governments buy. That's a tiny percent."
In the keynote session, Howard Lorber, president and CEO of the Vector Group interviewed Jon Gray, global head of real estate for the Blackstone Group. Gray's bottom line about Miami: "We love great cities where people love to work and visit and travel. Miami clearly qualifies. It's a gateway to Latin America and the city keeps getting better and better. In Miami in particular, we'd like to try to buy real estate in a period of volatility and hold it for long periods of time."