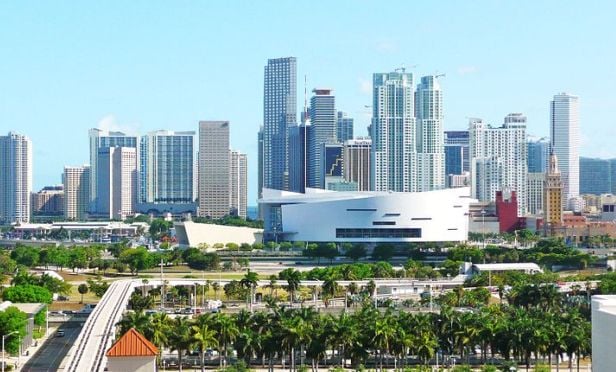 MIAMI—In a special keynote session, the University of Miami's fifth annual Real Estate Impact conference brought together two commercial real estate industry titans for a candid discussion about the state of the markets. Howard Lorber, president and CEO of the Vector Group (majority owner of Douglas Elliman Realty), interviewed Jon Gray, global head of real estate for the Blackstone Group, a multinational private equity, investment banking, alternative asset management and financial services company based in New York City.
Blackstone has $94 billion in equity under management, $175 billion in assets, and a portfolio of 50,000 single-family homes in 13 states. One third of those homes are in Florida and Gray called Miami the firm's biggest market by value.
"We've gotten so big because we've delivered strong returns," Gray said. "We can never lose sight of that. I have to spend most of my time finding where to invest capital. Making sure you are doing right by your talent—growing and retaining talent—is important but clearly investing is where I spend most of my time."
As Gray tells it, Blackstone—which manages large pools of capital primarily for pension funds—started snapping up public companies in the early 2000s. That's when the company stumbled on the idea that it could increase the quality of commercial real estate by bringing in strong management teams.
"Coming out of the [2008] crisis, we liked housing," Gray said. "We liked pan European logistics. We built a great management team and went all in. When we find something we like we put a lot of chips on the table and we create a great team to put behind it. The business has evolved from just investing to a much more active firm."
Of course, Blackstone has suffered losses. The company saw profits shrink by 70% in the fourth quarter of 2015 in the face of a weak stock market. The company also took a hit on its stake in the Hilton hotel chain. Hilton Worldwide Holdings has lost $2.3 billion in value since Sept. 2015.
Lorber asked Gray what has kept the company calm in the midst of tumultuous markets like the Great Recession in 2008. Gray's response: All of the company's losses were unrealized.
"When you are heading into a tough period you just don't want to be forced to sell at the wrong time," Gray said. "We knew we had time on the debt. We had reserves on our fund and we believed what had occurred was cyclical in nature and not the end of the world. What kept us calm was knowing we had a good underlying business. We had good capital structures an we believed things would come back."
Lorber and Gray discussed the "R" word—recession. Gray flatly stated that he doesn't see a recession hitting the United States this year. Rather, he believes the markets are seeing another wave ripple from the 2007-2008 financial crisis, with lots of new supply coming online globally as demand is slowing.
"We still see good fundamentals in the US real estate market," Gray said. "We would expect to see pretty good rental growth this year, as well as occupancy cash flow. You could see a year of very modest increase in value but the idea is that you are going to see a sharp decline with those fundamentals doesn't seem reasonable to us.
Drilling down into Miami, Lorber said in Miami "the market for overpriced condominiums has definitely slowed down… In Miami on the beach or in New York on the park, there are more $20 million buyers than $40 million buyers, and more $10 million [buyers] than $5 million, and more $2 million than $5 million… "I think the hardest thing to find in Miami is a lot, either on the water or off."
Gray agreed, but he's still bullish on Florida thanks to its population growth an on Miami in particular. "We love great cities where people love to work and visit and travel," he said. "Miami clearly qualifies. It's a gateway to Latin America and the city keeps getting better and better. In Miami in particular, we'd like to try to buy real estate in a period of volatility and hold it for long periods of time."