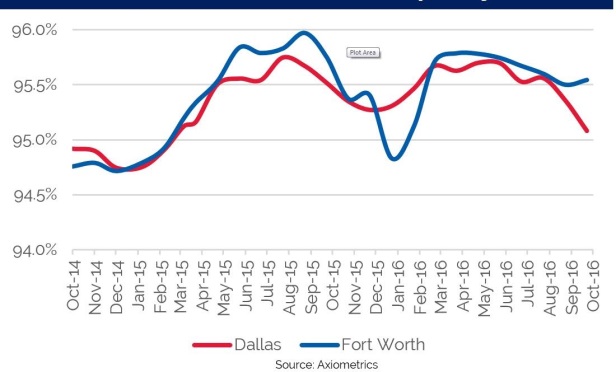 DALLAS—The robust Dallas Fort Worth multifamily is still on top after many years of upward momentum. In addition, mixed-use development continues to dot the tristate area. Even with supply keeping up with demand, market leaders are feeling the pressures of retail strains, changes in senior living and millennial requirements.
With regard to the supporting numbers, Dallas and Fort Worth average apartment rents declined slightly in October, though the two metros' rent-growth performance continued to rank among the highest in the nation, according to Axiometrics, the apartment and student housing number cruncher.
"Though DFW rents are rising at a slightly lower rate than they were a year ago, the moderation has not been as steep as the national markets," said Jay Denton, senior vice president of analytics for Axiometrics. "Fort Worth had the fifth highest rent growth among the nation's major markets in October, while Dallas is firmly in the top 20. Dallas' 4.2% job growth in September means demand remains high."
Effective rent in the Dallas metro was 4.2% higher in October 2016 than it was in October 2015, while rent growth was 5.8% in Fort Worth. In addition, Dallas' October occupancy rates were higher than September's, but lower in Fort Worth.
"Valuations for multifamily have surpassed all-time highs and are catching up with East and West Coast values," Vic Clark, managing director, Hunt Companies, tells GlobeSt.com in preparation for RealShare Dallas Fort Worth this week. "Also, affordable and workforce housing have never been more popular than today."
The session, Mixed-Use and Multifamily Drivers: What Lies Ahead, will discuss what's on the horizon for multifamily and retail, among other topics. In addition to Clark, the panelists will include Dan Spinogatti, senior vice president, EBI Consulting; Spencer R. Stuart Jr., senior managing director, Legacy Partners; and Stuart Wernick, managing director, Walker & Dunlop. RealShare Dallas Fort Worth will be held on November 16 at the Hilton Dallas/Plano Granite Park, 5805 Granite Pkwy. in Plano. #realsharedfw