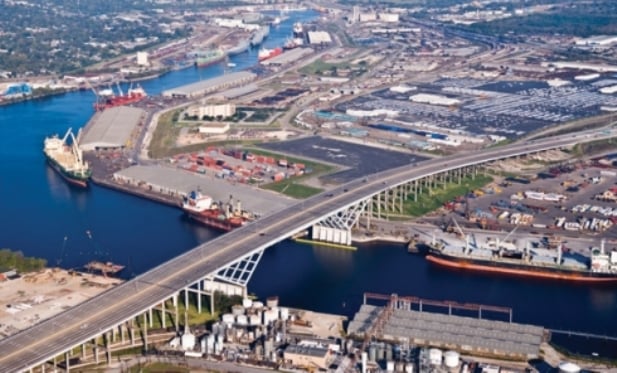 HOUSTON—The Port of Houston ranks as the top breakbulk cargo port in the US, and the other Texas ports of Corpus Christi, Brownsville, Houston, Galveston, Freeport, Beaumont and Port Arthur are also important to this highly specialized segment. Major breakbulk commodities for these Texas Gulf Coast ports include steel, forest products (wood pulp in particular), wind energy production components, and the many feedstocks and products related to the energy industry. Total global trade for Texas is estimated to be valued at more than $503 billion annually, according to CBRE's latest report.
Unlike other land-constrained US port markets, Texas ports have a significant contingent of land available for development—totaling 76,000 acres. Ports of Brownsville, Corpus Christi, Freeport and Houston have the most acreage available, which will ultimately lead to new occupier demand.
One cargo category that is drawing attention, especially in Texas Gulf Coast ports, is the shipping volume of wind energy production components—particularly windmills and rotors. The Port of Corpus Christi accepted 70 breakbulk vessels containing wind energy components in 2015 and anticipated similar volumes in 2016 (final numbers are being tallied, according to CBRE).
Indeed, industrial product along the Texas Gulf Coast will remain buoyed by robust trade activity for one of the largest US ports. The infrastructure provided by the port supports millions of square feet of occupier demand, and has led the transformation of the Port of Houston—and the other Texas Gulf Coast ports—into a concentrated global trade and logistics hub in its own right, says CBRE.
Another Gulf Coast port that will be coming into play is in Lake Charles, LA, GlobeSt.com learns. Upon completion, Port Cameron will be the largest private energy services facility on the Gulf Coast with more than 21,000 linear feet of bulkhead lots on dredged slips of 500 feet and 700 feet wide, and dredged depths of 33 feet.
Port Cameron LLC and Peterson have signed a teaming partnership agreement where Peterson will act as Port Cameron's logistics consultant to support the planning, development and marketing of the initial development of Port Cameron, targeting the main companies that perform energy exploration.
"For the shared facility that Peterson is leasing, we are of course targeting operators such as Shell, Chevron, Anadarko, Exxon, etc., since they are the main drivers that do the energy exploration in the Gulf and have the most at stake with the lack of redundancy in shore base operations," Ted M. Falgout, executive director, Port Cameron LLC, tells GlobeSt.com. "Additionally, it takes the basic services needed to support these operators. Companies like Haliburton, drilling companies, oilfield fluids companies, fuel companies, trucking companies, equipment companies, vessel companies are all essential in order to have a full-service facility. So, at this juncture, we are casting a wide net in order to provide the many services that are necessary. In the rest of the port, we will accommodate any of the previously sited companies if they choose to go it on their own, plus we have the capability to locate fabrication companies and anyone else that needs direct access to the Gulf of Mexico."
Under the arrangement, Peterson will have the option to lease up to 1.2 million square feet of space in Port Cameron Logistic Center, provide operational support and serve as port manager. Peterson is an international integrated energy logistics provider with a track record in logistics operations.