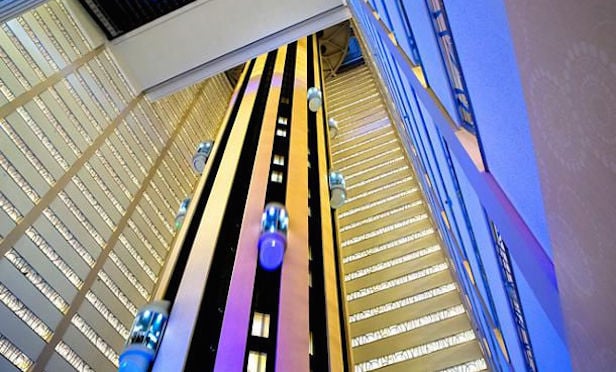 PHILADELPHIA—For all that 2016 is supposed to have been the year in which the bloom came off the rose for hotels, that perception isn't reflected in the stock performance of lodging REITs. Canaccord Genuity said Monday that hotel REITs have been the second best performing subsector of the REIT space, up 16% vs. the RMZ index, which is up just 1% year to date. Lodging C-corps have also strongly outperformed, up 23% YTD.
"Lodging's relative outperformance came in a year where RevPAR growth decelerated amid uncertainty surrounding economic growth, supply growth acceleration, FX headwinds and fears created by home-sharing services," according to Canaccord's outlook report for the hotel sector. In the new year, the financial services firm expects improving US macro conditions to eventually lead to improving RevPAR trends.
Buoyed by the so-called "Trump trade," though, lodging stocks have been up in recent weeks as expectations generally heading into 2017 have grown. "Any failure for economic optimism to materialize or impact RevPAR growth would likely weigh materially on the group," according to Canaccord.
In particular, the new year will dawn with anticipation of improved operating fundamentals for hotels. However, Canaccord says the improvements are likely to materialize later in the year, since operating fundamentals generally lag broader economic growth by two quarters on average.
"As such, initial 2017 guidance from most of the REITs is likely to disappoint, especially for those REITs with poor market exposures," according to Canaccord. "As long as investor optimism surrounding the macro outlook holds, we believe many investors will look through the initial guidance to potential beat and raise stories. However, with that being said, we believe there will start to be a bifurcation between those with good market exposure and those with bad."
That means that even as lodging's outlook brightens for '17, there will still be several major US markets adversely impacted by supply growth (e.g., New York City, Houston, Dallas and Seattle), FX headwinds (New York again and Miami) or poor convention calendars (San Francisco). This is likely to result in many of the REITs to experience RevPAR growth well below industry averages.
Accordingly, "we believe diversified platforms will shine in 2017, experiencing stronger RevPAR growth than peers" and driving outsized stock returns for Marriott International, Apple Hospitality REIT and Summit Hotel Properties, according to Canaccord. "We also believe REITs with particularly soft comps driven by renovations will see outsized EBITDA growth, which should result in relative multiple expansion," an advantage which Canaccord expects will be enjoyed by Sunstone Hotel Investors and DiamondRock Hospitality Co.
Overall, Canaccord is raising its price targets on hotel stocks by an average of 13%, primarily fueled by slightly better growth outlooks for the fourth quarter of 2016 and for 2018 RevPAR, as well as changes to Canaccord's NAV premia and discounts on the improved macro outlook. "Our NAVs are largely unchanged."
The firm expects RevPAR growth across the US to hover around 3% next year, similar to what the lodging sector experienced this year. Longer term, "an improving macro environment will drive RevPAR growth up close to 4%" in '18.
Over the course of next year, RevPAR growth is expected to decelerate across most of the companies in Canaccord's coverage universe, driven by market exposure for the REITs and FX headwinds for Marriott. "We believe current investor expectations are in the 0% to 3% range," in line with initial RevPAR growth guidance from Marriott, Hilton Worldwide Holdings and "industry pundits."