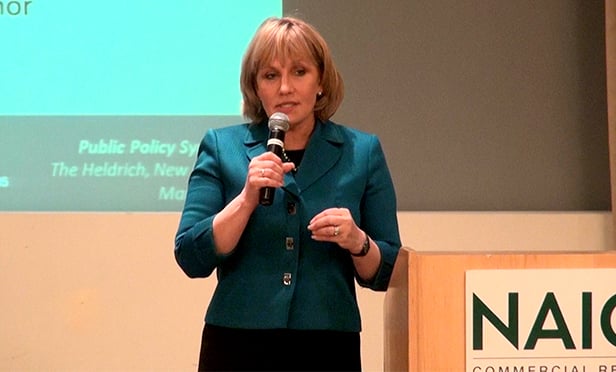 NEW BRUNSWICK, NJ—All five declared candidates for the New Jersey governor's seat spoke before about 200 members of NAIOP New Jersey at the Hotel Heldrich Mar. 3, describing in individual presentations their vision for improving the business and economic climate in the Garden State, which several of the candidates described as having high taxes and a high cost of living that can discourage businesses and workers from locating here.
The declared candidates who appeared were: Lt. Gov. Kim Guadagno and Assemblyman Jack Ciattarelli, seeking the Republican nomination, and State Sen. Raymond Lesniak, Assemblyman John Wisniewski, and former US Ambassador Phil Murphy, all seeking the Democratic nod. You can watch complete videos of their presentations produced by our content partner, StateBroadcastNews.com, in the players embedded in this story.
Guadagno reminded the audience of her efforts under the Christie Administration to cut red tape for businesses and the state's inherent advantages in terms of workforce and geography.
"We have the most educated workforce in the country, we have more scientists and engineers per square mile than anywhere else in the world," she says. "Where we are standing now, there is $3 trillion of disposable income." Guadagno called on business leaders to communicate more effectively with state government about where the state should focus on encouraging business growth.
"We have to do better at it," she says. "We need to have a governor who is willing to spend hours and hours" cultivating relationships with business leaders.
Ciattarelli described a five-part plan he believes will help improve the state's economy, including addressing inefficiency in the system because of the state's 561 municipal jurisdictions. He called the state's school funding through property taxes "blatantly unfair," and "terribly flawed." Sixty percent of the funding goes to five percent of the districts, he says, noting that "400 districts are underfunded," and asserts he would redistribute funds from overfunded districts to reduce inequity.
Zoning for projects with regional impact should go before county land use boards, rather than getting bogged down in municipal land use boards, Ciattarelli says.
Lesniak touted his legal efforts to get sports betting approved in the state as a sign of creative thinking about how to generate more business activity.
"You have to have a governor willing to upset apple carts, and I've upset a lot of apple carts," he says. "You need somebody create and somebody strong, and somebody who has a prove record that they can get the job done."
Murphy, who served as US Ambassador to Germany, and noted that New Jersey never sent a business delegation to Germany.
"Many delegations from many states states came over looking to attract manufacturers to build their next sales office, their plant, their regional headquarters," he says. "When they would come over, they would typically sell a spectrum of attributes. I think we've done a poor job of putting that package of attributes together to convince folks why they should come."
Murphy, like the other candidates, acknowledged the cost of living in New Jersey as a barrier to economic development.
"If we had even a more normalized growth rate in this state, we would have had $30-$60 billion more economic activity in the year 2016 than we had," he says. "That is not only serious economic activity, that is tax revenue, that is ratables. We have to grow this economy again."
Wisniewski called for greater investment in the state's infrastructure as an important factor in increasing economic development, and praised the decision by voters last November to dedicate the increase in the state's gasoline tax to the Transportation Trust Fund.
"If we don't invest in our transportation infrastructure, if we're not making our ports more efficient, if we're not making the roads in and out of our ports better, if we're not making the highways better so the trucks can travel across them, if we are not increasing the capacity of the bridges on our rail networks to take the heavier rail cars, we are putting ourselves at a disadvantage," he says. "Make no mistake, around the nation there are other cities with ports that would love to take the business that we have."