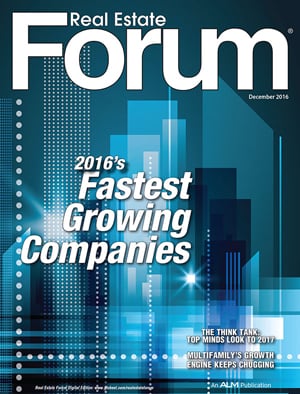 NEW YORK CITY—Now that 2016 is in the books, it's a good time to look at what was a momentous year. And that's before the Chicago Cubs won the World Series. There was the UK voting to leave the EU, the spread of Zika into the United States, and raised tensions over the continued influx of refugees from war-torn Syria. A little election took place, meaning 2017 will see a CEO sworn in as President.
More importantly, 2016 was a year of opportunity for several companies, and we take a look at them in December's Real Estate Forum headline story, "Fastest Growing Companies." These companies were the biggest winners and growers over the last three years, outpacing their competitors and being true successes in the industry.
The election doesn't just impact who gets to sit in a comfortable chair; it has lasting impact for the way the economy functions. In " Is CRE Entering a New World Order?" we look at the new regime and how its policy priorities might intersect with the industry at large.
Will the mismatch between incomes and rental increases finally doom the multifamily boom? It doesn't seem so. Forum looks under the hood on the dynamo sector in "The Engine that Can."
Check out our table of contents for more features, and get a head start on the new year in money flows with the Forum+ 2017 Debt & Equity Capital Edition.