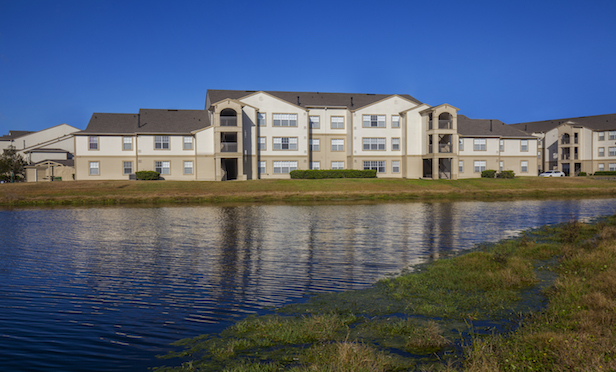 KISSIMMEE, FL—Boca Raton, FL-based Waypoint Residential has sold the 320-unit Arrow Ridge Apartment Homes community here to Insula Companies of Sarasota, FL for $49 million.
The 337,892-square-foot property consists of 16 three-story buildings. Waypoint Residential recently upgraded all unit interiors, which resulted in a notable rent increase and therefore now presents a strong value-add opportunity for the new ownership, according to Cushman & Wakefield. C&W's senior director Jay Ballard and senior director Ken Delvillar with the brokerage firm's Florida Multifamily Team, represented Waypoint Residential in the property disposition deal.
"Arrow Ridge is a well-located community with excellent access to a growing job market as well as a wealth of high-quality retail," says C&W's Ballard. "The significant improvements Waypoint Residential made to the units come with strong upside potential for Insula Companies."
Insula plans to begin a $2.6-million renovation of the 98% occupied complex in the Orlando suburb of Kissimmee and also is changing the community's name from Arrow Ridge Apartments to Ridge @ 4100. The capital improvement program at the property located at 4100 Arrow Ridge Place will include the building exterior, property amenities and unit upgrades. The renovations will further separate the complex from others in the area, since it is one of only a few that offers four-bedroom, three-bathroom units, Insula Companies states.
Insula used a $37.939-million acquisition loan secured by Berkadia for the 320-unit apartment community in Kissimmee, Florida. Berkadia's senior managing director Mitch Sinberg and associate director Matthew Robbins of the firm's South Florida office arranged the loan on behalf of the borrower, securing a Freddie Mac Green Loan with a 10-year floating rate and five years interest-only with what Berkadia describes as a competitive spread over LIBOR.
"This renovation is set to improve the quality of life for all current and future residents, along with bringing a sense of positive transformation to the Kissimmee area at large," said Jeff Talbot, principal at Insula Companies. "Multifamily communities are diverse in needs, wants and interests—so, we are looking forward to improving living conditions and giving residents a space they can happily call home."
The residences range from one-bedroom, one-bathroom units to four-bedroom, three-bathroom units. The community was constructed in 1999 and amenities include a business center, swimming pool, gazebo and covered picnic areas, sand volleyball court, children's play area and a fitness center.
Insula Companies, founded in 2009, operates 17 communities, including two developments within a five-mile radius of the newly purchased Arrow Ridge property.
In late March and April of this year, Waypoint was extremely active, announcing the purchase of a 194-unit student housing property serving Mercer University in Macon, GA, followed by the purchase of four multifamily and student housing properties in Illinois, Kansas and Ohio and later the purchase of a 214-unit apartment property in Wake Forest, NC and an 82-unit senior living facility in Starkville, MS.