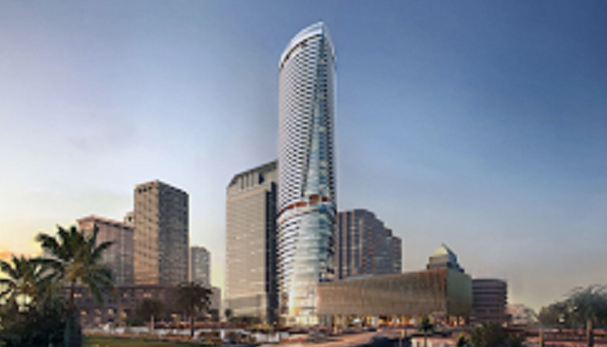 TAMPA–Condo conversions, new developments and even builders changing long-standing major project plans to increase residential and reduce retail and offices are indications of the growing demand in the downtown area.
It is also another indication that downtown Tampa is evolving into a 24-hour city.
The latest was a report that demand for condos in Riverwalk Place is so strong developers are making a big departure. Developers Feldman Equities LLC and Two Roads Development have abandoned plans to incorporate up to 14 floors of office space to add condos into the mixed-use development at the 53-story tower will have more condos. The sail-shaped building will be the tallest on the Gulf Coast.
When sales offices were officially opened last week, Smith & Associates Real Estate said they had nearly $70 million in reservations already booked since the project's announcement three years ago.
"We knew interest would be high to live in a tower this special, and what we found is extraordinary demand before we even formally opened our sales gallery," said Reid Boren, managing partner of Two Roads Development, in a prepared release.
"Interest this strong in Riverwalk Place shows downtown Tampa is blossoming into an all-day, all-night live, work and play community," Feldman Equities President and CEO Larry Feldman said.
Feldman and Boren said they realized there was a market for upscale, owner-occupied condos downtown when an unexpected number of potential buyers inquired about parking and storage. "Investors typically don't ask those kinds of questions," Feldman said, adding: "A developer's job is to fill demand and the demand tells us people want condos."
Unknown number of new condos
The number of new condos was not known but it was believed to be more than 200. Prices for those already being marketed are from the $600,000s to $2 million.
New condos are also proposed in downtown's Channel district and within the $3 billion Water Street Tampa. It will be the area's first hotel-branded condominiums with the Residences at the Tampa Edition. The 46 condos there will be on the top 15 floors of a 26-story tower above a 173-room Marriott Edition luxury hotel. Construction is supposed to start early next year.
As rents here kept rising, the conversion of apartments into condos in downtown has long been a subject of speculation.
Recent related news included the 243-unit The Place at Channelside, a fractured condo that went bankrupt during the crash ten years ago. Canadian investors are turning the rentals into condos. The move was seen in part as an effort to add mid-tier options for downtown buyers, reported the Tampa Bay Business Journal. They reported there are four condo developments proposed within a 1-mile radius of The Place, where starting prices listed on a website were priced as low as $184,900.