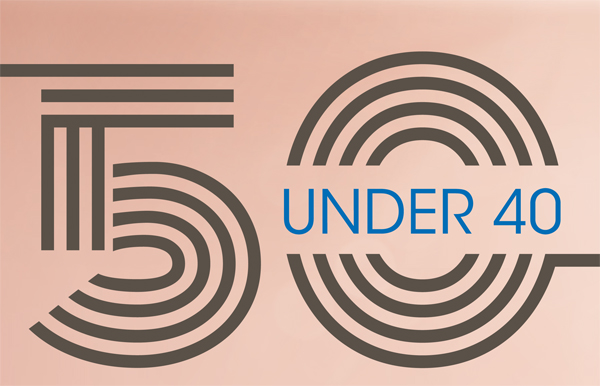 There are countless reasons why we think commercial real estate is the best industry to make a career. Of course, we may be a bit biased. But even so, we clearly are not alone. Following are our picks for the annual 50 Under 40 awards—our list of rising young stars in the industry that we feel compelled to call out for their achievements. But while we think that CRE is the best industry to be in, we are under no illusions about what it takes to be No. 1. These men and women have all brought something unique to the table, to say nothing of hard work and a winning attitude, thus meriting their inclusion in this year's list.

HENRY "TRIPP" ALEXANDER, III COLLIERS INTERNATIONAL Beginning his real estate career as an intern in college, Henry "Tripp" Alexander III quickly transitioned to specialize in industrial brokerage. Driven by an unwillingness to fail, Alexander treats each transaction as a unique project while serving as partner and director of industrial services at Colliers Alabama. Focusing on industrial tenant representation, site-selection and marketing services within North-Central Alabama, Alexander successfully executed $97 million in transactions in 2018. Through a proven track record in helping occupiers make market-driven decisions and assisting owners to ensure competitive marketing, he aims to grow and support the brand locally and nationally with trusted, long-standing clients.

JOE AMBROSE UC FUNDS With a life-long passion for finance and an interest in tangible investments, Joe Ambrose commenced his career in real estate directly after college. He began leading UC Fund's screening and originations teams at the age of 29, and he has continued to do so for the past decade, completing more than $2 billion in closed deals. As SVP of production at the firm, Ambrose handles the structuring and credit evaluation of transactions. He evaluates loan requests, filters deals, proposes structures for potential opportunities, maximizes debt and equity investment volume and trains younger analysts within the firm. Ambrose's strong work ethic and abilities in yielding strong risk-adjusted returns have earned him in-house recognitions.

ZACH AMES FRANKLIN STREET Starting his career in 2011 as an entry-level analyst at Franklin Street, Zach Ames quickly gained prominence within the company. Surpassing his first year sales goals in 2013, Ames has since doubled his revenue from year-to-year. He has received the firm's highest honor for outstanding sales for the past five years and he has consistently served as a top ten producer for the firm. Throughout his career he has sold more than $1 billion in apartment properties totaling more than 290 transactions. As a partner and senior director of multifamily investment sales, Ames directs business development, financial analysis, database research and marketing, while leading a team responsible for contributing a minimum of $3 million in annual revenue.

TONY ARELLANO DWNTWN REALTY ADVISORS Miami-native and area expert, Tony Arellano has completed countless, impactful transactions throughout his 15-year career that have helped shape and revitalize districts within the city. Upon working his way up from an intern to EVP at Metro 1 Commercial, Arellano co-founded DWNTWN Realty Advisors in 2018, and has since led the brokerage firm to complete more than $2 billion in transactional volume, operating with a unique territory-based approach. While serving as managing partner and one of the firm's primary producers, Arellano advances stakeholders' goals, offers data for optimal solutions, considers each project's impact on the broader neighborhood and revolutionizes neglected areas within major Miami submarkets. In addition, Arellano serves as an expert mentor within the space.

BRADYN ARTH INSTITUTIONAL PROPERTY ADVISORS, A DIVISION OF MARCUS & MILLICHAP With a financial background and an appreciation for decisions based on asset performance and potential, Bradyn Arth commenced his career in commercial real estate 10 years ago. As an investment sales professional and a multifamily market expert, Arth serves Institutional Property Advisors, a division of Marcus & Millichap, as SVP. He specializes in the acquisition and disposition of apartment communities and residential land throughout Western Canada. Having been directly involved in real estate transactions valuing $2 billion, Arth was previously recognized as one of Canada's top ten highest producing brokers, under the age of 35.

BRIAN AWE DLA PIPER Encouraged by the sense of ownership and accomplishment that the field provided, Brian Awe recognized his passion for real estate while in law school. Beginning his practice as a summer associate at DLA Piper, Awe has since served as counsel to developers and investors in the acquisition, development, financing and sale of various large-scale projects in the Boston area and throughout the US. Motivated by tangible results and the ability to enhance and engage the community, he represents clients on all legal matters and leads his team as partner. Through his versatility in the space, Awe remains committed to preserving Boston's architectural history and providing supplemental programs through active pro bono work.

C. THORN BACCICH FLAGSHIP HEALTHCARE PROPERTIES C.Thorn Baccich realized his passion for healthcare real estate development as a way to give back to the community. While gaining market experience, Baccich began to approach each project with the patient at the forefront. Facilitating efficient healthcare service delivery, while maximizing consumer experience, Baccich continues to improve access to healthcare through rewarding development projects. As EVP of development and co-department head at Flagship Healthcare Properties, he collaborates with community stakeholders to generate win-win solutions that benefit the firm and surrounding neighborhoods. He ensures strategic alignment with clients' missions and repeatedly exceeds delivery expectations. Throughout his career, he has significantly contributed to more than 50 development projects, valuing more than $650 million and more than 1.7 million square feet.

DOUG R. BANERJEE GREYSTEEL CO. While quickly rising through the ranks of Greysteel Co., Doug Banerjee has found great success within middle-market multifamily sales. In addition to serving on the firm's executive committee, Banerjee leads Greysteel's Dallas/Fort Worth market-rate investment sales team, as well as its central affordable housing sales team. As senior managing director, Banerjee provides immeasurable value to the company by originating deals, driving corporate initiatives, evaluating processes, implementing best practices across global service lines and furthering regional philanthropic initiatives. While consistently being recognized within the firm's President's Club, Banerjee fosters the firm's national internship program and mentors team members throughout the company.

DEMETRIOS BARNES SMARTRENT While studying to become a teacher, Demetrios Barnes quickly shifted goals upon witnessing the devastation of displaced students when Hurricane Katrina hit. Gaining initial interest in the industry while performing housing inspections for those impacted, Barnes now holds extensive experience in property management. Understanding the sector's pain points, Barnes assists multifamily operators by providing innovations to address challenges. In 2017 he launched SmartRent as co-founder and COO to offer smart home automation solutions. Since then Barnes has assisted in raising more than $102 million in funding and has expanded the firm to more than 200 employees nationwide. Barnes continues to drive SmartRent's substantial growth, which experienced a 600% YOY growth in product installation last year.

CORY BERTRAM STARBUCKS COFFEE CO. While in college, Cory Bertram knew exactly what he wanted to do and he fought wholeheartedly to make his goal a reality. Once the youngest professional to be a real estate development representative in Starbucks Coffee Co.'s history, Bertram now serves the company in his ideal role of store development manager. He is responsible for developing new store locations in New York City and managing the area's existing portfolio. Analyzing situational factors to develop and execute targeted strategies for each location, he works on every aspect of the process. In 2018, he received the Spirit of Starbucks Award and the company's Bravo Award. He was instrumental in opening the first community store in Brooklyn, a concept to support underserved communities, and, in between 2014 and 2016, he successfully relocated 14 stores to drive-through locations within the Florida market, increasing sales by 45%.

ROBERT BHAT MARCUS & MILLICHAP CAPITAL CORP. Dedicated to understanding clients' needs as a trusted resource, Robert Bhat advises on requirements, responds to requests and anticipates deadlines. As first VP of capital markets for Marcus & Millichap Capital Corp., Bhat secures commercial debt and equity financing for a variety of property types. Utilizing his vast connections with national, regional and local funding sources, Bhat has executed more than $2 billion in transactions throughout his career. In 2019 alone, he ranked as a top 10 originator for the company nationally, he received the firm's chairman's club designation and he served as the top producer within the company's Miami office.
JOSEPH E. BINDER INLAND PRIVATE CAPITAL CORP. With prior industry experience, Joseph Binder rapidly progressed in his career upon joining Inland Private Capital Corp. as a senior financial analyst in 2008. Following multiple roles within the firm, Binder assumed his current position as EVP of acquisition structure and finance in early 2019. With a keen ability to direct new investment strategies and find creative solutions to meet strategic goals, he oversees processes and provides structured offerings to investors. He has diversified and grown the firm's investment platform across a variety of asset classes, guiding complex initiatives into the medical office and hospitality sectors, while handling each transaction from initial due diligence through disclosure. Within the past eight years, he has directed more than $7 billion in acquisitions.

NICOLE BOONE JPMORGAN CHASE As she navigated the challenges of being a black woman in traditional commercial real estate finance, Nicole Boone shifted her focus to pursue community development finance while serving as a change-maker to under-resourced communities. As VP, community development banker at JPMorgan Chase, Boone originates, structures and closes all new markets tax credits investments for the Western region of the US. While leading large teams of attorneys, accountants and financing professionals through the transaction process, Boone ensures that all projects and businesses positively impact distressed communities, receive the necessary subsidy and generate jobs or provide services. While serving as a top performer of the team since joining as a key member two years ago, Boone leads between $150 million and $200 million of tax credit financing annually.

ROBERT BORNY DERMODY PROPERTIES Making the transition from the brokerage business to the investment business, Robert Borny holds experience and connections within both fields. Previously, Borny advanced from an analyst role to associate director within a four-year period at HFF, during which he served as the lead industrial broker by completing $1.4 billion in transactions. Borny now serves Dermody Properties as SVP of capital deployment for the Eastern US, where he identifies and executes industrial acquisition opportunities, sources and completes development projects and handles the marketing and leasing for existing assets. Within his first three years at the firm, Borny has sourced more than one million square feet between three projects.

KARIN L. BRANDT COURBANIZE While working toward her master's degree in urban planning at MIT, Karin Brandt collaborated with leading developers to launch coUrbanize in 2013. As CEO and founder of the digital platform, Brandt provides evolving technology solutions to meet the needs of developers, city planners and community members and allow stakeholders to better communicate facts, while also providing community insight and accelerating development timelines. She ensures that voices do not go unheard by capturing essential, inclusive feedback from neighbors and underrepresented audiences. The company has raised $3.7 million in funding, and in 2019, more than 100,000 people visited the website's projects. Last year, Brandt launched the event series, Women in Development, in order to build networks, celebrate successes and share challenges.

AUSTIN BROWN RIVERROCK REAL ESTATE GROUP Commencing his industry career right out of high school by working at the front desk of RiverRock Real Estate Group, Austin Brown actively sought out opportunities to learn about all aspects of the field. He now serves as brand manager, where he oversees all aspects of the firm, manages its website and social media platforms and has expanded his role to oversee company operations. Brown is currently playing a vital role in leading the firm's COVID-19 compliance by securing PPE for all employees, implementing an internal program across all 24 offices and preparing client buildings for re-occupancy.

BENJAMIN BROWN MOUNTAIN WEST COMMERCIAL REAL ESTATE Spending his initial year within the commercial real estate industry conducting market research and publishing the Utah Retail Market Report in 2000, Benjamin Brown now serves as one of Utah's leading commercial agents focusing on retail. As director at Mountain West Commercial Real Estate, Brown is a leader in the retail investment field by transaction volume and total deals, and he is responsible for compiling and completing the state's largest retail investment transaction. Since 2011, he has averaged more than 100 deals per year, and he has executed more than $960 million in transaction value. As a creative problem solver, he assists and serves clients in doing the deals they want.

EMMA BUCKLAND CBRE With a varied background of executive roles in consulting, banking and software and analytics, Emma Buckland holds a broad perspective as CBRE's global president of property management. Previously responsible for an 850-professional team and more than 5,000 CBRE properties across the UK, Buckland now oversees the management of more than 2.7 billion square feet of commercial property. Aiming to evolve the property management business and add client value through technology, Buckland consistently performs detailed analysis and engages differing perspectives to define a clear vision and challenge the status quo. In 2018, she led the largest automation project in the business, globally, returning $6 million of benefit. Earlier this year, she established a diversity and inclusion council for the property management business to facilitate open lines of communication and create an environment for everyone to thrive.

AMY G. CALANDRINO BEYOND COMMERCIAL Amy Calandrino founded the full-service commercial real estate firm, Beyond Commercial, a decade ago at the age of 26. With prior experience as a business and real estate law paralegal, Calandrino now specializes in commercial real estate sales and leasing representation. As founding principal and broker at the firm, Calandrino completed more than 20 commercial deals valuing $10 million last year while pregnant with her son. She leads a team of agents to serve local and international business owners across all asset classes and representation types, while curating workflows for each client's needs. Calandrino serves as the Florida CCIM Chapter's Central District president and as the Winter Park Chamber of Commerce Leadership Council president.

JEANNE STOLL CASEY METAPROP Combining her vast knowledge for existing digital infrastructure with her passion to untap potential in tech-enabled real estate solutions, Jeanne Stoll Casey consistently drives success for MetaProp. Bringing an impressive 85 deals to the investment committee last year as principal, Casey handles investment-focused day-to-day responsibilities such as executing early-stage PropTech investments while driving the investor relations side of the business, sourcing new LP relationships and identifying strategies to scale companies. Casey additionally serves as the founding member of Digital Alpha, the first fund to focus on private equity investments engaged with smart cities and IoT technology. She notably led and executed the fund's first eight deals, securing a track record to raise more than $1 billion in subsequent funds. Casey also actively advocates with Women in PropTech.

BRANDON CHASEN CHASEN COS. Drastically transforming Baltimore communities, Brandon Chasen focuses on turning historic properties into boutique, luxury apartment buildings. Founding Chasen Cos. four years ago to offer high-quality design and outsourced amenities at an affordable price, Chasen oversees the construction, ownership and management of properties. As CEO, he takes on projects that other developers consider off-putting and shapes them into featured, focal points. Implementing innovative, improved processes by leveraging technology, visuals and personal relationships, Chasen has fully-leased each new property within 30 days of opening. He has brought 14 projects to market since the company's launch and currently has more than 250 units in progress. Under Chasen's leadership, Chasen Cos. has gained recognition as one of the fastest growing companies in the DC metropolitan area, achieving 3,671% revenue growth from 2016 to 2018.

SHAWN H. CLARK CRG Growing up around the construction business, Shawn Clark quickly realized his passion for the financial and transactional factors of ground-up development projects. Now at 34 years old, Clark is an established industry leader. Since joining Clayco's real estate arm, CRG, in 2013 Clark has established the brand as a national player in the development landscape. During his three-year tenure as president, Clark has tripled the firm's size, expanded its footprint and reach nationally, launched its first build-to-core industrial fund, built its industrial brand, The Cubes, and established its multifamily brand, Chapter. Since joining the division, he has led 32 marquee development projects, valuing $1.4 billion for the firm.

MICHAEL DAVALOS TZADIK MANAGEMENT Michael Davalos has proven himself as an industry expert throughout the past 19 years, after commencing his career in 2001. Following his work in commercial financing, private equity loans and multifamily building, Davalos entered the arena of capital raising upon joining Tzadik Management in 2016, where he now heads up sales and investments as EVP. While overseeing business development operations, raising capital and equity, deal sourcing and debt sourcing, Davalos works on transactions between title companies to match evolving markets with today's economic demands. In 2019, Davalos led $265 million in acquisition projects for the company. Within the past two years, he has led his team to raise $85 million in equity from institutional sources, private equity firms and family offices.

LISA FLORES VERITAS INVESTMENTS After being promoted to a dual role of senior regional property manager and head of resident services at Veritas Investments in early 2019, Lisa Flores quickly advanced to director of property management in 2020. Significantly enhancing the Veritas resident experience, Flores has implemented an improved operational model for the firm throughout the 750 apartments that she oversees. While streamlining resident communications, improving resident retention and expanding temporary accommodation services, Flores excels at fostering her industry network to benefit the firm and its clients. She has elevated business relationships with low-income housing providers and LGBTQ housing advocates to further assist residents and community members with particular needs.

NOAM FRANKLIN BERKADIA Noam Franklin's career has taken him from Toronto to London to Abu Dhabi to New York in less than a decade. In 2007, without a job offer, Franklin moved from Canada to the Middle East, where he worked for leading real estate institutions for seven years before moving to the US and receiving his master's degree in real estate development from Columbia University. He then founded the boutique capital advisory firm, Central Park Capital Partners. Through his unconventional approach to deal-making and deep international relationships, Franklin sold his firm to Berkadia in 2019. As managing director and head of Eastern US, Franklin leads the joint-venture equity and structured capital group at Berkadia. Working closely with Berkadia's various service lines to fulfill clients' needs across the capital stack, Franklin diligently pairs clients with ideal sources of capital for projects throughout US markets.

SHEENA GOHIL COLLIERS INTERNATIONAL Gaining interest in the industry during an internship at a commercial real estate firm as an undergrad, Sheena Gohil founded Boston University's real estate club before establishing her career through various leadership roles. Serving as one of few Indian women working in tenant representation brokerage within New York City, Gohil provides relevant, customized, data-driven solutions for clients. As Colliers International's executive director, she currently oversees activities for two million square feet, while working with a wide variety of clients as a versatile industry expert. In addition to serving as CoreNet Global's NYC chapter chair, Gohil was recognized as one of the top ten professionals within Collier's top 10% in 2019, as well as the youngest and only woman in the group.
STEVEN GOLUBCHIK NEWMARK KNIGHT FRANK After serving as a founding partner of HFF San Francisco, Steven Golubchik transitioned to Newmark Knight Frank in 2016 and has since established the firm's institutional capital markets platform within the Bay Area. As vice chairman and head of capital markets for Northern California, Golubchik has spearheaded the office's growth and recruitment, expanding it from three brokers to nearly 40 while surpassing $7 billion in volume annually. He has ranked as Newmark Knight Frank's No.1 San Francisco broker and its top two broker for Northern California, in addition to serving on the firm's national capital markets executive committee, and its Northern California steering committee. Throughout his career, Golubchik has closed more than $25 billion in transactions.

MIKE GRIFFIN SAVILLS Selecting a career in commercial real estate due to its impact on companies' workforce, culture and overall success, Mike Griffin now serves as a talented broker, as well as a prominent civic activist. As SVP and market leader for Savills Tampa, Griffin oversees local brokerage and consulting practices, while executing strategies and recruitment to grow the firm's prominence within the area. Griffin advises occupier clientele, ranging from Fortune 500 companies to all levels of government, on integrated solutions. Within recent years, his efforts have resulted in more $75 million in savings for clients, and throughout his career he has completed transactions totaling more than seven million square feet. With clients such as the State of Florida and the State of Georgia, Griffin served as the youngest chairman in the history of the Greater Tampa Chamber of Commerce board of directors.

CHI HATHIRAMANI CASORO GROUP With an impressive track-record, Chi Hathiramani has participated in more than $2 billion in transactions throughout his career, in addition to previously facilitating numerous mergers and acquisitions that led to the $8 billion merger that formed JBG Smith. Hathiramani now leads Casoro Group's investment strategy, acquisitions, asset management, capital raising and investor relation functions as chief investment officer. While participating in substantial acquisitions across various asset classes, Hathiramani is deeply committed to bettering homes and bettering lives. Seeking opportunities that offer value, with the lifetime goal to serve others, Hathiramani utilizes his industry expertise in creating and shaping the firm's social impact program, which provides commercial real estate education and experience to offer opportunities in underserved communities.

LONNIE HENDRY TREPP Lonnie Hendry has played an integral role in transforming Trepp's business development, product and research initiatives since joining the firm as VP of commercial real estate product management in 2019. With 18 years of industry experience, Hendry is responsible for researching, validating and improving new industry product initiatives. While leading the firm's early success in the assessor space, Hendry was quickly promoted to additionally serve as head of Trepp's advisory services, where he leads a team in identifying, implementing and executing advisory opportunities across all verticals of the organization. Separately, Hendry serves as an instructor at Texas Tech University and as an adjunct real estate professor at Tarrant County College, teaching real estate appraisal and investment courses.

JESSICA HOBBS MESA WEST CAPITAL With a dual degree in finance and accounting and a master's degree in hospitality, Jessica Hobbs appreciates the analytical aspect of bridging each project's beginning and end, while ensuring clients' goals are met. Hobbs has established herself as a key asset to Mesa West Capital's continued growth, cultivating new investors, recruiting institutional partners for open and closed-end debt funds, expanding the firm's investment opportunities and creating a lending portfolio encompassing all major property types. While serving as one of the firm's most active lenders, head of investor relations and VP, Hobbs is also heavily involved with the capital raising team. Utilizing her expertise, resourcefulness and personable leadership, Hobbs has raised $3 billion from investors, alongside her partner, since joining the firm in 2015.

RAHUL R. IDNANI DREAM UNLIMITED Upon building out TIAA's asset management platform, Rahul Idnani identified the case, developed the financial analysis and led the business team in the $6.25 billion acquisition of Nuveen Investments in 2014, which provided TIAA $230 billion in third party assets. In 2017, at 30 years old, Idnani then became the global COO and head of portfolio management for Nuveen, handling the firm's $90 billion real estate portfolio on behalf of institutional investors. Upon expanding Nuveen's portfolio and improving its investment performance, Idnani recently joined Dream Unlimited as president earlier this year, to build and lead its private real estate platform, Dream Equity Partners. While overseeing profit and loss, product development, capital raising, investor relations, investment performance and overall business management, he aims to provide clients with long-sustaining outperformance and responsible assets under management growth.

TED JACOBS CUSHMAN & WAKEFIELD Upon commencing his career during the financial crisis in 2008, Ted Jacobs saw the opportunity to exclusively specialize in the life sciences sector within the San Diego market. With a background in representing and advising life sciences landlords, Jacobs holds a unique understanding of the operations and intricacies of various laboratory uses, and the ability to better negotiate and yield results for clients, ranging from start-ups to Big Pharma. He is currently the youngest professional at Cushman & Wakefield to earn the title of vice chairman. With a 2019 leasing production valued at nearly $235 million, Jacobs serves as the firm's No.1 producer within the San Diego market, a top-ranking broker nationally and a partner on the Cushman & Wakefield life science advisory group.

NOAH D. JURAN NORTHMARQ Working both as a lender and a mortgage banker throughout his 16-year industry career, Noah Juran has financed deals for a range of product and loan types throughout the US. During his past five years with NorthMarq, Juran has closed more than 125 loans and more than $500 million in loan volume. Responsible for arranging debt and equity financing for all asset types and sectors, Juran leads and grows the firm's Cincinnati office as managing director. A top producer within the area and the company, Juran has been consistently recognized each year as a top five professional within NorthMarq for his number of completed loans.

DANIEL KLEIN KLEIN ENTERPRISES At the age of 29 in 2010, Daniel Klein became the fourth generation to lead the Baltimore-based, commercial real estate development and management company Klein Enterprises. As president, Klein has achieved significant impact on communities through his work in developing walkable, multi-faceted projects with mixed-use elements, which serve various audiences and represent future, smart development. Responsible for the company's overall performance, debt and equity management, development and acquisitions, Klein has guided the company to complete more than $400 million in transactions.

MATTHEW I. KURZMANN MARCUS & MILLICHAP Since joining Affordable Housing Advisors of Marcus & Millichap in 2011, Matthew Kurzmann has been responsible for the sale of more than 50,000 government-subsidized apartment units, valuing more than $3 billion. As senior national director and first VP of investments, Kurzmann has represented and advised a wide array of owners in maximizing value and selling affordable housing properties. He also serves on a leadership team which trains new brokers and implements new strategic business development. His work has consistently earned prestigious company awards and recognitions, and he was additionally instrumental in founding the AHA Nonprofit Education initiative and the AHA Cares initiative, assisting countless nonprofit organizations and affordable housing owners.

ANDREW KWOK CAPITAL ONE MULTIFAMILY FINANCE Following his industry experience in credit and underwriting, Andrew Kwok assisted in opening Beech Street Capital's West Coast office in 2011, which Capital One then acquired. Transitioning to origination and production, Kwok has additionally assisted in growing the Capital One Newport Beach office, which now employs a staff of 25 and achieves more than $1.5 billion annually. As VP of originations, Kwok oversees his team, develops new client connections and services existing relationships, while responsible for originating, structuring and executing a wide range of multifamily transactions, closing more than 100 debt transactions within the past five years. Kwok additionally serves as a mentor to young industry professionals and students.

RYAN MCARDLE THE PALOMAR GROUP At 34 years old Ryan McArdle, along with his partners, founded the investment sales firm the Palomar Group. Since its launch three years ago, the company has sold more than $1 billion in assets and has grown by more than 50% each year. As partner and one of the firm's principal salespeople, McArdle handles business development and provides products to assist clients in executing their acquisition and disposition objectives. In addition to remaining active in industry organizations throughout his 15-year career, McArdle transacted Georgia and Virginia's largest Kroger sale, Georgia's largest single Publix deal and the largest multifamily deal within the Nashville metropolitan area.

MATTHEW MOUSAVI SRS REAL ESTATE PARTNERS, NATIONAL NET LEASE GROUP Matthew Mousavi co-founded SRS Real Estate Partners' national net lease group and its investment sales property group in 2016 and has since worked to implement the groups' strategic directions within the SRS retail leasing platform as managing principal. Mousavi has since grown the investment sales brokerage to more than 50 net lease professionals throughout the country. In 2019, he led the NNLG to complete more than 400 transactions. As the firm's top producer nationally for numerous consecutive years, Mousavi additionally serves as SRS Real Estate Partners' youngest board member. Furthermore, Mousavi serves on the advisory board for the University of California Irvine's Center of Real Estate.

ADAM MULLEN CBRE Once Adam Mullen accepted the position of CBRE's greater Philadelphia market leader, he relocated to the area and made it a priority to personally meet with each employee across the region's seven offices. As the youngest market leader to lead CBRE within the region, Mullen proved his abilities within his first year by overseeing 1,169 sale and lease transactions, totaling $5.61 billion. While overseeing more than 435 employees across all business lines, Mullen additionally serves as an active voice within CBRE's local diversity and inclusion group. A deeply committed expert and a highly-regarded team player, Mullen received both the firm's market leader award and teamwork award in 2019.

ROSS PEMMERL UC FUNDS Ross Pemmerl has climbed the ranks at UC Funds, from working as an analyst 10 years ago to his current role of chief credit officer. During his tenure at the firm, Pemmerl has closed more than $1 billion and more than 100 deals. Responsible for underwriting and analyzing a range of complex transaction types, Pemmerl oversees and manages the firm's investment and risk profile for debt, mezzanine, LP equity and GP equity positions across all levels of the capital stack. He identifies potential risks, mitigates strengths and ensures the firm's portfolio is balanced across regions, asset classes and investment types.

AMBER RAO KEYBANK REAL ESTATE CAPITAL Since joining KeyBank Real Estate Capital in 2006 directly after college, Amber Rao has built her career from a rotational analyst to a senior mortgage banker, with a consistent track record of success. Rao leverages her in-depth market knowledge and expertise to identify unique opportunities and deliver sophisticated financing solutions that best support clients. Responsible for all multifamily loan production for the firm's Texas-based clients, she has closed more than $31 million in production this year, with an additional $81.4 million scheduled to close in 2020. Throughout her time with the firm, Rao has been directly involved in loan production totaling more than $2.5 billion. Additionally, Rao serves as a founding member of the Mortgage Bankers Assoc. mPact advisory committee, offering young real estate finance professionals industry connections and educational programs.

BROOKE RICHARTZ JPMORGAN CHASE A leader in the New York multifamily finance space, Brooke Richartz directs a team of 11 originators. Through her dedicated work ethic, Richartz has guided her team to provide more than $800 million of liquidity to the New York City multifamily market, since the onset of the pandemic in March. Initially intrigued by commercial real estate finance's impact on local economies and its role in shaping neighborhoods, Richartz now serves as executive director and regional sales manager for JPMorgan Chase, where she provides strategic direction from end to end, encompassing marketing, pricing and operations. At the firm, she has led various operational, functional and credit teams, while serving as an inspiration to young women in the industry.
GEORGANN C. ROWE MDH PARTNERS LLC One of few women within the industrial sector, Georgann Rowe has become, over the course of her 15-year career, a leading expert in this space. With past experience in industrial portfolio operations, leasing and acquisitions, most recently serving as GLP's VP, where she implemented asset management strategy for its robust Dallas and Phoenix industrial portfolios, Rowe now utilizes her established industry connections in her current role as director of acquisitions at MDH Partners LLC. Since joining the firm in October 2019, Rowe has closed $56.2 million in acquisitions, totaling 656,161 square feet. She continues to procure deals and expand MDH's pipeline throughout the Western markets.

DOMINIC SERGI CLEAR HEIGHT PROPERTIES Dominic Sergi grew up surrounded by commercial real estate work. He gained hands-on experience in his family's construction business early on in life, before formally learning the industry as a broker at Transwestern, where he was involved in transactions totaling more than $100 million. Sergi then launched Clear Height Properties, where he puts to work his acquisition acumen to recognize niche asset classes and focus on facilities for growing businesses and users. As CEO and partner, Sergi has led his team to acquire $100 million in assets since 2018. He continues to provide wealth-building opportunities for investors, as well as employees, while actively impacting his community through involvement in charitable and civic initiatives.

JOSH SIMON LEE & ASSOCIATES, WASHINGTON DC Attributing his piqued industry interest and all of his successes to his father's guidance, Josh Simon has transitioned from a landlord leasing agent into a development and middle market sales professional over the course of his 13-year industry career. Simon is currently responsible for leading the growth and development of the Washington DC and Northern VA region for Lee & Associates. As president of the firm's Washington, DC office, Simon recruits brokerage professionals and builds brand recognition within the region, while arranging investment sales ranging in individual deal size from $2 million to $40 million. He conducted $160 million in transactional volume in 2019, and his efforts have been recognized by the city of Alexandria.
MACKENZIE SIMS PLATT/WHITELAW ARCHITECTS INC. Mackenzie Sims has worked tirelessly toward her goals in the architecture field. As project coordinator at Platt/Whitelaw Architects' San Diego office, Sims is currently involved in designing a whole site modernization for an elementary school while collaborating with the school's principal and overseeing the construction bid process. She got her master's degree at NewSchool of Architecture + Design, where she earned an American Institute of Architects San Diego Design Award and executed a thesis project on school environments and childhood creativity, which she has since translated into a published book on evidence-based principles that support student engagement and creativity within a space. Combining her research work in architecture and neurology with her experience in project management and client coordination, Sims continues to push the boundaries of architecture's possibilities.

LOGAN SOYA AQUICORE Seeking to disrupt traditional processes with the mission to empower commercial real estate professionals, Logan Soya founded commercial real estate software company Aquicore in 2012. Aiming to help clients better monitor, understand and manage the built environment, Soya provides software tools through a cloud-based platform that uses data centralization, operational intelligence and machine learning analytics to unlock portfolio grade insights. As CEO, Soya has worked tirelessly to create and implement business strategies, manage investments and resources, drive innovation and grow Aquicore. Under Soya's leadership, the platform is now deployed at nearly 800 commercial buildings nationwide, with prominent clients such as Facebook, Hilton Worldwide, Cushman & Wakefield, and The World Bank.

ZACHARY STREIT GEORGE SMITH PARTNERS As SVP of George Smith Partners, Zachary Streit assists sponsors in capitalizing their institutional-level deals. Streit has arranged and closed more than $1 billion and has underwritten more than $6 billion of debt and equity financings for an array of transactions. In 2019, he notably co-brokered the $460 million non-recourse senior construction financing for a Ritz Carlton Hotel, Residences and Offices development in Portland, OR, which served as the company's largest transaction to date and the third largest construction loan in the country when it closed last year.

BENNETT WASHABAUGH TENANTBASE In 2014, Bennett Washabaugh left the tenant representation business to launch the tech-enabled brokerage, TenantBase Inc. Washabaugh has revolutionized companies' leasing processes by leveraging AI and machine-learning applications to target small businesses and startups. Currently, at 32-years-old, Washabaugh has secured more than $22 million in venture financing to scale the technology platform. Under his leadership as CEO and co-founder, TenantBase has expanded to more than 150 employees, serving 12 US markets with consistently increased annual revenues and deal volumes. In addition, Washabaugh serves as the technology liaison and youngest board member for AIR CRE, a Southern California industry trade association.