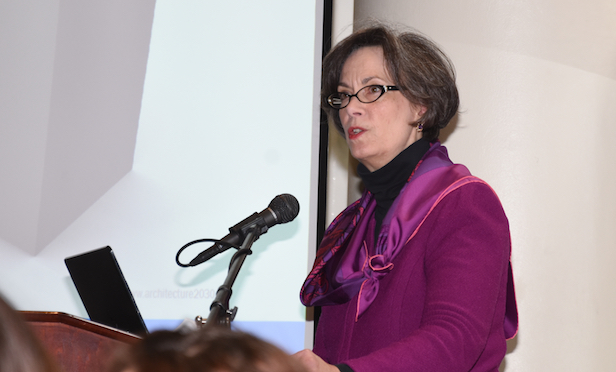 NEW YORK CITY—"We can make a huge difference because when it comes to emissions, buildings are the bad boys on the block. They are worse than transportation. They are worse than industry. Unlike cars, buildings are a long-term investment. What we choose to build today will have an impact for generations," said Beth Haider, chief sustainability officer at Skanska, a multinational construction company based in Sweden, and ranked the fifth largest in the world by Construction Global magazine.
The existing US residential and commercial building stock is about 250 billion square feet. In 15 years, about 50 billion square feet of it will be demolished, and 150 billion square feet will receive major renovations. Another 200 billion square feet will be added.
Now, the real estate industry is in a position to make a huge difference, facing an unprecedented opportunity for the built environment to reduce global warming. That also means big business, Haider told the 175 attendees of the CREW (Commercial Real Estate Women) New York professional association luncheon at 101 Park Ave. on Tuesday.
An independent Booz Allen Hamilton study found the green building sector is outpacing overall growth, accounting for 2.3 million jobs. Green construction spending has grown nearly 10% year over year. Over 6 billion gross square feet and 36,000 commercial products have been LEED certified.
The Forum for Sustainable and Responsible Investment reports the demand for environmental impact investing has doubled over the last two years, and Forbes notes it has grown by 33%. Skanska has benefitted from that demand. Skanska Financial Services has secured a revolving credit facility for their green projects at favorable rates and issues a green bond secured by commercial properties developed and built by Skanka that are LEED gold ranked and 25% more energy efficient than code.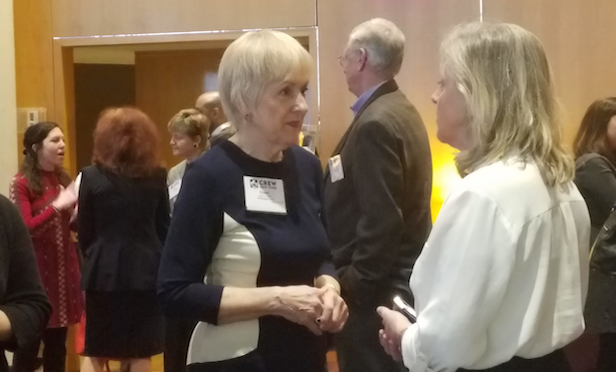 Americans spend 70% of their time indoors. As densification increases and HVAC systems become more efficient, Haider warned against filling buildings with nasty, chemical-laden material to avoid creating "a perfect gas chamber." She noted nearly 90% of white collar business costs are invested in human assets, which should include healthy environments.
Innovations are raising the bar. Instead of striving to do "less harm," industry professionals are creating buildings that affirmatively "do good."
Skanska worked on the Kendeda Building at Georgia Tech, an educational and research facility so advanced that it actually produces more energy and collects more water than it uses. It has targeted zero toxic materials and is seeking full Living Building certification. The standard is so high and aspirational that only 15 buildings in the world are fully certified. Totaling 40,000 square feet, the Kendeda Building will be one of the largest structures to achieve this rating.
The Chesapeake Bay Foundation retained Skanska as the construction manager to guide the design and building of the Brock Environmental Center in Virginia Beach. It was the first fully-certified Living Building in VA. The center produces twice the energy it uses, processes all waste water onsite, and collects and purifies more potable water than necessary to serve its demands.
This was the first Living Building granted permission by the Virginia Department of Health to allow actual drinking of the water it purifies. To celebrate, last summer the Brock Center transferred 600 gallons of rainwater processed in its building to a local brewery, which created the first Rain Barrel Bohemian Pilsner.
Skanska's projects have also included rehabilitating New York City's Rockaway boardwalks decimated in 2012 by Hurricane Sandy, and building Terminal B at La Guardia Airport. Both of these projects are mitigating against the risks of future storm events to ensure business continuity.
Haider emphasized developers, lawyers, insurance companies and bankers have recognized the benefits of investing in, designing, and building in a more sustainable, resilient way. Construction and development have been slower to change. However, despite winds of political change, for long-term risk management and business strategies, major corporations looking toward the future are banking on sustainability, said Haider.