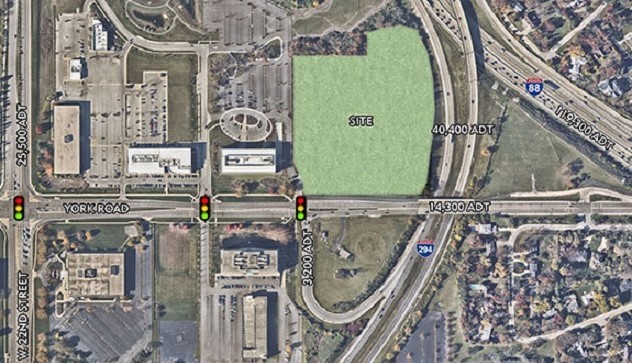 CHICAGO—Ryan Companies US, Inc. has acquired 11 acres of land at the I-88/I-294 interchange in suburban Oak Brook, one of the region's hottest office markets, and plans to develop a combined office/medical campus that will include structured parking. Officials from the Naperville, IL-based company say the class A development will likely to have a construction volume exceeding $70 million.
"This acquisition continues our strategic approach for Ryan to be a leader in delivering complex, signature developments in proven markets and asset classes throughout the Chicago metropolitan area," says Tim Hennelly, president of the company's Great Lakes region. "That's the approach we've taken in breaking ground on 833 North Clark Street Apartments in Chicago's Gold Coast last summer and developing three Clarendale senior living communities in the suburbs during 2015."
According to NAI Hiffman's year-end office market report, the overall vacancy in the East West Corridor was 18.96% and only 16.5% in the Oak Brook area. The class A vacancy in Oak Brook was just 14.1%. Furthermore, tenants looking for large contiguous blocks of class A space have very limited options on the eastern end of the market.
In addition to owning the property, Ryan also will provide development, design-build and real estate management services. NAI Hiffman will serve as broker, and Wright Heerema Architects will provide architectural services. Convergent Capital Partners, a real estate private equity firm headquartered in Tampa, FL, sold the property, which it had acquired in June 2013. Ryan plans to raze the existing industrial building and surrounding parking lots.
"Closing on the land purchase is a significant milestone for our development," says Jim McDonald, vice president of development for Ryan's Great Lakes region. "It's a rare opportunity to be a part of Oak Brook's sought-after and vibrant business, retail, and transportation corridor, and we're excited to transform this underutilized parcel of land. The site offers great visibility, access, and convenience, which will be an asset to future users."