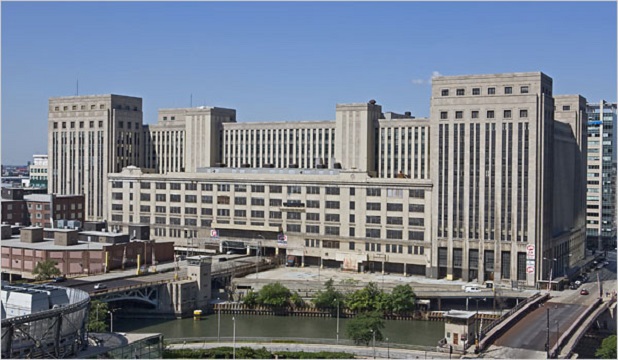 CHICAGO—Another developer may get a shot at tackling one of the biggest question marks in the city's downtown. Bill Davies' International Property Developers North America announced yesterday a conditional sale of the Old Post Office, the iconic 2.7 million square foot property that straddles the Eisenhower Expressway, to New York-based investment group 601W Cos. It is still not clear whether the deal will survive, as city officials seem to have other ideas.
Earlier this week, after losing patience with Davies' unsuccessful attempts to cobble together a workable plan since acquiring the site in 2009, the city's Department of Planning and Development issued a RFP for the property with proposals due June 10. Officials want to take over the site through the eminent domain process, identify a company willing to buy it for fair market value and then transform it into an office or mixed-use project. Davies' sale was announced the day after the RFP was issued.
"I think the obvious thing is that the city will, I'm sure, respect the contract," Richard Sykes, a consultant with Savills UK who represented IPDNA, told GlobeSt.com. He pointed out that 601W Cos. has built up a formidable reputation as a firm that can take over and revive aging properties. It bought the Starrett-Lehigh building in New York, for example, a 2.3 million square foot Art Deco landmark, "and turned it around in a short space of time."
The company also owns Chicago's One Prudential Plaza and has transformed the 60-year-old tower into a sleek modern office space with a host of new amenities. And in 2014, it purchased the 2.15 million square foot Southfield Town Center, perhaps the most recognizable office complex in suburban Detroit, for $177.5 million, even though it was only 67% occupied at the time. In all, 601W Cos. has acquired and repositioned more than 40 million square feet of trophy office assets within the US. It also owns other Chicago properties including the giant Aon Center and 111 W. Jackson.
IPDNA went through a long process before settling on 601W Cos. In late 2014, IPDNA brought in Savills to seek a joint venture partner or purchaser. In the subsequent 18 months Savills gave presentations in China, Japan, South Korea, Malaysia, the Middle East and Europe as well as throughout the US and Canada.
Serious negotiations with 601W Cos. began in May 2015 and the parties signed a contract of sale this week. The companies did not disclose the sale price or whether Davies' firm will still play a role in the redevelopment.
City officials "only knew about it on Tuesday," Sykes said. "It would have been nice to do it a week before," but it took a few more days to finalize the deal. The looming threat of the RFP "had no impact whatsoever" on the negotiations.
Asked whether he expects the city to now withdraw the RFP, Sykes said, "it's not for me to comment on. But 601W has every intention of moving forward."
The city's response perhaps sets the stage for a battle in court. "The city is going forward with the RFP as planned," Peter Strazzabosco, deputy commissioner of the planning department, told GlobeSt.com. The city will hold a pre-submittal conference on April 14, and "potential developers are strongly encouraged to respond."
Along with Sykes, Lisa Davidson and Tiffany Winne of Savills Studley represented IPDNA; 601W Cos. was represented by Jaime Fink and Jeff Bramson of HFF.