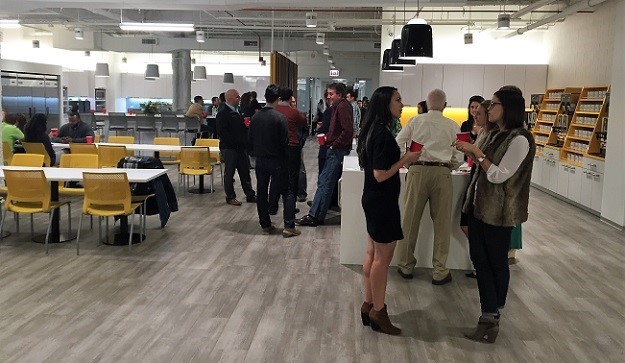 CHICAGO—Co-working may have begun with collections of freelancers joining together to share cheap office spaces, but it has rapidly become a big business that has helped transform the downtown office market. In fact, three of the largest 2015 office leases in Chicago were signed by industry leader WeWork, according to the latest market beat report from MBRE. Furthermore, three of the largest leases signed in the first two months of 2016 were also for co-working spaces, another by WeWork and two by a company new to Chicago, MakeOffices.
As reported in GlobeSt.com, last year WeWork decided to take over much of the space at 20 W. Kinzie vacated by Google, and ensured that the River North tower would maintain its reputation as a lively center of high-tech companies. And the Washington, DC-based MakeOffices just debuted two Chicago locations, one at 350 N. Orleans in River North, and the other at One North State in the Central Loop. The two locations will eventually encompass 130,000 square feet
"We are starting to see the rise of the new hybrid employee, and they need office space," MakeOffices chief executive officer Raymond Rahbar told GlobeSt.com. This expanding group includes entrepreneurs, freelancers, and those working in small businesses. "Chicago has emerged as a strong innovation hub with a world-class startup ecosystem and a rich talent pool, making it a natural city for MakeOffices expansion."
MBRE points to the recent $15 billion valuation of WeWork as evidence that co-working will have staying power. "Though that astonishing valuation may be overblown, it is undeniable that co-working is beginning to transform the office real estate market," according to its new report. "As WeWork races towards its goal of expanding to 1,000 global locations, there is no shortage of other co-working enterprises taking over large chunks of the office market square footage."
In 2015, Chicago co-working operators took over 304,114 square feet of space in the CBD. And in the first two months of 2016 there has already been at least 187,649 square feet of space leased for co-working in the CBD.
These big numbers illustrate that the demand for co-working has gone far beyond freelancers and small startups. Pioneers such as WeWork have begun catering to large corporations, and long-established providers of conventional executive suites such as Regus have responded by adapting their models to appeal to the new group of users.
The recent expansion of co-working has been fueled by interest from established corporations, MBRE finds. "The open and progressive atmosphere is believed to foster collaboration and innovation," the report says. "However, the aspect of co-working that is a true game changer for existing corporations is flexibility and the reduced risk that such flexibility brings."
A Fortune 500 company, for example, will decide it would like space within the CBD, but leery of committing to a multiyear lease, will instead take a block of space from co-working provider like WeWork or MakeOffices. That way, the firm can move fast and establish a downtown presence and quickly downsize the space if desired. And although the per square foot price might be more than a traditional lease, the firm would avoid long term liabilities. "Commitment to the landlord equals risk to the tenant," MBRE notes. "WeWork's true value proposition is the mitigation of risk for both building owners and space users."