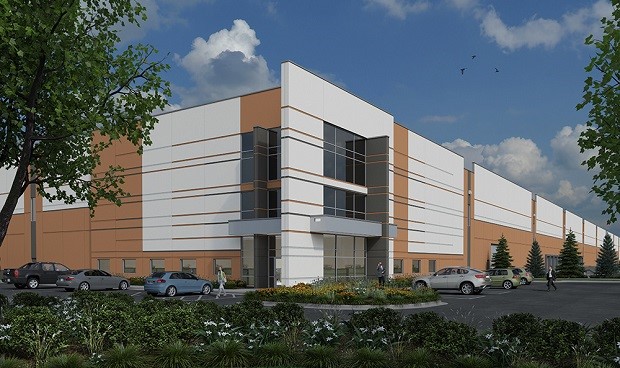 CHICAGO—The Opus Group and AEW Capital Management have started construction on a 452,000-square-foot speculative industrial warehouse at 1100 Orchard Gateway Blvd. in suburban North Aurora. It's the second big spec that Opus has recently launched in this corner of the I-88 submarket. The company finished the previous one, the immediately adjacent I-88 Gateway Logistics Center, in October 2014 and quickly leased all 604,565 square feet to a top distributor. But it was the sale of that building that perhaps most influenced the decision to launch another speculative project of this size.
American Realty Advisers acquired it in January, and Matt Kurucz, senior manager, real estate development, Opus Development Co., LLC, tells GlobeSt.com that the cap rate was just about 5%. "It was very profitable, so the company decided to finish building this one and get it out into the market." And the big purchase sent a signal to other developers with well-located sites. "The institutional capital is there in a big way for most developers, and everyone has said, 'let's go.'"
But although several developers now have speculative buildings underway in the area, 1100 Orchard Gateway will be the only one with 36' clear. In fact, "there are only a handful of buildings with this height around Chicago," Kurucz adds. "It's far more common in cities like Indianapolis." The prospect of bringing a relatively unique project to market also helped Opus "pull the trigger."
"I see it as more of a hedge for the long-term investor," says Kurucz. Although such buildings remain rare in the Chicago metro area, people running the big funds know that ten years from now it's likely buildings of 36' clear heights will still be considered modern. "I think we also expanded our reach from a leasing perspective," since some users may consider moving out of their current submarkets and into I-88 if they have a shot at a 36' building.
"The I-88 submarket has experienced strong leasing activity over the last year and with easy access to the interchange and highway visibility, the location will make this development all the more desirable," says Mike Yungerman, vice-president of real estate development, Opus Development Co., LLC.
Located on 25 acres of land, the property will feature 48 docks with room for expansion of up to 88, four drive-in doors, 79 trailer parking spaces and 263 car parking stalls. The building will be able to accommodate up to two distribution or light manufacturing tenants looking to occupy 200,000 square feet of space or more. Opus expects to complete the project by July.
Opus Development Co., LLC is the developer, Opus Design Build, LLC is the design-builder and Opus AE Group, LLC is the architect and structural engineer of record. Brendan Kelly and Todd Heine with Avison Young will market the property for lease.