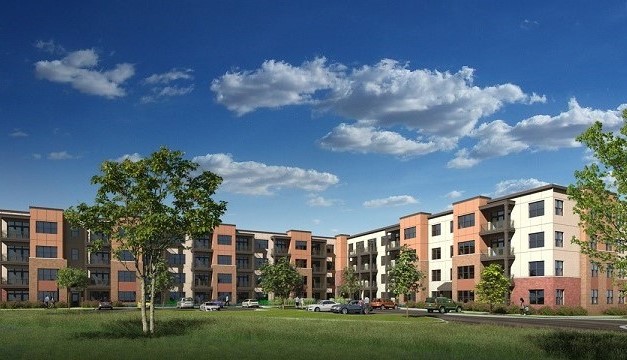 CHICAGO—It looks like the suburbs are going to start benefitting from the increasingly strong desire that people have to live near their places of employment. M&R Development has just entered into a joint venture with Itasca, IL-based Hamilton Partners and equity partner Murphy O'Brien to develop a luxury rental community in Itasca. Called the Residences at Hamilton Lakes, the 297 units will be adjacent to the Hamilton Lakes Business Park.
The park includes more than 3 million square feet of office space, as well as restaurants and two hotels, but this will be the first time developers have launched a rental project here. Furthermore, this is the first project of its kind in Itasca since 1990. The 10.7-acre community, bordered by Prospect Ave. on the east, Arlington Heights Rd. on the west and Thorndale Ave. on the south, will offer a mix of studio, one- and two-bedroom apartments across three four-story buildings.
The developers will break ground this spring, and have scheduled delivery for 2017.
"A lot of things have changed since 1990," Tony Rossi Sr., president of Chicago-based M&R, tells GlobeSt.com. Back then, the Elgin-O'Hare Expressway did not exist. But residents will have quick access to that roadway, I-290 and I-355. In addition, the community is adjacent to the new IL Rte. 390, created as part of the $3.4 billion Elgin O'Hare Western Access Project. "You're now at the center of everything, and there are a lot of employers out there. We think that's going to be a real plus."
"Now more than ever, people want to live close to where they work, as evidenced by all of the residential development occurring in downtown Chicago," he adds. And once M&R finishes this community, "thousands of suburban professionals who work in and around the Hamilton Lakes Business Park will finally have a residential option that takes the headache out of their morning and afternoon commutes."
M&R will include 7,500 square feet of amenities including a resort-style clubhouse with an outdoor pool, media room, fitness facility, business center and event space, as well as a spa, sauna and steam room.
Woodfield Mall, the state's largest shopping mall, is just 5.5 miles north of the property, accessible via I-290. A variety of recreational destinations are nearby as well. The 92-acre Salt Creek County Forest Preserve is ½ mile from the community, while the 3,558-acre Ned Brown Preserve, also known as Busse Woods, is just a 10-minute drive away.
And even though there is certainly a lot of pent-up demand for this kind of product, especially in the northwest suburbs, Rossi says he does not expect that this project will open the floodgates to more development. "The entitlement process is not easy in some of these communities. I don't think we're going to see these areas get overbuilt; the cities just won't let that happen."