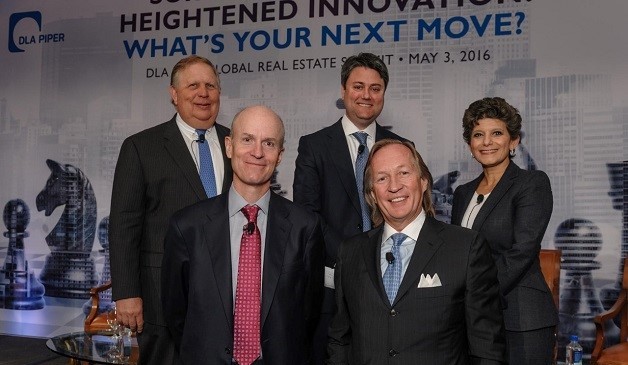 CHICAGO—It's hard to remember a time when the real estate industry was more consumed with a specific generation the way it is with millennials. But there is no doubt that the young people of today have very different ideas about the best ways to work and live. And their numbers make it imperative to understand what they want.
A few of the industry's top leaders addressed the issue on Tuesday morning at DLA Piper's Global Real Estate Summit in Chicago. Randall K. Rowe, the chairman of Green Courte Partners, led the plenary session and began by pointing out that by 2019, 50% of the workforce will be from the millennial generation. He then asked Owen D. Thomas, chief executive officer of Boston Properties, what impact this was having, and what may happen in next few years
"If you look at this cycle," Thomas said, "virtually all of the net absorption of office space in the country" has been through the activity of firms strongly associated with millennials, such as those focused on creative or high-tech work. "That's been a key driver for the business. All of the rent growth in New York, or a lot of it, has been in Midtown South," a hub for those sectors.
"We all know what a good location is," he added, so at least office developers don't need to make many changes on how they choose sites. But everyone in the market does need to pay more attention to what Thomas called "place," meaning the types of experiences that millennial employees would have in their new locations. "You need to have amenities, either in the building or in the neighborhood." And, just as important, millennials shun the cookie-cutter style offices of yesteryear. Today, uniqueness is a valued quality. "As an office developer, we are providing the shell, but we also try to supply the most flexibility possible."
"Changing tastes are changing how we think about investment," even for the very long-term, said Frank Cohen, senior managing director for Blackstone Real Estate Advisors. He was referring to the penchant that young people have for living in dense urban cores. The most common age for millennials is 26, he pointed out. "They are going to be in these cities for a long time."
Debra A. Cafaro, chairman and chief executive officer of Ventas, Inc., asked the other panelists whether or not they thought this urbanization phenomenon was permanent, or if millennials were merely deferring the inevitable move to the suburbs.
Cohen replied that he did not know where millennials would decide to live once they begin hitting their late 30s. But he does believe that many of the cultural changes brought about by this generation are permanent, and will continue to have a profound impact on the world of real estate. The desire to work in buildings that have what people see as authenticity, "to be clustered with the people they do business with," and live in walkable environments, among other preferences, are more properly seen as paradigm shifts rather than passing fads.
Rowe then wondered whether the advent of new technologies would transform how millennials interact with the world. That desire for walkability, for example, has caused developers to prioritize transit-oriented development, but what if mass transit could not compete with driver-less cars and became obsolete?
Thomas is skeptical that this is in the cards, and like Cohen, said that many of the factors shaping today's environment are more-or-less permanent. "The road infrastructure doesn't exist," he pointed out, that would allow the full exploitation of driver-less technology. "I just have to think that the importance of mass transit is going to continue."