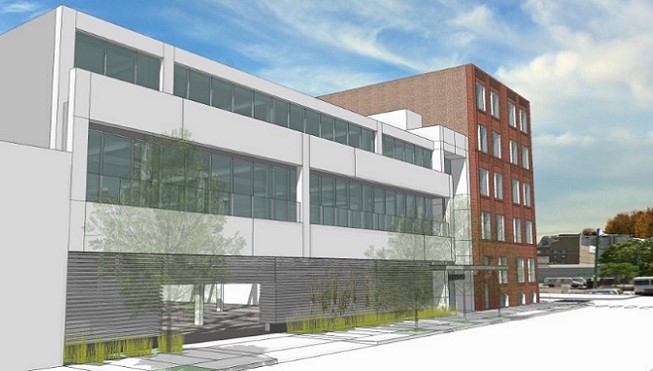 CHICAGO–Users looking for creative office spaces have focused a lot of their attention on the Fulton Market neighborhood, as Google and the other top tech firms that have moved in are also attracting new retail and restaurants. But the rental rates there have soared, and some prospective tenants may be looking to gain access to the local amenities, but at cheaper prices.
That's part of the thinking behind Dayton Street Partners' acquisition of a 40,000-square-foot building and 15,000-square-feet of land, located at 1500 Carroll Ave., on the edge of the booming neighborhood, from a private seller.
Built in 1889, the five-story loft office building has housed a diverse group of companies through its history such as the Chicago Bicycle Co., the Chicago Spring Butt Co. the Trenton Wire Mattress Co. and H.S. Maynard Chemical Laboratory. It has been vacant for the past 15 years and most recently served as home to a circuit board manufacturer.
Dayton Street Partners will invest $4 million into the building, modernizing it for today's office user. Improvements will include new exterior windows; new bathrooms and HVAC on each floor; new lobby, stairwells and lighting; new fire and life safety; new roof and bike garage; a new rooftop deck; and secure, parking for 47 cars.
In addition, Dayton Street plans to develop another 30,000 square feet of office space on the newly acquired land for an eventual total of 70,000 square feet on site.
"The proximity to public transportation is unbeatable," says principal Howard Wedren. "But more importantly, we will be able to offer new, state-of-the-art creative loft office space at rents that are 20 to 30% less than neighboring Fulton West."
Dayton Street is bullish on the area having recently acquired and redeveloped 2101 Carroll Ave. and 2137 Walnut St. in the last 18 months.
Cushman & Wakefield's Andrea Saewitz, Teddy Walsh and Lenora Adds will handle marketing and leasing for the property. Wintrust is financing the construction.