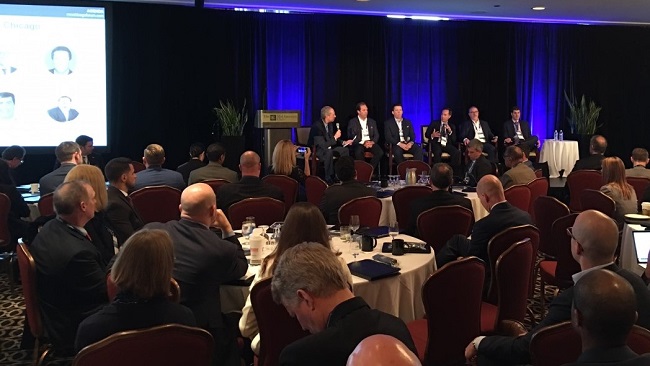 CHICAGO—As new apartment towers rise over the city of Chicago, heavily concentrated just west and south of the Loop, inevitably people in the industry have begun to wonder when the market will hit a saturation point. But these days, unlike say, 2007, the market seems to have a built-in discipline. That at least was the consensus during a panel discussion on Tuesday at Marcus & Millichap's multifamily forum.
Steve Rachman, regional manager and managing broker for M & M, led the discussion at the Mid-America Club with several of the city's top dealmakers.
"We won't see a crash like we did before because there is more equity in new projects," said Sonny Ginsberg, an attorney with Ginsberg Jacobs. This sentiment was repeated by several participants in the morning panel.
"The lenders we work with are more cautious," added David Goldman, vice president, Belgravia Group. That's not a surprise, as the deal velocity in the condo market has been "steady, but slowish compared to ten years ago," and "our equity partners still want their 20% return." Goldman's firm recently launched several condo projects in West Loop, River North and Lincoln Park.
Still, it's not as if those willing to launch developments are getting starved for funds. "If anything, equity is hungrier than ever," said Yale Dieckmann, executive vice president and chief investment officer, JDL Development. "We're getting requests all the time from people who want a crack at one of our new deals." The company's president leads a venture that has agreed to pay more than $100 million to the Chicago Archdiocese for a plot of land directly across from Holy Name Cathedral in River North, and plans a massive development of condos and apartments.
The willingness to accept such a price tag illustrates one of the firm's beliefs. Dieckmann said that developers should not be deterred by the rise in land prices. Considering the strength of the city's apartment boom, spending a few million extra on the necessary land may be worth it. "You can't look at land prices in isolation."
Jay Case, principal, CRG Real Estate Solutions, also advised attendees to think long-term. He said his firm recently paid what may have seemed a high price for a property in the St. Louis area thought suitable for a five-story housing development, but they were eventually able to get approval for a fifteen-story structure. "Be a little ahead of the game, and I think you will enhance your opportunities."
Ginsberg added that a larger portion of the equity fueling the boom is coming from local sources. He attributes this change to a growing feeling among locals that the stock market has hit a high, and could be headed for a drop. Real estate investments, by contrast look very steady, especially funds committed to downtown apartments.