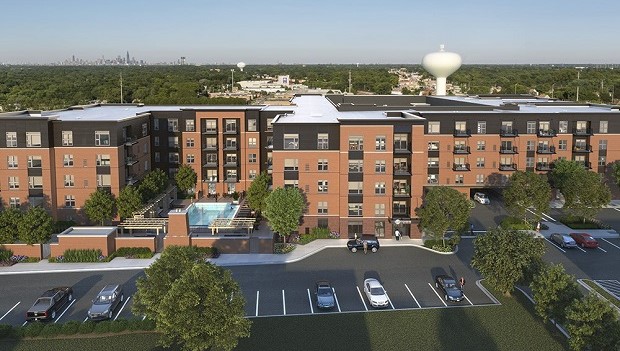 CHICAGO—Apartment developers throughout much of Chicagoland have remained quite aggressive in 2017, and will complete around 8,580 new units by the end of the year, well above the 15-year average, according to a new market report from Marcus & Millichap. The total will also be only slightly less than the number completed in 2016. This wave of new supply will probably outpace the increase in occupied units, and although this has not caused much worry, the company believes development around the urban core may be at or approaching a saturation point, particularly in the class A segment.
Since last April, developers have completed 5,580 new units in the city, and pushed up the vacancy rate to 5.1%, a jump of 100 bps. But rising vacancy in the urban core has yet to trigger a slowdown in rent growth. The average citywide rent reached $1,739 per month in March, up 7.0% from one year ago
And although much of the new development and activity is in and around the city's CBD, the suburbs have not been left out.
"In the suburban market, I've talked to a number of owners that have updated units, and there is quite a bit of demand," Kyle Stengle, senior vice president investments at Marcus & Millichap, tells GlobeSt.com.
And developers have also begun building new units outside Chicago. Builders completed more than 3,650 suburban apartments in the 12 months ending in March, the greatest supply increase since 2004, Marcus & Millichap found.
Rents are climbing especially fast in high-growth suburban markets, and should keep the metro average rising in 2017. Overall, the average effective rent will increase in 2017 to $1,422 per month, a 4.5% jump that outpaces last year's gain of 4.0%, according to the company's report.
"Many renters are being priced out of the city," Ryan Engle, vice president investments at Marcus & Millichap, tells GlobeSt.com. And the most important factor in their choice of suburbs is transportation. "Everyone wants an apartment in a TOD," or transit-oriented development. This kind of project has become quite popular in the city, but towns such as Park Ridge, Arlington Heights, Deerfield, and many others, have fostered development along the Metra train lines that radiate out from the city. "Much of this activity is happening within a half-mile of a train."
The Opus Group, for example, just completed Uptown LaGrange, a five-story, luxury complex with 254 units at 31 E. Ogden Ave. in suburban LaGrange. It sits about a half-mile from the local Metra station, and residents have access to downtown-style amenities, another key factor for suburban renters.
"It's close to fully leased," says Engel. "It's economical for the developer to build out there, and it's more affordable for the tenant."