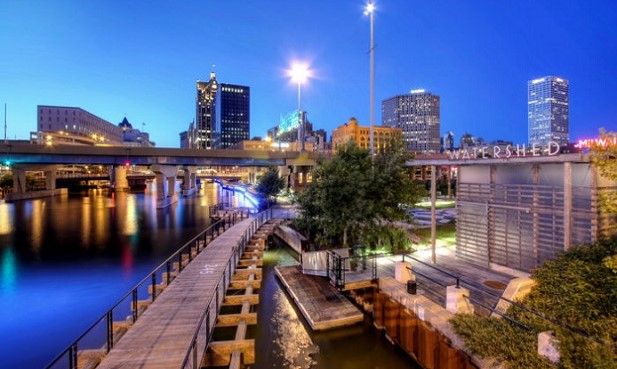 CHICAGO, MILWAUKEE—Chicago's downtown is in the midst of an office and multifamily development boom, much of it driven by the desire among young office workers to have urban lifestyles, and who in turn attract suburban corporations that need access to their talents. But other cities around the Midwest, including Detroit, Kansas City and St. Louis, have experienced the same phenomenon. Another is Milwaukee, where new submarkets have opened up in and near its downtown, and where the migration of firms to the suburbs over the last few decades has begun to reverse.
"This is the culmination of a long-term, secular trend toward urban living," Dan Walsh, executive vice president of Transwestern in Milwaukee, tells GlobeSt.com. "I don't think we're very different from other markets around the country. And all the companies that need these employees are looking for something that will give them an advantage in the hiring process."
And frequently that means not just a downtown location, but one that offers an inspiring workplace. Many local employers here have embraced collaborative and diverse office designs, and some utilize outdoor gathering spaces that take advantage of the fact that this city's downtown, like Chicago's, sits at the confluence of a major river and Lake Michigan.
Milwaukee officials were in many ways on the cutting edge when it came to creating an attractive, amenity-rich CBD. Walsh says former Mayor John Norquist, who ran the city throughout the 90s, "was a dyed-in-the-wool New Urbanist." Part of his vision, for example, was the RiverWalk, now virtually complete, which has transformed a two-mile stretch of the Milwaukee River into a pedestrian walkway lined with bars, restaurants, public art and brewpubs. "Instead of turning our backs on the city's natural attributes, we embraced them."
Office users, including many from the suburbs, have responded to the changes. In a deal brokered by Transwestern, the advertising firm Bader Rutter & Associates, Inc. last year decided to move from suburban Brookfield onto the former Laacke & Joys Co. site at 1433 N. Water St.
"They needed to make a move that put them in a position to grow for the next 20 years," says Walsh. Transwestern helped the firm conduct a four-year search for a solution, but suburban locations could not compete with this picturesque site on the river. And it was relatively affordable. "This part of the city was not yet a proven market. It was a pioneering move."
Wangard Partners Inc., the site's developer, demolished much of the old industrial space and constructed a multi-tenant office building with 115,673 square feet, of which Bader Rutter occupies about one-half.
Now called the Park East Corridor, the neighborhood has become a viable office submarket, and there are plans to develop a 24-story mixed-use tower adjacent to Bader Rutter's new home. The recent tear down of a freeway spur that marred the neighborhood, first suggested by Norquist, has also provided a big boost. "Development has just taken off," says Walsh.
In total, more than 250,000 net square feet of office space moved closer to downtown in 2016, much of it from nearby suburbs, according to Commercial Association of Realtors-Wisconsin. The robust demand is helping bring about the first significant additions to the city's skyline in a generation. A class A office tower at 833 E. Michigan was completed in March 2016, and Northwestern Mutual Life Insurance is currently putting the finishing touches on its new, 32-story, 1.1 million square foot downtown office tower.
Future projects like R2 Companies' plan to turn a massive US Postal Service facility at 341 W. St. Paul Ave. into roughly 200,000 square feet of retail, restaurants and about 100,000 square feet of office suggest downtown Milwaukee's renaissance is just beginning.