BY THE NUMBERS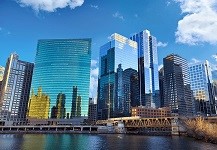 CHICAGO—Although national economic expansion has slowed, Chicago's office-using employment growth has picked up in the last six months, according to a new report from Savills Studley. Companies added more than 6,800 jobs, compared to 4,580 in the prior six months. Furthermore, leasing activity during the second quarter rose 35% to 2.7 million square feet, a bounce back from a speed bump in the first quarter. Sales activity of $762 million year-to-date is down 45.8% compared to the year-to-date totals at this point in 2016. But "Chicago remains still a top target for investors and sales activity will likely pick-up in the second half of the year as multiple assets including 401 N. Michigan Ave., 625 N. Michigan Ave., 161 N. Clark St., 875 N. Michigan Ave. and 225 W. Wacker Dr. remained in contract or on the market" at mid-year.
NEWS & NOTABLES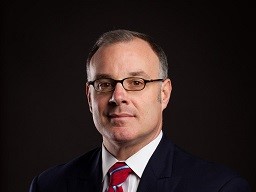 CHICAGO—Transwestern has hired Eric Myers as executive vice president of agency leasing in the firm's Chicago office. As leader of the agency leasing group, Myers will oversee all brokerage activities, including transaction management and execution, as well as recruiting, hiring, training and business development. "Eric will play a key role as we continue to expand our presence in the Midwest," says Mike Watts, Transwestern's Midwest president. Myers comes to Transwestern from Avison Young, where he served as principal and led agency leasing efforts in Chicago and the Midwest. Previously, Myers worked with Tishman Speyer as senior director of leasing, where he negotiated CME's 400,000-square-foot lease as well as transactions with other firms such as Dykema Gossett, Wells Fargo and BP.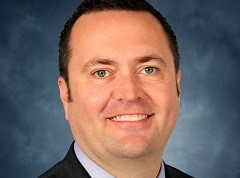 OAKBROOK TERRACE, IL—NAI Hiffman has promoted John Whitehead from senior vice president to executive vice president; he has also been named as the newest shareholder for the firm. He joined the firm's industrial services group in 2005, and represents property owners, tenants and buyers in the greater Chicagoland area. Whitehead's primary areas of focus include west and southwest suburban industrial markets. In his career, he has completed more than 130 transactions, totaling more than five million square feet and nearly $150 million in value. Companies that he has represented in sale and lease transactions include ML Realty, DCT, Silganb, COM2 Recycling Solutions, and Cadence Premier Logistics, among others. Whitehead began his real estate career working as an associate in the industrial real estate division for The Staubach Co. for three years, prior to joining NAI Hiffman.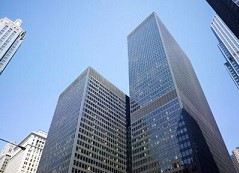 CHICAGO—The US Green Building Council has just awarded Michigan Plaza, a two-building complex located at 205/225 N. Michigan Ave., its LEED Platinum certification in the existing building operations and maintenance category, according to Michigan Plaza LLC, building ownership, and MB Real Estate, the exclusive leasing and management company for Michigan Plaza. USGBC awarded the complex LEED Gold certification in 201. "The urgency of USGBC's mission has challenged the industry to move faster and reach further than before, and Michigan Plaza serves as a prime example of just how much we can accomplish," says Rick Fedrizzi, president, chief executive officer, and founding chair of the USGBC. MBRE's Steve Hennessy, senior vice president and general manager of Michigan Plaza, credits the success of the project to Mark Szewczyk, Michigan Plaza's operations manager, a sustainability expert.
DEALTRACKER
CINCINNATI—Officials from Duke Realty Corp. say they have signed more than 1.5 million square feet of bulk distribution leases in the Cincinnati metro region during the first two quarters of 2017. "We continued to see ongoing interest in our Cincinnati properties from both new and existing tenants in the first half of the year," says Dan Colletto, vice president of leasing and development for Duke in Cincinnati. Leases signed during the first and second quarters of 2017 include: a 33,369-square-foot lease with new tenant Comcast in World Park Union Centre 9407; a 52,600-square-foot new lease with a food distribution company in World Park Union Centre 9245; a 106,920-square-foot lease with new tenant Design within Reach in Skyport 2265; a 118,125-square-foot lease renewal with Bunzl Distribution in Union Centre Industrial 6019; a 598,000-square-foot lease renewal with an e-commerce company in Hebron 2285; a 646,468-square-foot expansion with an e-commerce company in Hebron 2305.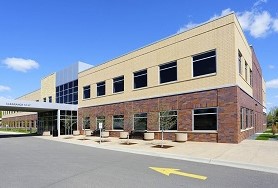 PLYMOUTH, MN—A joint-venture equity fund established by USAA Real Estate and HSA PrimeCare, the national healthcare real estate division of Chicago-based HSA Commercial Real Estate, has acquired a 45,722-square-foot medical office building in Plymouth, MN, a western suburb of Minneapolis. North Clinic, a large, independent physician group, anchors the class A medical building, built in 2014. Institute for Athletic Medicine, a joint venture between North Memorial Health and Fairview Hospital, also occupies a portion of the building. "This building and location are highly strategic for North Clinic and offer prospective tenants new, high-quality medical office space near the leading primary care provider in the market," says Jon Boley, senior vice president of acquisitions and development at HSA PrimeCare. "We're looking forward to partnering with local healthcare providers and further expanding HSA PrimeCare's healthcare real estate services into the Minneapolis market." The partners established the joint-venture equity fund in 2016 and say it will acquire and develop a broad range of healthcare facilities across an 11-state territory in the Midwest.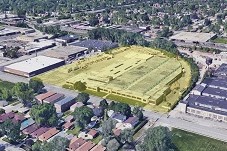 BELLWOOD, IL—Darwin Realty's Jeffrey Provenza, vice president, and George Cibula, managing broker, have represented the seller in the disposition of a 160,000 square foot warehouse facility located at 950 S. 25th Ave. in Bellwood, IL. In this transaction, 950 S. 25th Avenue LLC sold the building to U-Haul/AMERCO Real Estate Co. for use as a truck rental and self-storage facility. "This transaction takes an older industrial building and repurposes it to a higher and better use," Cibula says. "As the market continues to tighten, we expect to see more reuse of outdated buildings such as this one." The building features 11,500 square feet of office space, 5,000 square feet of cooler space, 12.5-foot to 19.5-foot clear height ceilings, 14 exterior docks and two interior docks. U-Haul will take occupancy of the building in October.
BUILDING BLOCKS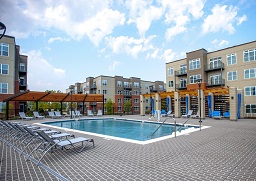 ITASCA, IL—M&R Development recently opened The Residences at Hamilton Lakes, a new 297-unit upscale rental community adjacent to the Hamilton Lakes Business Park in Itasca, IL. The community, a joint venture between Itasca-based M&R and Hamilton Partners and Chicago-based POB Capital LLC, has welcomed its first residents and unveiled two decorated models. Village of Itasca officials, as well as representatives from the Itasca Chamber of Commerce, joined developers and project partners at the community's grand opening ceremony on August 3. Bordered by Prospect Ave. on the east, Arlington Heights Rd. on the west and Thorndale Ave. on the south, the 10.7-acre community is the first luxury rental property developed in the immediate vicinity of Hamilton Lakes Business Park, which includes more three million square feet of office space, as well as restaurants and two hotels.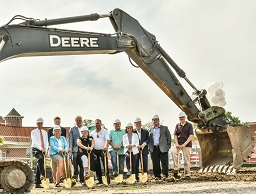 WESTERN SPRINGS, IL—Hinsdale, IL-based Foxford Communities has begun construction on Foxford Station, a four-story luxury condominium building located in downtown Western Springs, IL. A ceremonial groundbreaking was held on July 25 to celebrate the redevelopment of the long-vacant Tischler Finer Foods and Breen's buildings into Foxford Station, a mixed-use development that includes 28 luxury condominiums and 3,600 square feet of commercial space. The groundbreaking ceremony was attended by several village officials, brokers and real estate professionals, as well a number of the Foxford Station buyers. "This development takes a long under-used piece of property and redevelops it to provide housing and retail that will revitalize a prominent corner of downtown Western Springs," says Alice Gallagher, village of Western Springs president. "We believe Foxford Station is a perfect complement to our downtown infrastructure, one that will attract residents, both old and new, who are drawn to Western Springs' home-town charm and also desire a maintenance-free lifestyle."