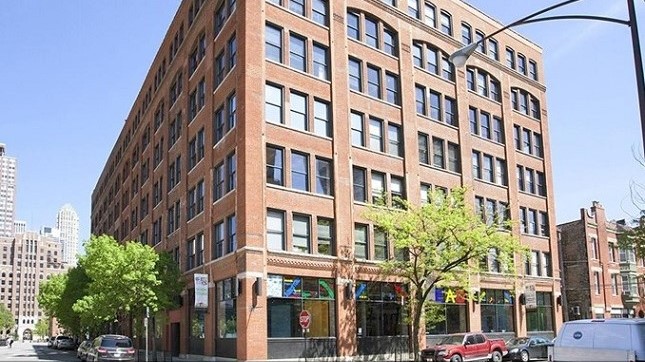 CHICAGO—KBS Growth & Income Real Estate Investment Trust has just acquired 213 W. Institute Pl., a 155,454 square foot converted loft office building with vintage brick and timber details located in the River North submarket of Chicago, for $43.5 million. The trust now has a $193.9 million portfolio of four class A office buildings, located across the US. Tenants occupy more than 90% of the space in each property.
It's no surprise when investors purchase office buildings in River North, one of the city's most vibrant submarkets. But what sets this investment off from many others is that the trust's portfolio sits on KBS' recently debuted direct-access online platform, KBSDirect.com, allowing accredited investors and advisors direct access to institutional-quality commercial real estate properties with no load or upfront fees.
"The minimum investment is $10,000, but we have accredited investors who have subscribed and invested much more with us," Chuck Schreiber, chief executive officer, KBS Realty Advisors, tells GlobeSt.com. "It's up to the investor or the advisor. If they are new to KBS, perhaps they test the water with us through a minimum investment. If they know us well, perhaps a larger investment is warranted. At this point, we are seeking to raise $500,000,000 in total, which would give KBS Growth & Income Fund around $1 – $1.2 billion in buying power."
"Across almost every investment sector, online platforms have increased transparency and reduced transaction costs," adds Peter Bren, KBS chairman. "KBSDirect.com will save time for advisors and investors and opens a simplified user-friendly direct investment portal."
213 W. Institute Pl. recently underwent a complete renovation, including a roof replacement, lobby renovation, corridor upgrades, new fire panel, and the installation of freight elevators. Unlike most other office buildings in the area, it also has a 32-stall parking lot.
In 2016, the fund purchased the Offices at Greenhouse, a 203,221 square foot complex in Houston, for $47 million, and Commonwealth, a 219,742 square foot building in Portland, for $69 million. And in 2015, it purchased Von Karman Tech Center, a 101,161 square foot building in Irvine CA, for $21.5 million. And the fund is ready to make further investments.
"We never bargain hunt at the expense of location, so making sure we are in a market we believe in, and a submarket we love – that's the "bullseye" for us," Ken Robertson, regional president at KBS, tells GlobeSt.com. And River North had many qualities that made buying here an easy call. "River North is a very special type of location with unique warmth and attractiveness. Tree lined streets, a neighborhood feel, vintage architecture, a rich mixture of amenities and living options all contribute to its long term intrinsic value. Having all this and a great sense of history – our most recent 213 W. Institute acquisition is a 100-plus year old, repurposed and renovated former bike manufacturing building – it's a rare combination that's tough to beat."
But the fund isn't necessarily focused exclusively on neighborhoods like River North, he adds. "When it comes to picking location, our strategy is pretty simple: focus on places high growth companies want to be in most. Company location is usually part of a broader team building strategy and creating a culture that fuels their specific business. So, wherever we find these super attractive environments – in big cities, smaller ones, urban or suburban – these will be the places we get excited about investing in for the future. As far as specific location qualities, it's all about lifestyle, which usually means a mixture of things that are important to today's workforce. Outdoor activities, many food choices, public transportation, nearby housing, walkability, an authentic vibe, even a sense of history, if you can find it – these things are usually very high on the wish list."