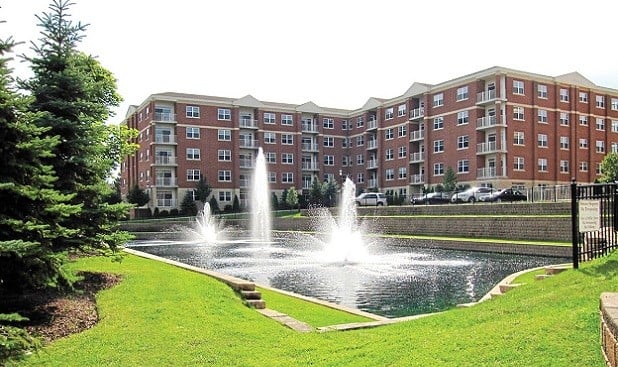 CHICAGO—The market for multifamily properties has been quite hot for years, but investors had been focusing much of their attention on developments in the central core. In 2017, however, more buyers began looking to the city's outlying neighborhoods and its suburbs, according to a new study by KIG CRE.
"Not only have we seen more big deals in the suburbs, we have also seen transaction volume increase," says Todd Stofflet, managing partner of KIG. "We are seeing bigger deals trade because the institutional capital is now chasing suburban deals. We are seeing more investors look at the suburbs for multiple reasons, including higher yields and real rent growth."
Through the end of the third quarter, transaction volume in the Chicago metro area hit $2.57 billion, with 57% of that volume in the suburbs. By contrast, during the same period in 2016, suburban properties accounted for 46% of the transaction volume. The share attributed to downtown properties shrank from 49% to 31%. Meanwhile, properties in outlying city neighborhoods made up 5% of 2016's volume, and 12% so far in 2017.
KIG, for example, recently completed the sale of Two Itasca Place, a five-story 70-unit apartment building in Itasca, IL, to Waypoint Residential. The seller, Marquette Cos., was represented by Susan Tjarksen, KIG CRE's principal and managing broker, Stofflet, and Jason Stevens, senior director – sales.
"This deal shows the strength of the suburbs and growing baby boomer renter profile," says Tjarksen. "Two Itasca Place reflects an asset that appeals to the taste, unit size and finish level desired by baby boomers, a strong renter profile."
The price was not disclosed, by KIG does say it was the highest price-per-door transaction this year in DuPage County.
This was one of Stamford, CT-based Waypoint's first acquisitions in the Midwest, says Scott Lawlor, its chief executive officer. "Two Itasca Place not only represents Waypoint's continued geographic expansion across the US, but also exemplifies our strategy of investing in suburban markets with strong fundamentals."
Cap rates for suburban multifamily properties sank from 6.1% in the first three quarters of 2016 to 5.2% in 2017, according to KIG. Rates for city and neighborhood properties held steady at 4.9% and 5.5%, respectively.
"We have seen a spread in buyer and seller expectations downtown, which is lowering transaction volume," says Stofflet. "In addition, we are seeing less money chasing core deals. Most of the investors that would have been looking for deals downtown are instead looking for value-add deals and higher yields, both of which they are finding in the strong suburban markets in Chicago."
Waypoint's latest acquisition, located at 2 Itasca Rd., offers one- and two-bedroom floorplans with an average unit size of 1,694 square feet. Community amenities include concierge services, complimentary Wi-Fi in the lobby, package receiving, gazebo, bike room, additional storage and secured entry building. Apartment amenities include large private balconies, stainless steel appliances, granite countertops, oversized soaking tubs, open kitchens, walk-in closets, double vanities, private master baths and wood cabinetry.