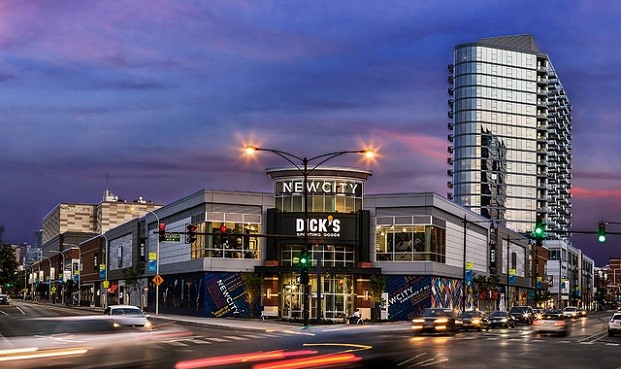 CHICAGO—The senior population is growing and, increasingly, gravitating to the rental lifestyle. The number of Americans age 65 and older increased from 35 million in 2000 to 49.2 million in 2016, and experts predict this generation will live longer than previous ones, fueling an unprecedented housing boom that will also bolster other property types like medical office.
"It's not just millennials," Jeff Berta, senior director of real estate development at Chicago-based Structured Development, tells GlobeSt.com. "Baby boomers are selling their homes and moving into rental housing," usually clustered around urban cores. "With that comes the need for medical office space that is modern and accessible."
In 2015, Structured Development completed NEWCITY, a 565,000-square-foot mixed-use center that includes 30,000 square feet of medical office space, along with a grocery store, numerous shops and restaurants, a movie theater, bowling alley and adjacent residential tower.
Berta believes such developments need more than simple doctors' offices. Baby boomers create demand for urgent care facilities, the type that can handle strained wrists or other minor injuries.
And most of the people who visit medical offices prefer to mix in other activities, such as shopping, dining, or meeting friends for a movie. "We have found that all of these are remarkably connected. If they don't live at NEWCITY, guests who come to the center for medical appointments typically visit several establishments while they're there – it's an intentional mix of uses that spans multiple sectors."
Designing medical spaces that blend in with so many other uses can be a challenge. Berta says healthcare professionals tend to be a bit more demanding than typical retailers. They mostly avoid speculative projects, for example, and prefer spaces that are carefully designed for their specific needs.
But with so many healthcare providers shifting many services from big, centralized hospitals and into smaller clinics, developments like NEWCITY are quite attractive. "There is definitely a focus from these providers on amenities," he says. And that is not just for their patients. "Their staff also has to go out to lunch and do their own errands."
Berta says the demand for medical office ebbs and flows, usually in response to the local housing market, so continued expansion depends on whether the massive apartment boom moderates in 2018 and 2019. But over the long-term, as providers continue spreading outpatient facilities across entire regions, they will seek out spaces wherever gaps in coverage remain.