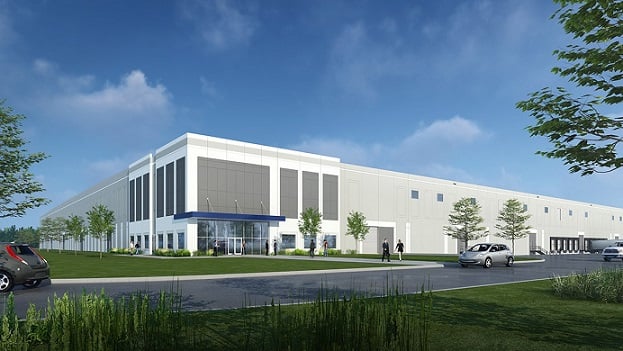 CHICAGO—After several years of declining vacancy, rising rental rates, and record-breaking construction levels, the Chicago region's industrial sector might be ready for a temporary pause. The latest statistics released by Newmark Knight Frank show a market that has slowed, but one with enough underlying strength to possibly jumpstart leasing activity later in 2018.
Vacancy increased for the second quarter in a row and now stands at 8.5%, a rise of 40 bps. NKF also recorded 615,000 square feet of positive absorption in the fourth quarter, which was the first time since 2011 that quarterly absorption failed to hit one million square feet. But NKF experts say a modest slowdown at this point in the cycle may not be unnatural.
"I don't think this is that worrisome," Amy Binstein, Chicago-based research manager, tells GlobeSt.com. "We have hit a plateau, but industrial real estate is still the strongest performing asset class," and a boost in vacancy is what happens in a market where developers delivered more than 13 million square feet in the second half of the year.
"We might have overdone it in certain submarkets," she adds, such as I-55, which has been popular with companies expanding their distribution capacities due to the explosion of internet commerce. Developers working there finished an additional 700,000 square feet of speculative space in the fourth quarter, on top of another 1.3 million square feet completed earlier in the year. All two million square feet of I-55 spec space remains available.
But information that does not appear in the official statistics gives good reasons to expect only a temporary slowdown, Binstein says. NKF has compiled a long list of tenants that have indicated they need new spaces around Chicago, and that most likely means the empty buildings will soon find users. But exactly how long it will take is difficult to determine.
There is a healthy amount of demand, but Binstein believes too much recent leasing activity has involved companies moving from one space to another. "People aren't growing as much," and although a lot of smaller, last-mile facilities have cropped up, the new class A distribution centers need users.
Furthermore, several of the property owners with one million square foot buildings available may be holding out in hopes of landing a tenant that will take all of their space, Binstein says. But if such deals don't pan out, they may then agree to divide these mammoth structures into smaller spaces, which would make them easier to lease.
New construction has slowed down as well. A number of proposed buildings have been put on hold, she says, and the region may have seen its "last huge wave of development." At this time last year, builders had 17.4 million square feet underway, but that number now stands at 11.6 million square feet, the lowest amount in several years.
Still, most experts believe the expansion of e-commerce, and the consequent need to remake corporate supply chains, is not close to finished. And Chicago's central location, along with its status as the nation's leading inland port, means its industrial sector has excellent long-term prospects.
"It's going to take some time," Binstein says, "but I believe these spaces will get taken."