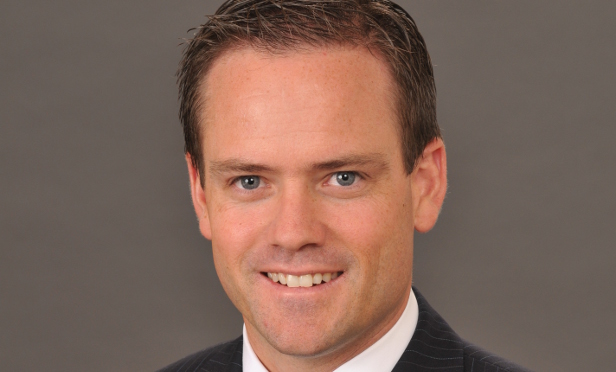 IRVINE, CA—Rather than the CFO being the officer in charge, many companies are looking to hiring managers to bring in the best and brightest talent, lured in part by attractively designed office space with modern amenities, JLL's EVP Joe Bevan tells GlobeSt.com. After a recent report from the firm showed that class-A office asking rents in Orange County are still well below the 2007 peak, leaving room for growth, we spoke exclusively with Bevan about how office rents are expected to change in the region this year and the drivers of this growth.
GlobeSt.com: How do you foresee rental growth for Orange County office this year?
Bevan: I think we're going to see a moderate increase—not the spikes we've seen over the past two to three years. I would anticipate 5% to 8% year-over-year rent growth, mainly driven by falling vacancy. We're trailing the market slightly, but once we fall below 10%, we'll see the rents continue to rise at a steady clip.
GlobeSt.com: What are the main drivers of this growth in a market with still a moderate amount of vacancy, even though it's below the 15-year average?
Bevan: There are three things. First is the scarcity of quality office space. Included in the vacancy are spaces in all class-A product types that are more desirable than others. If you drill down into each building and evaluate the vacant space, a good chunk of the remaining space is categorized as less desirable. Second is the lack of contiguous blocks of space. For example, the project we lease at Intersect has various sizes of space ranging from 5,000 square feet up to 375,000 square feet, and if you take that vacancy as a sliver of the market, that's the largest contiguous block of space available in the class-A Airport market primarily—and the same goes for the Spectrum. Outside of 200 Spectrum, there are finite blocks of space available. Third is the quality of projects. Some of these class-A projects with vacancy were acquired at peak of market, and since we're not back to peak yet, if ownership hasn't transferred quite yet, they haven't been able to put the capital into the space. That's really where the demand is: tenants are looking for unique quality space with quality sponsorship.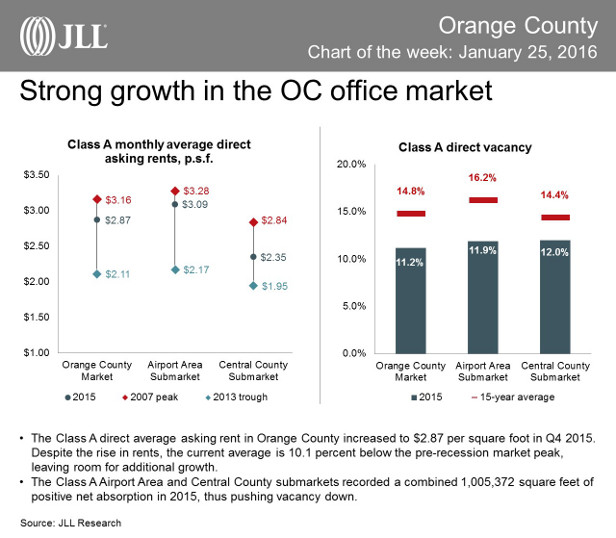 GlobeSt.com: How has office users' focus shifted over time?
Bevan: If you look at 2008 to 2012, the focus was solely on driving costs out of the business, but as the unemployment rate has dropped, it's really shifted from a cost focus to more of an HR focus—an attraction and retention focus shift from the CFO to the VP of HR. That shift has occurred from 2012 to now. Everyone is focused on not only the design of the space, but the vibe, the feel and the amenities. Everyone likes to walk now, and traditionally, Orange County is a driving market. More and more folks want to get out, and this goes into driving down the cost of healthcare. Everyone is living a healthier lifestyle, where they can walk to a variety of amenities. To use Intersect as an example again, Zagster partnered up with them for a bike-share program onsite so employees don't have to bring their own bike to the project.
GlobeSt.com: When will the market hit its peak rental rates, in your opinion?
Bevan: It's closely tied to development. If you look at just the absorption over the last five years as an indicator, if employers continue to add as many employees as they have over the last eight to 12 quarters, it will continue to drive vacancy down. If the EDD's projections are accurate, then office-using job growth will continue to increase by about 11,000 per year through 2022, and if you consider that each job requires 200 square feet per employee, we will be able to absorb what's coming on line. Based on the cost of renovation and the acquisition of existing product, we won't hit peak rental rates for at least the next 18 to 24 months.