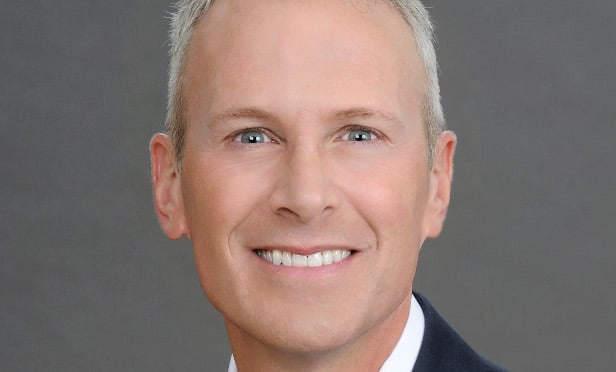 IRVINE, CA—A few signs, both anecdotal and fundamental, indicate that the industrial sector may be reaching a plateau, especially given how strong it has been for so long, JLL's senior managing director Louis Tomaselli tells GlobeSt.com. The firm recently released a chart-of-the-week (below) that showed extremely low industrial vacancy rates in concert with below-peak rental rates. We spoke exclusively with Tomaselli about this dichotomy, how much runway is left in this sector and how construction is being influenced by the market fundamentals.
GlobeSt.com: Please discuss the dichotomy between the low vacancy rates and below-peak rental rates in Orange County's industrial market. How long can rental rates remain below peak in such a tight market?
Tomaselli: We've got really strong fundamentals, and it's a landlord's market in Orange County, but there's still cautious optimism. Since January, there have been questions about tenant demand continuing at this pace, so landlords are being smart and wanting to push rents while it's their time, but they're also being careful not to push away a tenant in place or lose a new tenant by overleveraging their position. The chart shows average rents on 30,000-square-foot to much higher space breaking peak on some transactions, but the average is lower when you aggregate all of the space. What you see is true, though—on average it's not showing we're over peak yet.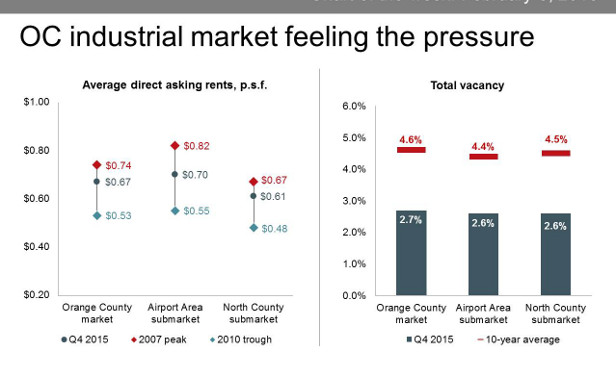 This chart shows that despite extremely low vacancy rates, average industrial rental rates still have room to grow. ***Chart courtesy of JLL
GlobeSt.com: How much runway is there for rents to grow, and when do you see them reaching peak?
Tomaselli: In all of Orange County, we need to see another 10% to reach an all-Orange County average of where we were at peak. The Airport Area would need another 15% increase and North Orange County would need another 9%. All sizes would need another 10% to 15%. As far as timing, we're likely to see this happen in 2016 and maybe early 2017.
Contrary to that, nobody expected to see January and February be what they were. A recent Wall Street Journal real estate section article called the financing part of the commercial real estate market overheated and pulling back. We felt ripples from this not at the property level, but working on larger transactions with local tenants, and landlords definitely read it and said this is cause for pause. Together with China's problems and a lack of growth there—what does that mean for us here? You never want to get caught in a downturn, but you never know how that downturn will be coming. We are not at an inflection point with a pending downturn, but if I were a landlord I would be cautious about pressing too hard on rents. I would be more focused on the quality of the tenant and eliminating tenant concessions, but not overly focused on breaking a market rent record just because.
GlobeSt.com: How is industrial construction in Orange County being influenced by low vacancy and below-peak rents?
Tomaselli: There's an extremely strong push for new development, so the developers out there are trying to find as many infill sites as they can because there's this demand for class-A space. Anaheim Concourse and the Brea developments all have preleased or presold or leased up very soon after completion at peak rents and sale prices. The story there is that clients and occupiers are willing to pay for quality. The market realizes that there are so few alternatives for tenants. Twenty-four months ago, the list might have been 15 buildings, but today it's five—a third of what it was. This causes concern, and tenants think, "Maybe I'll just renew because I know that this always changes. I don't want to make a bad decision."
GlobeSt.com: What else should our readers know about Orange County's industrial rental rates?
Tomaselli: You have to have a position, even if it might not be the popular position. I'm telling my landlord clients to capture the best tenants and don't leave anything on the table, but be careful not to get too piggish. This gives them a better economic package vs. a tenant without long-term stability. There is cautious optimism, but people get concerned about what these conditions will create in the market with industrial users. There's a third-party-logistics tenant in the Inland Empire that leased a building years ago and just put it up for sublease two years into a five-year term. This is not necessarily a trend, but a well-marked pulling back on 175 stores. E-tailers and retailers need to be more cost effective. Big boxes are not going away, but we're probably reaching a plateau—the demand can't go on forever. There will be a flip-over in vacancies and rents when big tenants put space on the market.