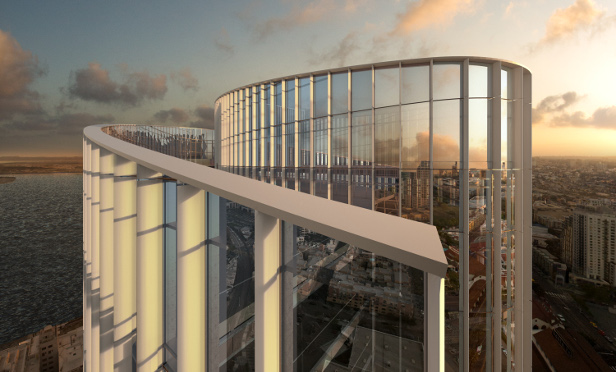 SAN DIEGO—Pacific Gate, the high-rise residential building that developer Nat Bosa says "will change the landscape and skyline of San Diego and propel the destination to the international stage" will take its cue from its surrounding natural beauty, a recent audiovisual conference held by Bosa Development revealed. Kohn Pederson Fox president and design principal Jamie von Klemperer, whose firm designed Pacific Gate, gave a detailed description of the planned development's architecture, the reasoning behind it and why it will revolutionize Downtown.
"The building is a pioneer in bringing the city toward the water," said von Klemperer. "It's a natural idea that in many cities around the world there's a tendency for older industrial uses to give way to places for people to live."
The water theme is evident throughout the architecture, especially in the curving walls that echo cresting ocean waves and a scalloped shoreline. In fact, curves are a big part of the project's design, from a rooftop with an ascending incline rather than a flat line to a series of interlocking wafting forms that make up the heart of the building.
Richly colored metals and a diverse mix of textures representing elements of nature will also be used, from limestone and richly colored metals at the building's base, to uses of wood, stone and water—there will also be water pool at the car drop-off point in front of the building.
Art will be another major element of the project—it will feature a major piece of public art by an artist whose name von Klemperer declined to divulge, but whose work has been prominently featured in New York, Barcelona, Paris and other great cities.
Ultimately, von Klemperer said, Nat Bosa wanted to create something outstanding because the city of San Diego deserves it.