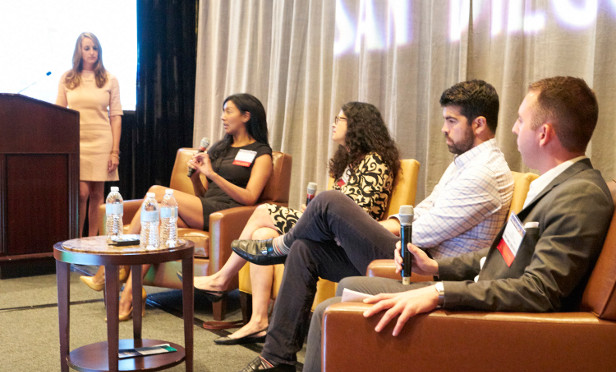 SAN DIEGO— In addition to reliable public transportation and transit from hubs to the beach, affordable housing and a sense of community, Millennials here seek satisfying food options, fitness facilities and showers in the workplace, said panelists at RealShare San Diego Tuesday. Speakers on the panel "Creative Inspiration: How Millennials Are Changing the CRE Rules" said a good transportation system, housing that's affordable on the salaries being offered and better ways to get from home or office to the beach were on their wish lists for San Diego.
Food and fitness amenities are desired by Millennials in practically all of the property sectors, so these do not come as a surprise. When moderator Carly Glova, president and executive recruiter for Building Careers LLC, asked the panelists what Millennials are looking for in a company, Jackie Greulich, student and career services manager for Burnham-Moores Center for Real Estate, said they seek diverse, green and innovative firms that embrace technology. "Millennials' ability to use technology to be more efficient is astounding. They also want a performance review at least once a year, or they move on. If you have these things in place, you can 'buy' a Millennial for a longer period of time."
Seth Shaw, chief revenue officer for Wrike, developer of online project-management software, said most Millennials are seeking a higher purpose, mastery and autonomy in the workplace, while John Martinez, designer for architecture firm Carrier Johnson + CULTURE, said they are seeing amenities that include a fitness room, a full community kitchen and outdoor amenities (outdoor kitchens, meeting areas and trails) because they're still talking about work even when they're enjoying these amenities.
Monique Williamson, curator for co-working-space firm DeskHub Inc., said Millennials want elements that promote community, including a beer fridge, full-service kitchen and a nap room. She added that co-working spaces are creating a safe place to exchange information in the business world. Greulich said the open environments that Millennials crave allow for collaboration between people who otherwise wouldn't have spoken to each other because they were separated by walls, doors and closed offices.
Shaw also pointed out that companies realize they must go beyond simply open space to include walls that make a statement about the firm's goals and culture. "The white wall is over. People have to be inspired by what's on your walls. Pictures of work-related events—people joining a company want to be able to see all that. They think, 'White, beige, grey—put a bullet in my head.' "
Glova asked the panel if open space is working and if it's for everyone, and Greulich said, "Yes, more companies are embracing it. The space per employee is shrinking." Glova asked if taking away the prize of the corner office is demotivating, and Shaw said, "I haven't had an office for six years. Being out among your team motivates them. If advancement is measured by moving desks, you're not contributing to the better of the company."
Shaw said the main challenge in open environments is the noise level. "It's tough to be able to manage that." Some solutions to the noise problem include white-noise machines and noise-cancelling headphones and mics. Williamson said companies "must provide private spaces" to employees in open environments, although they usually aren't even used. "It's the illusion of if you want privacy, it's available," she explained. She added that she's offered her office to employees who want to "not be in the fishbowl" of an open environment. Martinez said, "Everybody wants open space, you but need to have private space, too." He added acoustic walls and ceilings to the list of items that could help mitigate the noise problem. Shaw also pointed out that often the private spaces are appropriate for "loud people" who need a place to express themselves in the office environment without disturbing others.
Glova asked the panelists why they opened an office in San Diego and what brings businesses here. Shaw said the price per square foot compared to Silicon Valley offices is tempting. "For us, it's about access to talent; a lot of people want to relocate here for the lifestyle and cultural aspect." Greulich said employees want to achieve work/life balance and they want to enjoy the great weather. "Housing costs are lower here, but I think they are still too high based on salaries."
Glova asked how can we keep talent here? What else do we need to do, build or provide? Greulich said, "We need to attract more of a big corporate presence here and create more jobs here of higher salaries. A lot of graduates are moving in with their parents because they can't afford an apartment to rent."
Shaw said, "We need to do a better job of creating cool environments. Right now, it's kind of uninspired." He said employees want companies to install showers at work so they can go for a run at lunch to reduce their stress level and shower afterward before returning to work. Greulich agreed and said bike racks at the office are also important. Martinez said mixed-use space is hugely important since it cuts down on commute times.
For retaining Millennials, Shaw recommended a culture of inclusion. "Half of the people surveyed list environment as the reason why they like to go to work. Catered lunches for all the employees every day and on-site services like haircuts and massages help create that culture.
Gruelich said, "Leadership needs to walk the talk" in order to create that culture. A place where family is welcome, you work hard and are rewarded for it is desired. "People need to be reminded they work in an awesome place."
Martinez said it comes down to food and fitness. "It means something when you can see the spinach growing outside your window and then go down to the kitchen and eat it." Food trucks and pop-up shops featuring local businesses, like Williamson sees in Little Italy, are another great idea, and Greulich said bringing wellness into the office via diabetes screening and counseling and other health services is key as well.