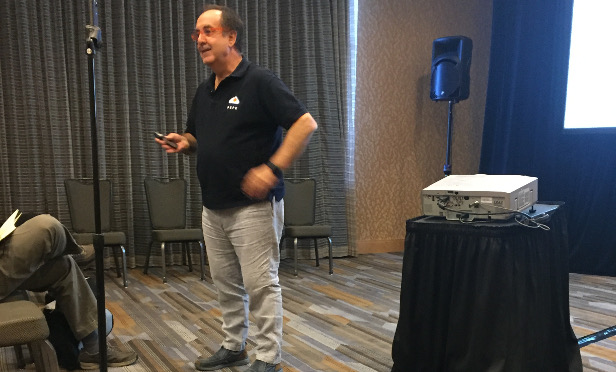 SAN DIEGO—From infography to robots, Megafincas Alicante's Pepe Gutierrez gave IREM Fall Conference attendees a succinct rundown of must-have technologies that will rule the future for commercial real estate property managers. In his 18-minute iTalk session, "Essential Technologies in Property Management"—renamed by him from "New Technologies in Property Management"—Gutierrez listed the following as technologies to watch.
Storytelling through infography—using graphics instead of all words to convey ideas conserves space on a page and is more informative.
Using one technological device instead of several—the future of work around the world. Gutierrez says the device will control other equipment and allow TVs to convert to computers.
Face-recognition technology—this could change security and key concerns property managers face.
3-D printers—Gutierrez says every property manager will have one of these in their office in the next five years. Having keys made externally will disappear; property managers will use 3D printing to print keys instead.
Electric cars and driverless cars—more charging stations will be needed on site; Gutierrez says property managers are not ready for the logistics of self-driving cars.
Digital keys—in the future, tenants will open their doors using their smartphones.
The Internet of Things—with so many items going digital, the need to protect data will increase.
Virtual reality/augmented reality and 360-degree cameras—these will change the marketing of properties
Robots—Gutierrez says these are here now, not far into the future.