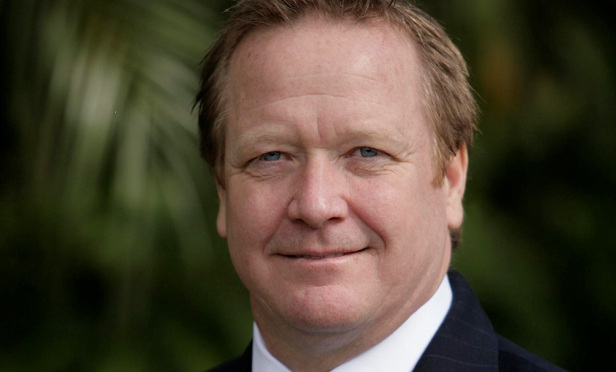 SAN DIEGO—Summit Pointe is entitled for 325,800 square feet of multi-tenant office space that's rare in the I-15 corridor, emerging from a first-time-to-market building that came with the right to develop addition square footage, Newport National Corp.'s president Scott Brusseau tells GlobeSt.com. The Carlsbad-based firm recently acquired the 20.95-acre site containing a 146,549-square-foot, class-A office building in San Diego's Sabre Springs/ I-15-corridor submarket for $31.4 million and plans extensive exterior and interior renovations to the existing building and development of a second phase building creating an innovative office campus named Summit Pointe.
Mark McEwen and Chris Williams of Colliers International represented the seller, HD Supply, while Newport National had no outside representation.
Initial plans for Summit Pointe include a revised building exterior, new lobby and multi-tenant common areas with indoor/outdoor venues, a conference center with food service bistro, and modern indoor/outdoor fitness center. Plans also include enhanced outdoor site amenities including an outdoor kitchen/bar, sports courts, collaboration areas, fire pits, an event conference terrace, a food-truck venue with dining areas amongst beautiful landscaping and mature shade trees, jogging trail on site and off-site trail access for hiking, jogging or mountain biking at the Los Penasquitos Canyon Preserve.
Newport National was advised by Michael Ramsey and Jerry Grossman with Gresham Savage Nolan & Tilden PC and Phil Jelsma of CGS3. Talonvest helped the buyer secure $28 million in financing from Los Angeles-based private lender Mesa West Capital as directed by Steve Fried, principal, and Seth Hall, associate. Williams and Jay Alexander and Tim Olson of JLL have been retained as the leasing brokers for Summit Pointe.
We spoke with Brusseau about the property, the Sabre Springs market and other areas of San Diego the company is eyeing for its portfolio.
GlobeSt.com: What drew your company to this particular property?
Brusseau: There's about a 151,000-square-foot existing building built by the seller, HD Supply, through its Maintenance Warehouse brand. This attracted us to it because we could take it and make it a state-of-the-art multi-tenant office building for a building that's never come to market. This is the first time the market has ever seen this building. It was built in 2001 and has never been sold before.
The type of renovation we're talking about is to add a brand-new building and site amenities as well as building about 178,000 square feet of space. It took a long time to get the entitlement, but we have by right the ability to add additional square footage, so we don't have to go to public hearings to get those rights—that's very unique for the amount of square footage we can add to the site. It shrinks the time frame to market; we will be ready to start construction in third quarter of next year instead of having to wait three years to be in same position. We like the really high quality of construction and a submarket that has the lowest vacancy for many quarters of all of the markets in San Diego County. It's actually in the Scripps Northridge Park, but it's competing with other multi-tenant class-A office building in the I-15 corridor. It's in the Sabre Springs community plan, but that is in the community of Scripps Ranch as well.
GlobeSt.com: What is this market like for innovation office campuses?
Brusseau: The I-15 corridor different than the Sorrento Mesa or UTC market. It has only one office project that has an innovative office campus—the Jay Paul Co.'s Summit project in Rancho Bernardo. we'll have things nobody else has on I-15 corridor. Nobody else will have brand-new lobbies, indoor/outdoor venues for food and entertainment, a gourmet-food-truck set-up, indoor/outdoor fitness centers, BBQs, sport courts, basketball, volleyball, fire pits and a conference center that can be indoor/outdoor. Because the site is mature, there's a lot of mature landscaping out there including good shade trees, and it's immediately adjacent to a San Pasqual hiking trail that goes under the I-15 all the way to Sorrento Mesa. This is totally unique for the I-15 corridor. The floorplates are very large—38,000 square feet each. That submarket features cutting-edge defense and biomed companies—much larger tenants that are seeking much larger floorplates. This will be one of the very few buildings that has large blocks of space immediately available. Renovation should be completed in Q317.
GlobeSt.com: Which other submarkets of San Diego are you eyeing for your portfolio?
Brusseau: We're a local family business, so we are interested in projects that are within this county, north of the 8 freeway. We've come to learn over 35 years, why would we be so lucky getting that deal in Fresno when we're in San Diego County? We have owned office, industrial, headquarters and corporate H1B properties in San Diego County.
GlobeSt.com: What else should our readers know about this acquisition?
Brusseau: We sold a portfolio of $120-million worth of real estate about two years ago, and this is the first acquisition we have made since that sale. The opportunity is so unique that we were willing to be a buyer when we otherwise have been a net seller. We have the additional development by right, and if don't choose to develop, we can accommodate a user that needs 6/1,000 parking. There's dock-high and grade-level loading, which is unique for an office property, and a freight elevator. There's also a back-up generator. It's an amenity-rich building, and we think a lot of the tenants in the submarket will value those and help lease it up sooner than later.