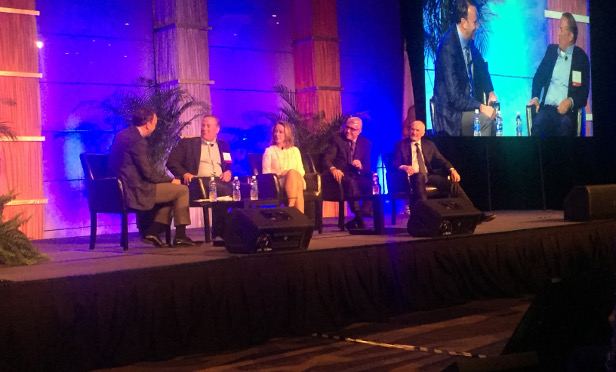 SAN DIEGO—One-third of Millennials aren't even looking for apartments yet, which bodes well for the future of the industry, Steadfast Cos.' president Ella Shaw Neyland told attendees during the packed CEO panel portion of the general session at NMHC's Annual Meeting here yesterday. While still admitting a degree of uncertainty with the Trump administration, overall the panelists had strong predictions for the future of this sector.
Bob Faith, founder, chairman and CEO of Greystar Real Estate Partners LLC, said he has "given up trying to predict" what will happen with the Trump administration. "All we know at this point is that we don't know." Still, he added, he does take some "comfort that he is a real estate guy."
Hessam Nadji, president and CEO of Marcus & Millichap, said some investors are taking a wait-and-see approach to investing because of Trump's win, "but leading up to the election, everyone expected more of the same—now that is thrown out the window." Having Trump in the White House "opens the door for real change" and puts possibilities on the table that weren't there before, but "all expectations of possibilities are speculation." The overall national economy had been growing for some time and is expected to continue on that road, Nadji said. "In the last 10 years, our GDP has grown by the size of the entire Japanese economy."
Neyland pointed out that the president is not only a businessman, but a real estate businessman, and while the American voters seemed to have "picked curtain number two" without really knowing what was behind it, there is a lot of conservative thought and a lot of dry powder, which could be really popular for the real estate industry. Moderator David Schwartz, CEO of Waterton, added that it's really about jobs in America and driving factories and plants to be built here, so Trump could be good for the US, but there has to be tax revenue. He said, "Anything that creates jobs is good for the multifamily industry."
There were caveats, however. Nadji said now is the time to be more realistic about expectations. "What got us here? Low supply, low interest rates" and high demand. There are now numerous metros across the country with up to 10,000 multifamily units, so supply is coming back into the market, and rent growth is slowing. He added that the preference to rent is the one standing pillar, since not as many people want to own a home. "We're in for a landing, but a soft one."
Nadji predicted that in 2018 and 2019, the markets will experience a pullback. In fact, equity is already pulling back from multifamily development. "But it will be a soft pullback, not a crash."
Shaw said the pullback may affect some markets more than others. She pointed out that the average age of renters today is late 30s to 40s, much older than in the past, and more people are aging in place since they can rely on mobile services like Uber, Amazon Fresh and the dog-walking app Wag!. "We will see older and older people living in apartments."
When Schwartz asked the panel about leadership, Faith said it's important to always respond to emails from renters—unless it's a crazy person—and always apologize if someone is upset, then pass the complaint on to someone in that region who can respond to it. Nadji said it's important not to lose touch with "what they're saying on the ground. That's how I function; it's what's most important."
In discussing homeownership, Nadji said he didn't think the homeownership rate would go down much lower than the current 63%. "It will be stable over the next several years." But, he said, the question is how to deal with affordability and supply issues.
Shaw said household formation still favors renters since wealth creation in the US is so challenging. The concern is that Baby Boomers created wealth through homeownership, but if Millennials aren't buying homes, this could potentially turn into a big retirement issue.
All agreed that signs point to building more apartments since there is still a large gap between supply and demand.