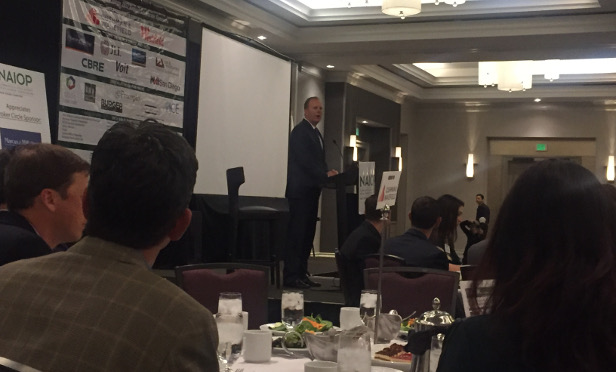 SAN DIEGO—Housing affordability, homelessness, regulations, Mexico and infrastructure are some of the key issues San Diego Mayor Kevin Faulconer will be focusing on this year to help create a better business and living environment, he told attendees at Monday's NAIOP San Diego "Lunch with the Mayor" event.
Faulconer gave a brief summary of the area on which his office will be focusing this year. He said, "We are in a competitive environment" and "San Diego is open for business." He said we want to be successful, and we need to make it easier to do business here. Our business success comes from a strong economy.
Housing affordability should be at the top of the list of priorities for this region. "We need to build more houses and have policies that make that happen." He said his office will work to make changes to increasing the housing stock and make it easier to build here. This means decreasing the processing time for permits and paperwork that stands in the way of development. He added that transit-oriented development is important because it will help make housing more affordable. "I need you to be vocal" about what type of development is needed, he stressed.
Homelessness is another major issue of focus, said Faulconer. "We need to get folks off the street and into permanent affordable housing. We need to spend more time on this; it's not just an urban-core issue."
The redevelopment of the Convention Center is another hotbed topic that Faulconer will address this year. The center is a major source of revenue for the county and gives San Diego a competitive advantage. The money raised through the TOT tax can be used to repair roads and help the homeless. "This is not a Republican vs. Democrat issue," he said.
After Faulconer's summary, he opened up the floor to questions from attendees. When asked how important Mexico is to San Diego, Faulconer replied, "Mexico is hugely important to us," adding, "It's critically important to speak as one region," particularly when it comes to medical manufacturing.
Falconer said he is in favor of increasing the TOT, which will help to expand the Convention Center. A measure addressing this issue will be put on the ballot, he added. If it passes, the taxes will go toward infrastructure improvements including fixing our streets, as well as driving the economy.
When asked about the opportunity to replace Qualcomm Stadium in Mission Valley with a soccer stadium, he said it makes sense to have a full-time home for the Aztecs.
A question about representing San Diego outside of the United States, which hasn't been done in 10 years or more, was met with the San Diego Regional EDC's plan for a trip to Vancouver and London to enable collaboration among these markets. "We are a great city for innovation, and we want to spread the word," said Faulconer. "Come in and be successful."
An attendee asked how much influence Faulconer's office will have on goals to redraft the Kearny Mesa general plan, and he replied that updating community plans is an important; it's a priority to streamline the EIR process, so his office encourages development projects that make sense.
A question was asked about different ways to facilitate housing that's affordable by using city land to create homes for entry-level buyers. Faulconer said it's important to provide incentives for developers to create these projects, including mixed-use projects, and to reduce time to market. He said we need "clear rules," we need to follow them and get people through the process. We must look for tools that work, to create benchmarks and performance standards.
An attendee asked what the City is doing for business redevelopment, and Faulconer answered, "It's a battle" to create streamlining and processes. His office started a department to look at all processes and determine what's working and what is not. "We are in the customer-service business. We should be able to get more things online," including applications for permits so people don't have to call or go to City Hall for them. Faulconer said the City has to keep looking at how it can make it easier for other people to do their job.
When asked how, in the wake of companies moving out of California to other more business-friendly states, we can interact with Sacramento to encourage a more pro-business atmosphere, Faulconer said, "Statewide policies have a dramatic impact on us." He spoke of the importance of CEQA reform and lauded San Diego's water-recycling plan, which makes us more self-reliant. He said we will take help from Sacramento, but indicated that we wouldn't necessarily rely on it to get our needs met.
When asked what the City is doing to combat homelessness, Faulconer spoke of the "passing the buck" attitude between the City and the County. But, he said, homelessness "is all of our problem. Let's coordinate better, put dollars where we need to better, make sure there are more beds and supportive housing to get people back on their feet and get clean and sober. We're not coordinating well with service providers on what beds are available now." Faulconer said we need more units built, and we need to talk to homeless people to find out if reunification with their families is something they desire. "We need to provide more supply, but it's a quality-of-life issue for every neighborhood."
Regarding overparking, Faulconer said we have to have flexibility to make parking solutions work, pointing out that parking needs change as technology changes, and he referenced autonomous vehicles, which may help solve the problem.
Attendees referenced the Chargers leaving and asked Faulconer if he thought the NFL was ever coming back to San Diego. "We are a great NFL franchise city. Despite the wrong decision for the Chargers to move to L.A.—and it was a tragic wrong decision; we're surprised that that decision was made—yes, there's no doubt in my mind" that the NFL will return to San Diego, said Faulconer. "This is a 'to be continued.'" He did not like the idea of wooing the Raiders, which are pursuing a Las Vegas option.
When an attendee asked about having kindness in dealing with sanitation issues regarding the homeless, Faulconer said we need to try to get them help, but we need to get them off the streets first, starting with a place for them to go during the day and at night.
The final question dealt with the possibility of building a rooftop park for the San Diego Convention Center, citing terrific views of which we're not taking advantage. Faulconer agreed that part of what makes San Diego special is our natural resources—clean air, sunshine, outdoor space and lifestyle. "we have to make sure how we're doing growth keeps what makes us special. I strongly believe in those amenities, but it has to be a great place to live." He added that we need to appreciate what makes us unique, but we also must protect it.